How to verify a broker's registration with CMA
We will demonstrate in simple steps how to verify a broker that is registered with the CMA.
Step 1) Visit the official website of the CMA on www.cma.or.ke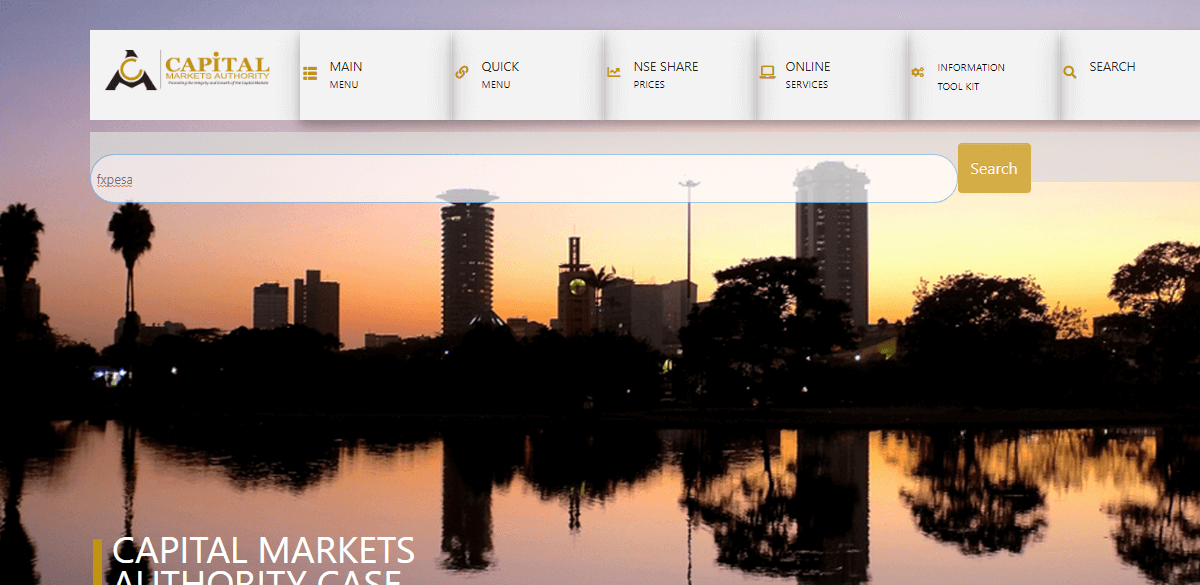 Step 2) Search the name of the broker you wish to verify on the search icon of the CMA website. In this case, we will search for FXPesa.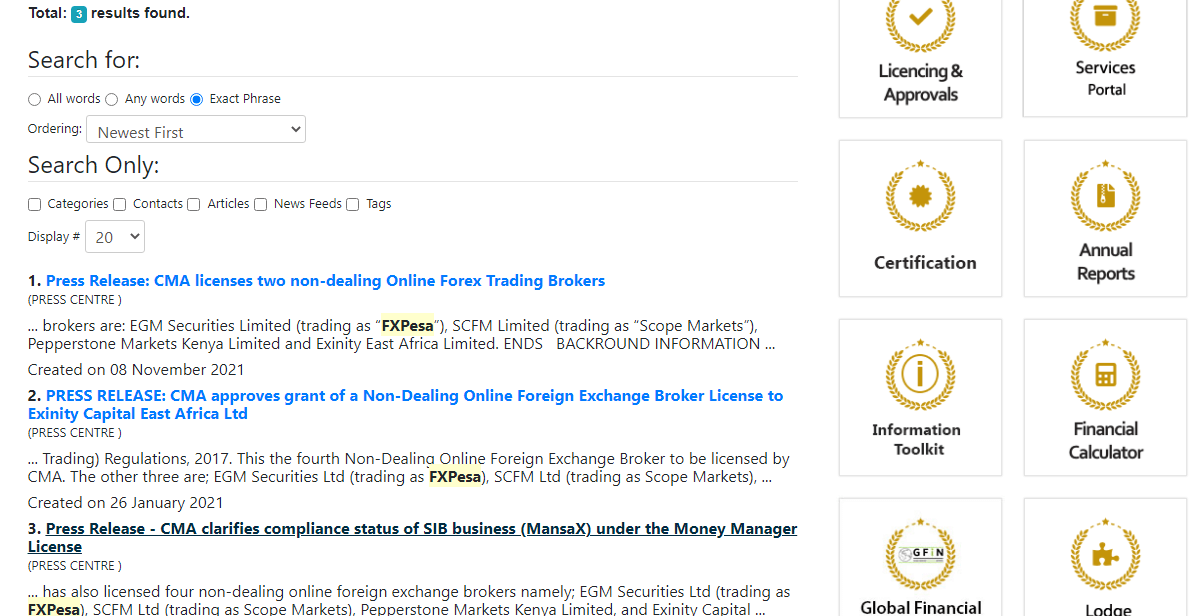 Step 3) The search result will determine the registration status of the broker. In this case, we found results on FXPesa.
Step 4) To confirm the registration status of the broker, click on any press release carrying the name of the broker.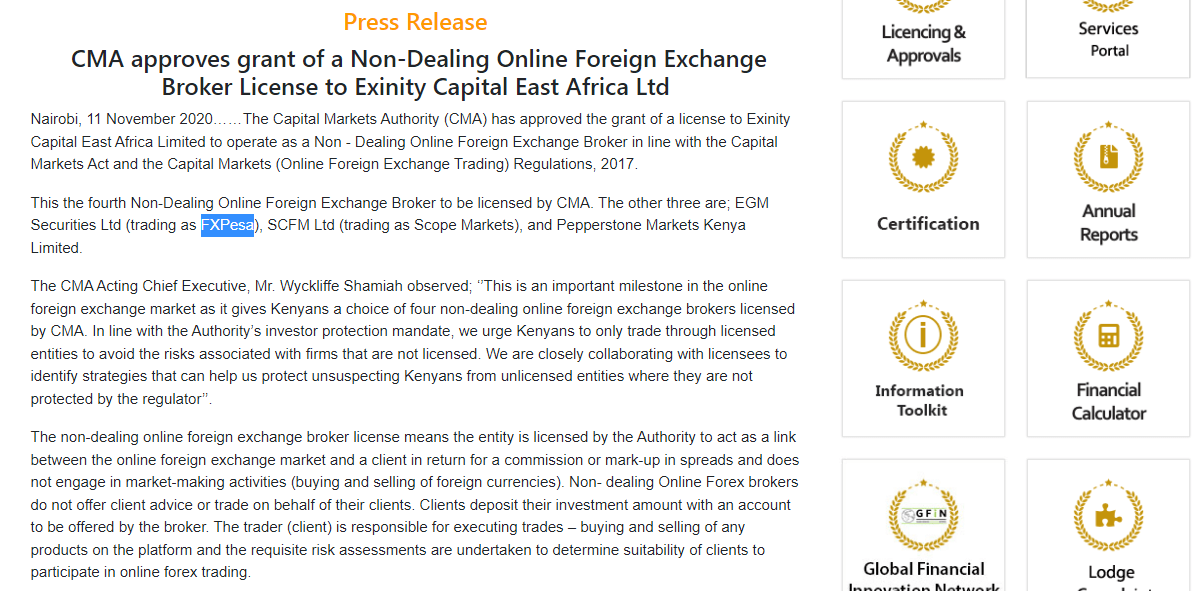 Step 5) If the broker is not registered with the CMA, the result of the search will be zero results. Exness was used to demonstrate this here.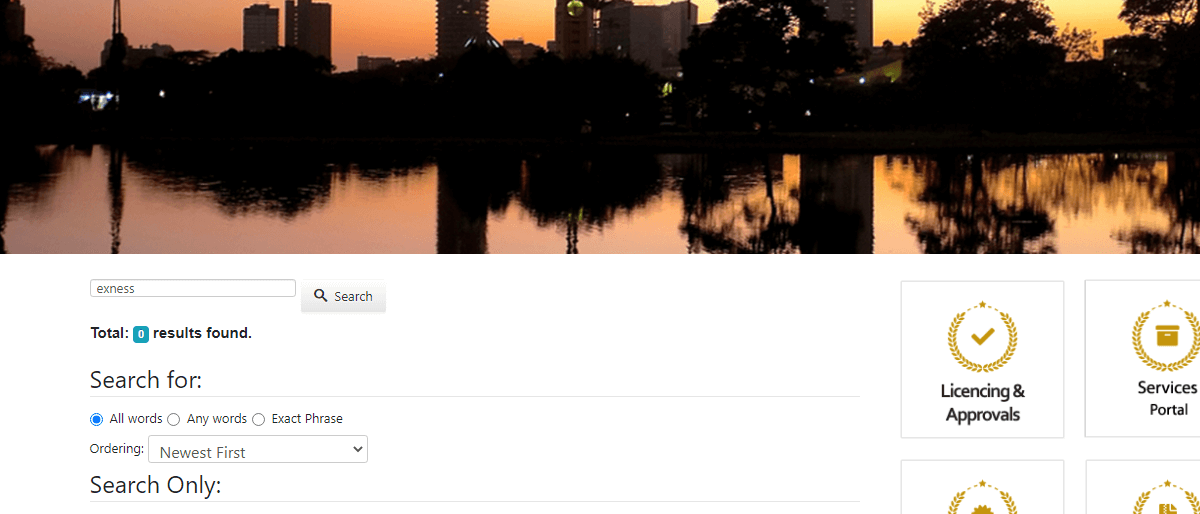 Some fake brokers can use the cloned names of the CMA-regulated brokers in Kenya. Clients must look out for spelling errors and other signs of deceitful activities. Checking the authenticity of the CMA license is very important before choosing a broker in Kenya.
How To Open a Forex Account in Kenya?
The steps in opening a forex account with a broker are similar across different brokerage firms in Kenya. It involves having a functional email, phone number, and perhaps a bank account.
In this guide, we will use FXPesa to describe the steps in opening an account with a forex broker in Kenya.
There are three steps to opening an account on FXPesa.
Step 1: Registration: This consists of three sections; Provision of personal details, contact details, and trading experience/employment status. This process is instant and moves from one to another. You're expected to input correct details as they'll be verified. You'll be requested to put your phone number and a PIN will be sent to you to complete that stage.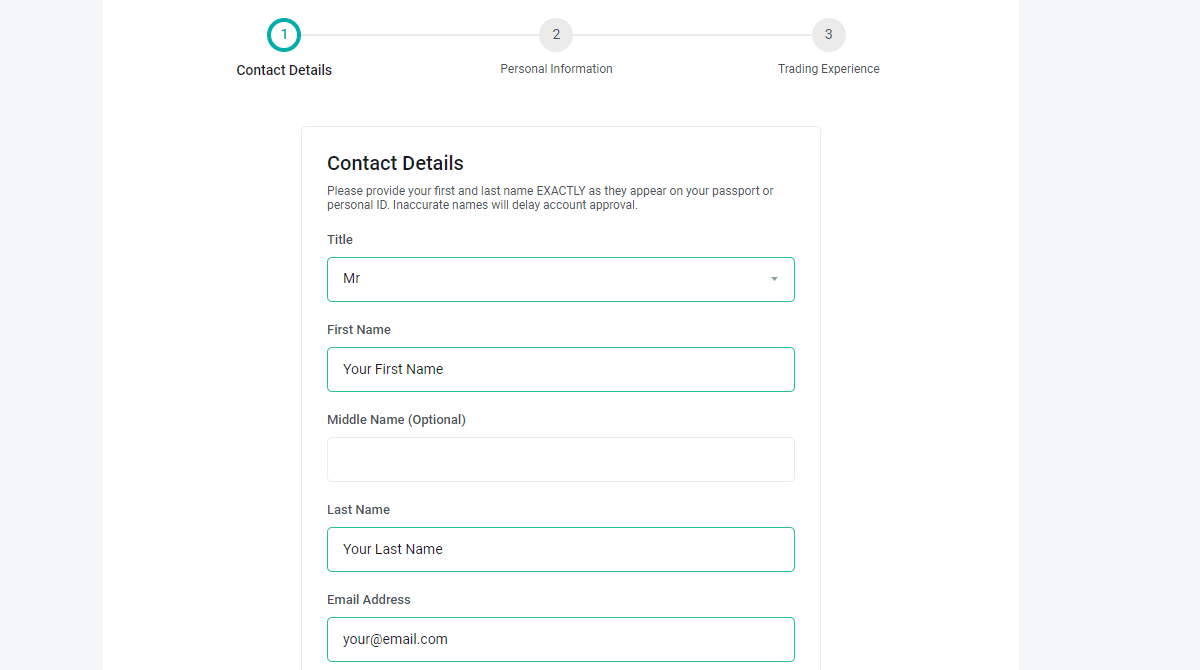 Step 2: Verification of accounts: Here you'll have to upload a passport and valid means of identification, most likely a government identity card. In this stage, a text message will be sent to you with a link to start the verification/activation of the account. On clicking the link, you'll be asked to provide your password and start the verification process.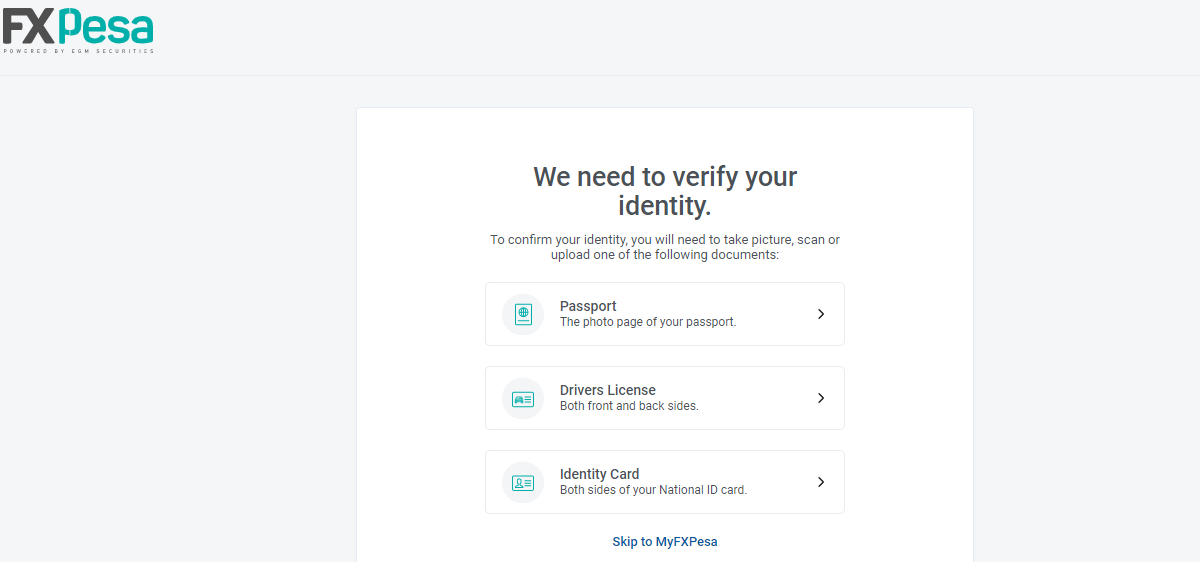 Step 3: Confirmation of documents submitted by you: This process is not instant as the rest are. On confirmation of the documents submitted, you'll be able to make deposits and start trading.
Fees Involved in Forex Trading
Before rushing in to open a forex trading account, clients must comprehend the components of fees that can be incurred from them while trading forex and CFDs online. Each broker can charge differently for trading forex. The following components of fees must be checked and compared before choosing a forex broker in Kenya.
Trading Fees
Trading fees include all the fees that are incurred while executing trade orders.
Spread: Spread is the most important fee that a trader has to pay while trading forex or any other CFD instrument. It is the difference between the bid and ask price of an instrument. Wider spreads mean higher revenues for the broker and lesser gains for the traders.
Trading Commission: Some brokers may incur a fixed or variable commission (depending on the trading volume). Spreads may or may not be incurred while trading with commissions. Most brokers offer a separate account type for commission based trading at low spreads. This commission is incurred while opening as well as closing the position depending on trading volume.
Overnight Charges: Overnight charges are also called as swap fee or rollover charges. This is the fee that is incurred when a leveraged position is kept open overnight. Each instrument has different overnight charges for long as well as short position. Traders who prefer to keep their positions open for more than a week must check swap fees before doing so.
Non-Trading Fees
These are the charges that are incurred without executing trade orders.
Inactivity Fees: Most brokers charge inactivity fees if no trades are executed for a prolonged period after opening the account. The inactivity period and the monthly charges for inactivity can be different for each broker. Some brokers charge inactivity fees after 3 months of inactivity some for 12 months while many do not charge any inactivity fees.
Deposit/Withdrawal Fees: As the name suggests, this fee will be incurred for each deposit or withdrawal. each Deposit and withdrawal method can have a different fee associated with a broker. Clients must check and compare the transaction fees for their preferred mode of deposit and withdrawal.
Currency Conversion Fees: These are the fees that are only incurred if the deposit currency is different from the base currency of the account. Most brokers use nominal currency exchange rates but each broker can have different currency conversion charges.
Account Opening/Maintenance Fees: Account opening is free at all the CMA-regulated brokers in Kenya. However, some other forex and CFD brokers do charge account opening or regular maintenance charges.
The details of all the trading and non-trading fees can be checked on the official websites of the broker. Clients can also inquire about the fees through customer support services.
How to Choose a Forex Broker in Kenya
The following are the important factors that must be considered while selecting the best forex broker for oneself in Kenya:
1. Regulations: Capital Markets Authority (CMA) is the financial regulator in the jurisdiction of Kenya. Clients getting registered under CMA regulation are protected and are exposed to less third-party risk. Traders must ensure that the chosen forex CFD broker must be regulated by CMA in Kenya.
The details of the regulation are generally mentioned in the footnote of the official websites of the brokers. Clients can also access the CMA website to cross-check the regulation details of a particular broker. Currently, there are 7 forex brokers that are licensed and regulated by CMA in Kenya.
2. Fees: The spreads, commission, overnight charges, inactivity fee, deposit/withdrawal fee, and all other components of fees must be checked and compared. The higher fee is beneficial for the brokers and costly for the traders. Lower spreads can have a major impact on profits and losses booked by the trader.
3. Available Instruments: The chosen forex broker must offer adequate varieties of financial instruments including the ones that you wish to trade with. Traders must ensure that their preferred trading instrument is available with the chosen broker or not. Contract specifications on preferred instruments should also be checked before opening the account.
4. Trading Platform: All trading activity will take place on the trading platform. Clients must be convenient with the trading platform and all its features. Efficient and convenient use of the trading platform will enhance the outcomes of trades.
5. Deposit/Withdrawal: The best forex broker in South Africa must accept your preferred mode of deposit and withdrawal in time without additional commission. Traders must check the processing time of deposits and withdrawals along with the fees associated with each method before opening their accounts.
6. Customer Support: The best forex broker must offer quality customer support services through live chat, email, phone, or social media applications. Easy connectivity with the support staff will enhance the trading experience as traders can resolve any query faced while trading.
7. Trading Conditions: Clients must check every trading condition like leverage, account currency, deposit currency, account types, bonus, etc to choose the best forex broker for themselves. For example, if a broker does not support KES as the base currency of the account then the deposits made in KES will be converted to base account currency at prevailing rates.
For retail traders, it can be difficult to consider every aspect of a broker while choosing them. The best practice for beginners is to start with a demo account and trade with virtual currency. This will not only allow you to comprehend the trading conditions and experience with a broker but will also grant you experience to make better trading decisions.