Exness is an top-tier regulated market maker broker that allows Kenyan clients to open KES based trading accounts in Kenya. It is not regulated by CMA but accepts deposits and withdrawals through local banks and m-Pesa.
Exness is a well-regulated and cost-efficient market maker that offers trading services on forex and CFDs. Exness is regulated by the Capital Markets Authority of Kenya under the legal entity Tradenex. Hence, it can be considered less risky than many other brokers and marker makers in Kenya.
Kenyan clients can open live trading accounts at Exness with KES as the base currency. The KES-based account is a rare feature among the forex and CFD brokers in Kenya. None of the top-tier regulated brokers offers accounts with Kenyan Shillings as the base currency. Funding and withdrawals can be made through local bank transfers in Kenya without any added commission.
Exness allows trading on a wide range of instruments. The number of forex pairs available to trade is excellent in Kenya. However, it does not have adequate research tools and bonus offerings for Kenyan clients.
Read our comprehensive and honest review of Exness before opening an account at Exness. We have thoroughly covered all the pros and cons that can affect the trading experience of Kenyan clients. Find out the best account type for yourself, the best funding and withdrawal method, and every detail you need to know about Exness in Kenya.
Exness Pros
Exness is regulated by CMA of Kenya
Regulated by FSCA, FCA, CMA, and CySEC
Exness has low third party risk
Exness Safety Cons
eToro is not listed on any stock exchange
Exness is a market maker and earns revenue on losses of traders
The regulatory license held by the broker defines the safety of traders and their money. Exness is a market maker and can also take the other side of the trade. Apart from spreads, it can also earn revenue from the losses incurred by the traders. In such a case, it is important to check the regulatory licenses and complaints registered against the broker.
None of the market maker forex brokers are regulated by CMA in Kenya. Only 6 brokers with non-dealing desk execution methods are regulated by Capital Markets Authority in Kenya.
Following are the details of the major regulatory license of Exness and the entities that are authorized under the Exness brand and trademark.
CMA of Kenya: Exness is regulated by the Capital Markets Authority (CMA) of Kenya as a non-dealing online foreign exchange broker. Tradenex Limited is the legal entity of Exness that is regulated by the CMA of Kenya under license number 168.

A total of 9 forex brokers are regulated and authorised by the CMA in Kenya including Exness. All Kenyan clients at Exness are registered under CMA regulation. The CMA regulation restricts the broker from offering a maximum leverage of 1:400 to retail clients residing in Kenya.

FSCA of South Africa: Vlerizo (Pty) is the authorized entity of Exness that holds the regulatory license from the Financial Sector Conduct Authority of South Africa. The registration number of the license is 2020/234138/07 and the FSP number is 51024. Clients can also check the other details of this license from the FSCA website.FSCA is the top-tier regulatory authority in the jurisdiction of South Africa. It overlooks the activities of registered financial service providers and safeguards the interest of traders and investors in South Africa. It is the most important regulatory license for South African clients as any misconduct by the broker can be reported to the FSCA.

FCA of UK: Exness (UK) Ltd is regulated by the Financial Conduct Authority (FCA) of the UK as an investment firm. The regulatory license is registered with financial services register number 730729. FCA is also a top-tier regulatory authority in the jurisdiction of the United Kingdom. The FCA license was acquired by Exness in 2016 and we didn't find any complaint registered against the broker.

CySEC of Cyprus (EU): Exness (Cy) Ltd is regulated by Cyprus Securities and Exchange Commission as an investment firm under license number 178/12. It is a tier 2 regulatory authority that grants permission to operate a financial business in the European Union.
Apart from the above-mentioned major regulatory authorities of the world, Exness has also acquired a regulatory license from the FSA of Seychelles (SD025), Central Bank of Curaçao, and Sint Maarten (CBCS) (0003LSI), FSC of Mauritius (GB20025294).
Kenyan clients at Exness are registered under CMA regulations and can consider exness as a safe broker with no dealing desk.
Due to multiple top-tier regulatory licenses including CMA, Exness can be considered less risky for traders in Kenya. Exness has been in the business of forex and CFD trading since 2008 and we didn't find any proven complaint against the market maker on regulators' websites.
The third-party risk for choosing Exness as a trading partner is lower than any non-CMA regulated brokers in Kenya. Brokers with CMA regulations in Kenya are considered safer and less risky than those without CMA regulations. Apart from CMA, Exness has top-tier licenses like FCA and FSCA. This makes it very safe.
Exness Fees
Exness Fees Pros
Multiple Account Types with Different fee structure
Trading fees with the Pro account are excellent
Swap fees is low
No non-trading charges like inactivity, deposit, or withdrawal fees exist
Exness Fees Cons
Trading commission is slightly higher on commission-based account types
Trading cost is the major basis of broker comparison for most traders. We have separately reviewed all the components of the trading cost that can be incurred by the traders.
Spread: Exness is a market maker and the spreads are the major component of the revenue generated by the broker. However, compared to other regulated forex and CFD brokers in Kenya, the spreads are lower than the majority of them. The spread incurred depends on the account type chosen by the trader.

With the standard account at Exness, the spread start from 1 pip. The same with the commission-based professional accounts can go as low as 0 pip. Spreads with all the account types are variable and depend on liquidity, volatility, and market conditions. The table below compares the average typical spreads incurred with different account types at Exness.
Trading Instrument
Average Typical Spread in pips
Standard
Standard Cent
Raw Spread
Zero
Pro
EUR/USD
1
1
0
0
0.6
GBP/USD
1.2
1.2
0.1
0
0.7
Gold/USD
20
20
6.3
0
12.5
Bitcoin/USD
656.7
Not Available
273.3
273.3
Not Available
Crude Oil
8.6
Not Available
4
1.9
5.4
US Tech 100 Index
55.4
Not Available
10.2
8.2
34.6
For better analysis and comparison with other forex and CFD brokers in Kenya, we have compared the average typical spread of most traded currency pairs charged by brokers. These spreads are with the Standard account types that do not involve any trading commission.
| Trading Instrument | IC Markets | FXTM | eToro | Exness | Pepperstone |
| --- | --- | --- | --- | --- | --- |
| EUR/USD | 0.62 | 1.9 | 1.1 | 1 | 0.77 |
| GBP/USD | 0.83 | 2 | 2.3 | 1.2 | 1.19 |
| EUR/GBP | 1.27 | 2.4 | 2.8 | 1.60 | 1.40 |
| USD/JPY | 0.74 | 2.2 | 1.2 | 1.1 | 0.86 |
| USD/CAD | 0.85 | 2.5 | 1.7 | 2.1 | 1.07 |
Commission: This is the fixed charge that is incurred to traders for certain conditions. The commission can be trading as well as non-trading but Exness does not charge any non-trading commission from the traders in Kenya. With the Standard, Standard Cent, and Pro account types there is no commission involved at all. The trading commission is only applicable with the Raw Spread and Zero Spread account type at Exness.
The Raw Spread account type has a fixed commission of 3.5 USD for a single side and 7 USD for a round-turn trade of a standard lot. This commission is the same for most of the instruments with the Raw Spread account. The trading commission for each order execution with the Zero account is different for every instrument. The table below mentions the trading commission at Exness with the Zero and Raw Spread account type for a single side trade of a standard lot.
| Trading Instrument | Commission with Zero Account (USD) | Commission with Raw Spread Account (USD) |
| --- | --- | --- |
| EUR/USD | 3.5 | 3.5 |
| GBP/USD | 4.5 | 3.5 |
| Gold/USD | 8 | 3.5 |
| BTC/USD | 3.5 | 3.5 |
| Crude Oil | 14 | 3.5 |
| US Tech 100 | 1.1 | 3.5 |
Overnight Charges (Swap Fee): If a trader keeps a position open overnight, swap fees are incurred that depend on the traded instrument and the position. Swap fees are different for each instrument and also differ for the long and short positions for each instrument.
The overnight charges are the same for all the account types at Exness. Compared with other regulated forex brokers in Kenya like XM, HotForex, FXTM, and many more, the swap fees at Exness are much lesser. The swap fees for a standard lot of some of the major instruments are mentioned in the table below.
| Trading Instrument | Swap Long | Swap Short |
| --- | --- | --- |
| EUR/USD | -0.35398 | 0.09688 |
| GBP/USD | -0.16108 | -0.13193 |
| Gold/USD | 0 | 0 |
| BTC/USD | 0 | 0 |
| Crude Oil | 0.65 | -3 |
| US Tech 100 | 0 | 0 |
Other Charges: The account opening is free for all the account types although minimum deposit requirements are different. Exness does not charge any inactivity fees. There is no commission involved in funding and withdrawals from the broker's end. Apart from the spread, commission, and swap, there are no other charges at Exness for Kenyan clients.
Overall, the trading fees without the commission on the Standard and Standard Cent account are better than many of the top regulated forex and CFD brokers in Kenya. Trading commission on the commission-based account types is slightly higher than some of the peers in Kenya. The commission on professional accounts can be slightly costly for small-scale traders. However, there are no non-trading charges in any form at Exness. This makes it more cost-efficient than many of the regulated forex and CFD brokers in Kenya.
Exness Account Types
Kenyan traders can choose between 5 types of accounts that are structured to suit the needs of different types of traders. We have thoroughly reviewed every account type at Exness to assist the traders in choosing the right one for themselves.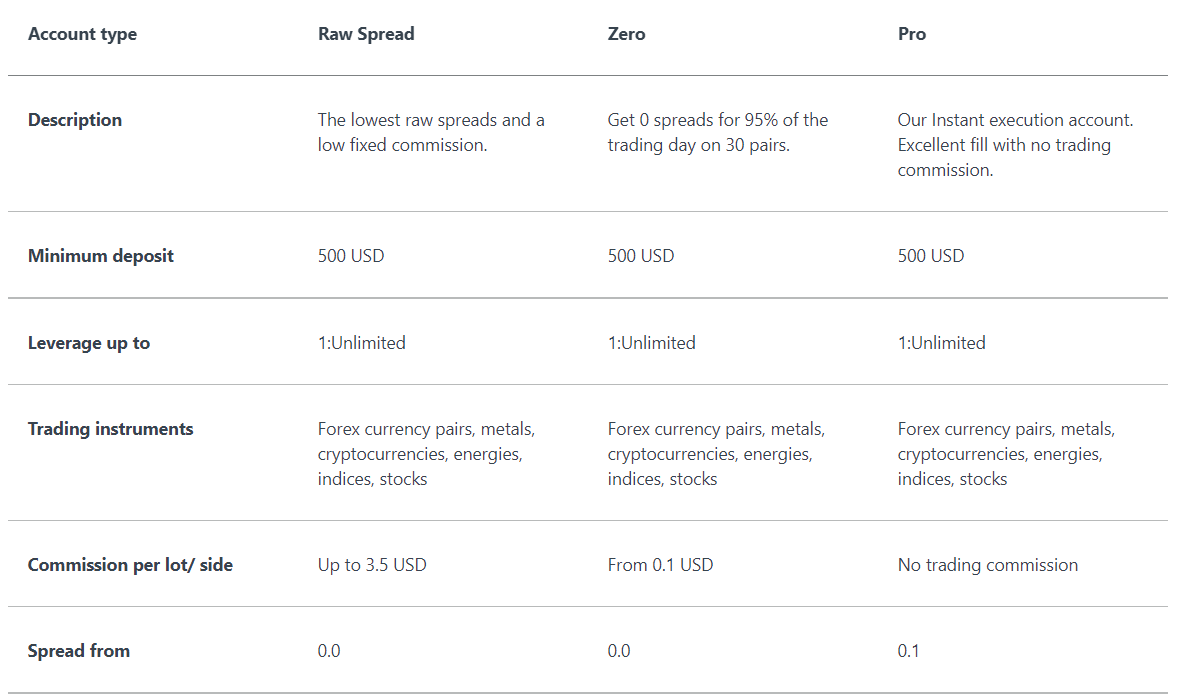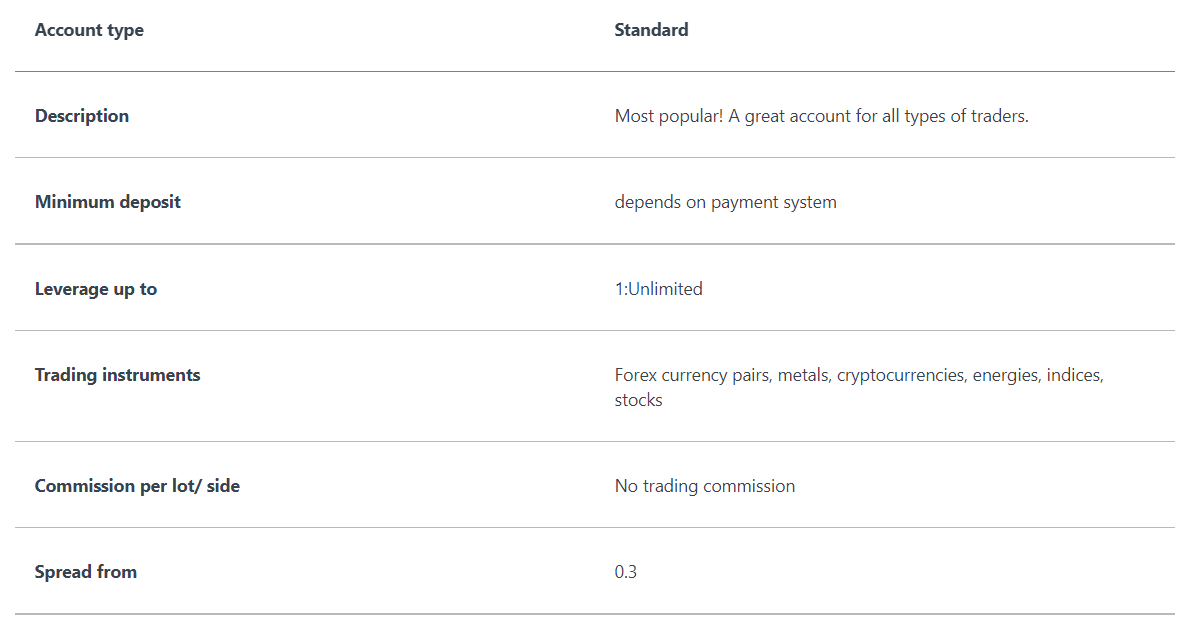 1) Exness Standard Account
It is the basic account type at Exness that does not involve commission and spread is the only trading fee that is applicable. The account can be opened with KES and several other currencies as the base currency. The maximum leverage is unlimited. This means that a position can be opened with negligible margin but it is too risky for the traders.
All the available trading instruments can be traded with the Standard account type with a minimum deposit of 10 USD. There is no upper limit on the number of positions that can be opened simultaneously. MT4 and MT5 trading platforms can be chosen to trade with the standard account. This account is ideal for all types of traders.
2) Exness Standard Cent Account
The features, trading conditions, as well as fees with the Standard Cent account, are similar to that of the Standard account. However, this account cannot be opened with KES as the base currency. Some of the trading instruments at Exness are not available with this account type. The base currency of this account is in cents of 6 currencies. USC, EUC, GBC, CHC, AUC, CAC. This account type is ideal for beginners who wish to trade with a smaller volume.
3) Exness Raw Spread Account
This professional account has a fixed trading commission of 3.5 USD for all the available instruments. The spreads are much lower than the standard account but slightly higher than the Zero Spread account type. This account can be opened with a minimum deposit of 500$ with unlimited access to leverage.
All the available instruments can be traded with the Raw Spread account type with the fixed commission. Trading smaller volumes can be costly with this account type as there is a spread as well as commission associated. This account is ideal for experienced traders.
4) Exness Zero Spread Account
As the name suggests, the spread for most of the instruments with this account type is zero. This makes it the best choice for scalping and large volume trades. The commission associated with each instrument is different and can be checked on the official website and app of Exness. This account is also available with KES as the base currency and can be opened with a minimum deposit of 500$.
5) Exness Pro Account
The Pro account does not involve a commission while the spreads are fairly lower than the Standard Account type. The features like base account currency, leverage, minimum lot size, etc are similar to Raw spread and Zero account type. It also requires a minimum deposit of 500$. This account type is ideal for all types of traders as there is no commission and the spreads are also low. According to our review, this is the most cost-effective account type for small to medium-volume traders if they are willing to deposit 500$.
Overall, the variation in the fees and trading conditions of multiple account types makes it a suitable choice for different types of traders. The flexibility in account types is advantageous to Kenyan clients as they can choose the most suitable account according to their trading strategy and objective. All the accounts except the Standard Cent account can be opened with KES as base currency which is a plus point for the KES clients.
How to Open an Account at Exness?
The account opening process is quick and simple at Exness. To open a real and demo account at Exness, traders need to follow these steps at the official website of Exness or app.
Step 1: Login
The first step in account opening process is to login into the personal area by selecting the country of residence, providing the email address, and choosing a password.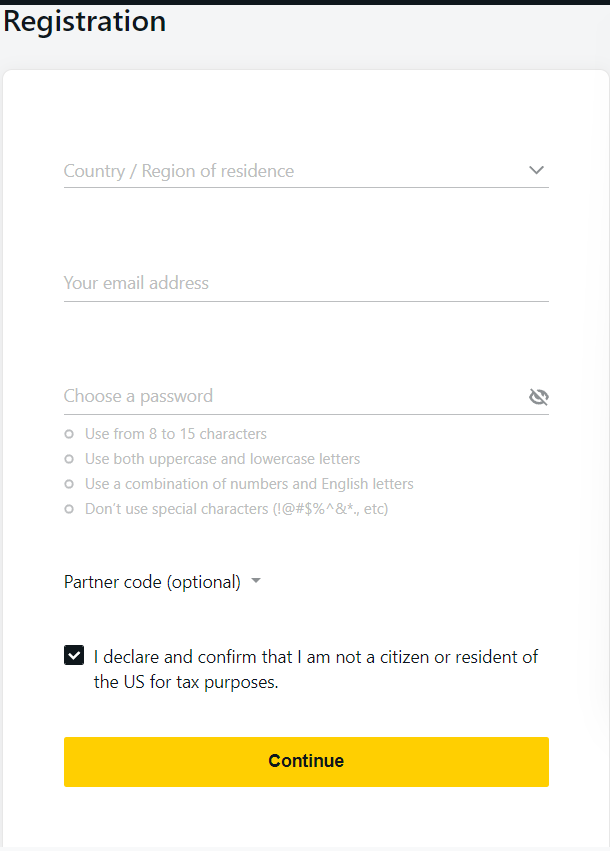 Step 2: Open Account
The completion of first step will lead you to the personal area. Under my accounts tab, clients can open real as well as demo account. Multiple accounts can be opened at Exness and all accounts can be managed through here.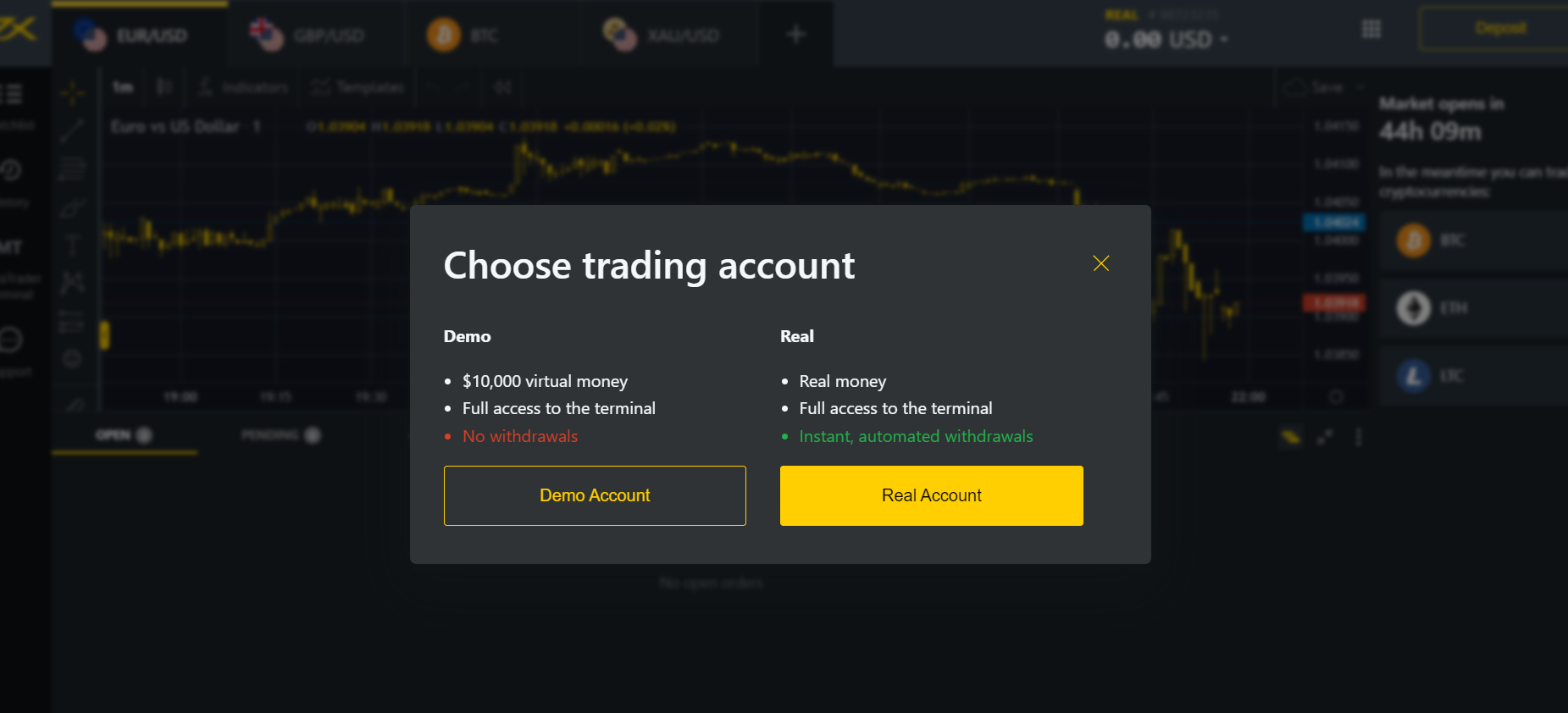 Step 3: Configure Account
Clients at Exness can choose between 5 account types. Each account can further be configured with the choice of trading platform, max leverage, and base account currency. The nickname and password can also be assigned to the trading account.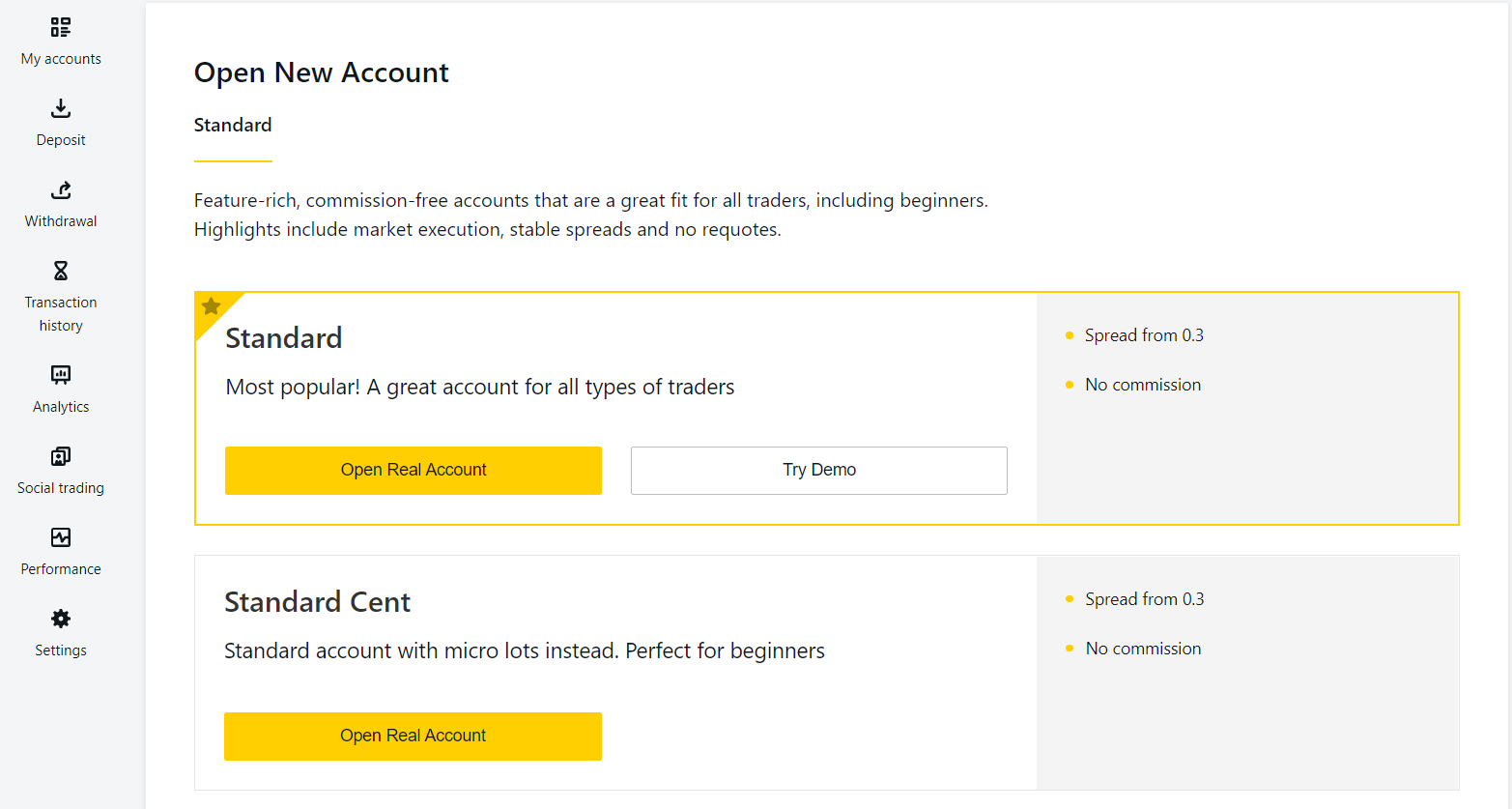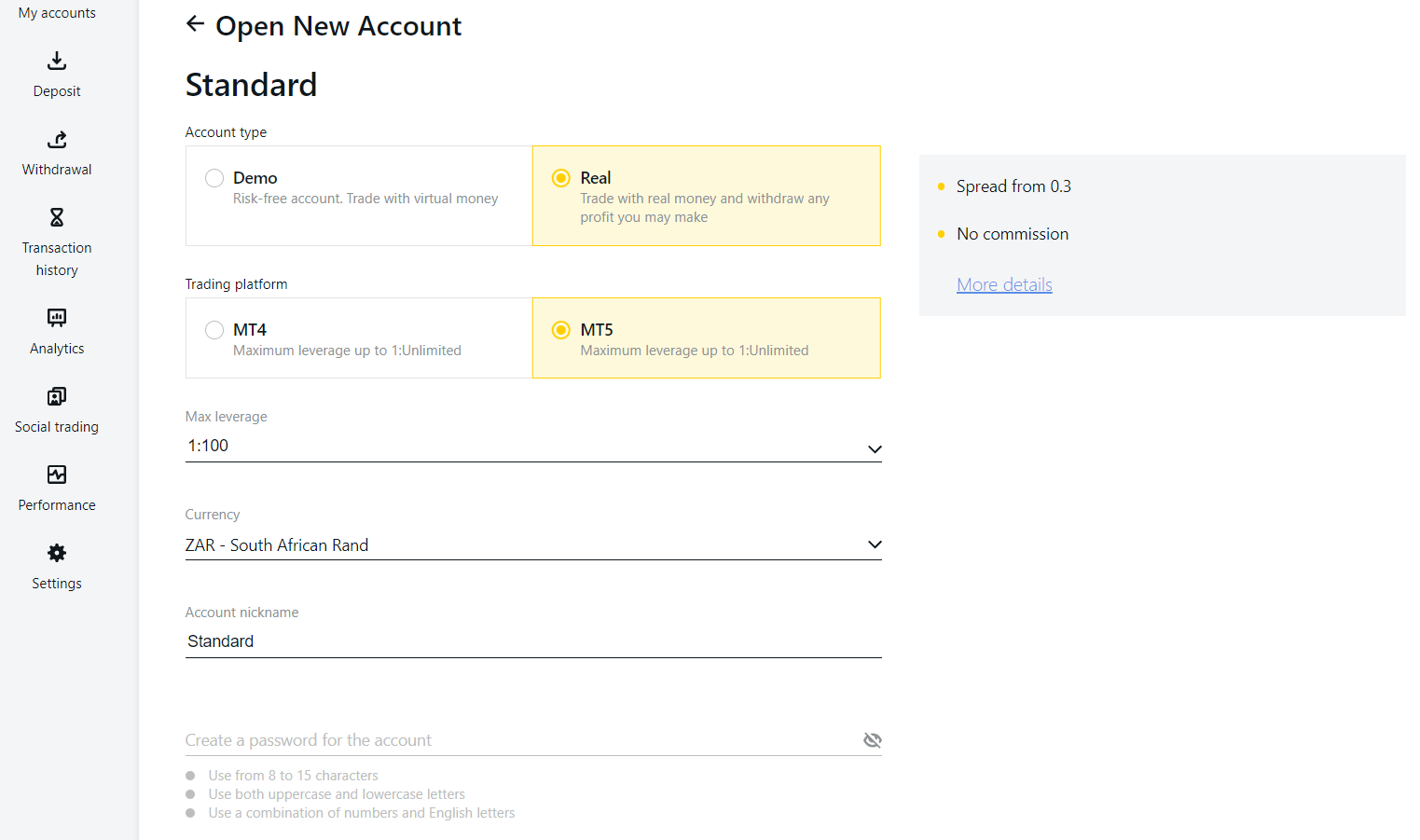 Step 4: Verification
To trade on the financial markets, traders need to verify their details. The email and phone number will be verified through one time password (OTP). The address and identity of the trader needs to be verified through documents like passport, national identification card, etc.
Step 5: Deposit
Once the verification is complete, clients can deposit the funds through available methods. Each deposit method takes different time to process and has different minimum and maximum limits. Once the deposits are visible in the account balance, clients can start trading through the trading platform.
Exness Deposits and Withdrawals
There are multiple methods to deposit and withdraw from Kenya at Exness. Exness does not charge any commission for deposits and withdrawals with any of the available methods. It must be noted that the withdrawals can only be made through the methods used for funding the Exness account. Following are the methods that can be used in Kenya to make a deposit or withdraw funds.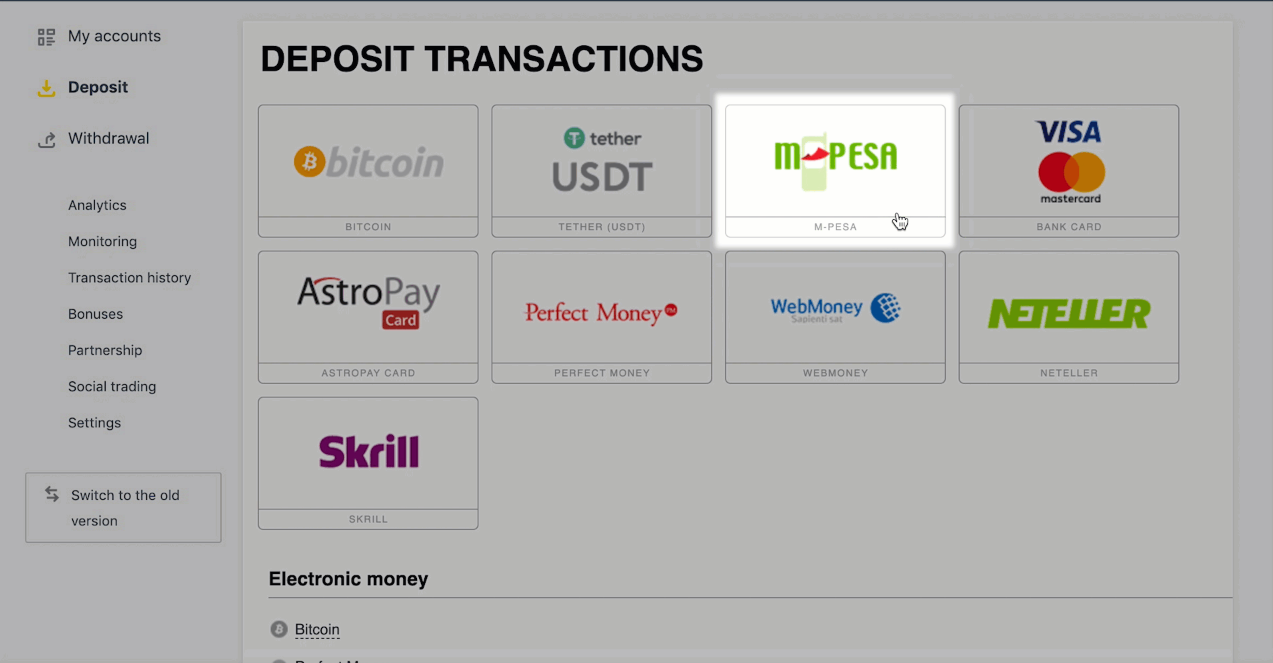 Local Bank Transfer: Exness accepts deposits and withdrawals through selected local banks in Kenya. The supported banks include Kenya Commercial Bank, Standard Chartered Bank, Bank of Baroda, Commercial Bank of Kenya, National Bank of Kenya, Stanbic Bank, NIC Bank, Diamond Trust Bank, and Equity Bank. The minimum deposit is and withdrawal amount is $1 and $2 respectively. Deposits are processed instantly while withdrawals can take up to 24 hours.
m-Pesa: Exness accepts funding and withdrawals in Kenya via m-Pesa. If deposits are made via m-Pesa, withdrawals can also be done in a local Kenyan bank account registered with the same name. The minimum deposit and withdrawal amount with m-Pesa is $10 with m-Pesa. The deposits, as well as withdrawals, are processed instantly with m-Pesa with no added commission.

Credit Cards: Deposits and withdrawals can also be done through credit cards after entering the details of the cards in the deposit section. The minimum amount is 10$ for deposit as well as withdrawal. Deposits are reflected instantly while withdrawals through credit cards can take up to 3 business days to process.
E-Wallets: Several e-wallets are accepted as funding and withdrawal methods at Exness from Kenyan clients. Traders can use Skrill, Neteller, Perfect Money, Webmoney, and AstroPay card to deposit and withdraw from Exness account in Kenya. The transaction time is instant for most of these e-wallets and the minimum amount varies for the wallet selected.
Cryptocurrency: Deposits and withdrawals are also accepted through Bitcoin and Tether (USDT) with a minimum deposit amount of 10$ equivalents. Exness does not charge anything but the miner fee for cryptocurrency transactions has to be paid by the clients. During withdrawal, the miner fee will be deducted from the withdrawal amount.
If the base account currency is not KES, all the KES deposits will be automatically converted to base account currency. According to our review, m-Pesa and local bank transfer are the most convenient deposit and withdrawal methods available in Kenya.
Exness Available Instruments
Exness provides a wide range of trading instruments. The number of forex pairs that can be traded at Exness is highest among the regulated forex and CFD brokers in Kenya. Major, minor, and exotic currency pairs are available at Exness in Kenya. A great variety of trading instruments provides more opportunities to the traders. Some of the instruments are not available with the Standard Cent Account and Pro Account. All the other account types provide access to trade on all the available instruments.
The table below contains the details of the number of trading instruments available at Exness in Kenya with the standard account type.
| | |
| --- | --- |
| Forex Pairs | 107 |
| CFD on Indices | 10 |
| CFD on Stocks | 88 |
| CFD on Energies | 2 |
| CFD on Metals | 10 |
| CFD on Cryptocurrency | 34 |
Exness Trading Platforms
A trading Platform is where traders will spend most of their time trading forex and CFDs. It is important to choose the most suitable trading platform.
For a detailed review of available trading platforms at Exness, we have separately reviewed the web, mobile, and desktop trading platforms at Exness in Kenya.
Web Trading Platform
Traders can trade at Exness through web browsers without downloading any software on multiple types of devices. The web trading platform at Exness is provided by MetaTrader Software. Traders can choose between MetaTrader 4 and MetaTrader 5 as web trading platforms. The MT5 trading platform is not supported with the Cent Account type but both platforms are available for all other account types.
The MT4 and MT5 web terminal platforms can be used through web browsers on Windows, Linux, macOS, iOS, and Android devices. Online tools and web plugins can be linked with the web terminal but external software and trading might may not get linked with the web platforms.
Mobile Trading Platform
For trading through downloadable applications on mobile devices, traders have multiple options at Exness. Exness offers MT4 and MT5 trading platforms for mobile devices. Additionally, they also have a proprietary mobile trading platform called as Exness Trader App.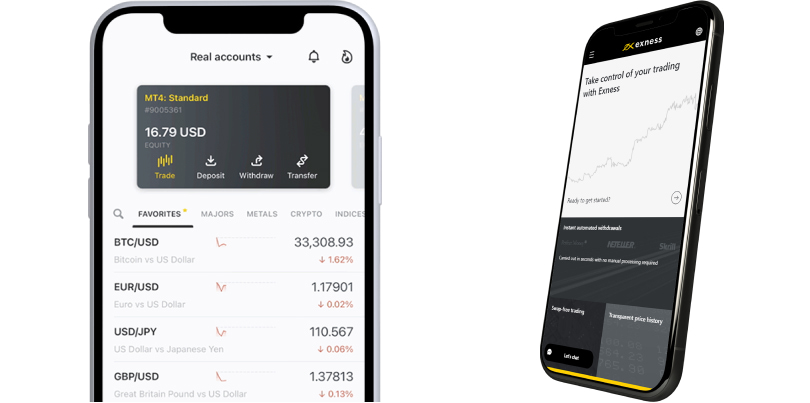 The Exness Trader App is a user-friendly platform with a friendly interface. Apart from placing, closing, and modifying trade orders, traders can also manage their accounts, deposit and withdraw through multiple methods. The customer support service is also available on the Exness Trader app 24*7. The Exness Trader app has multiple indicators and analysis tools to assist traders.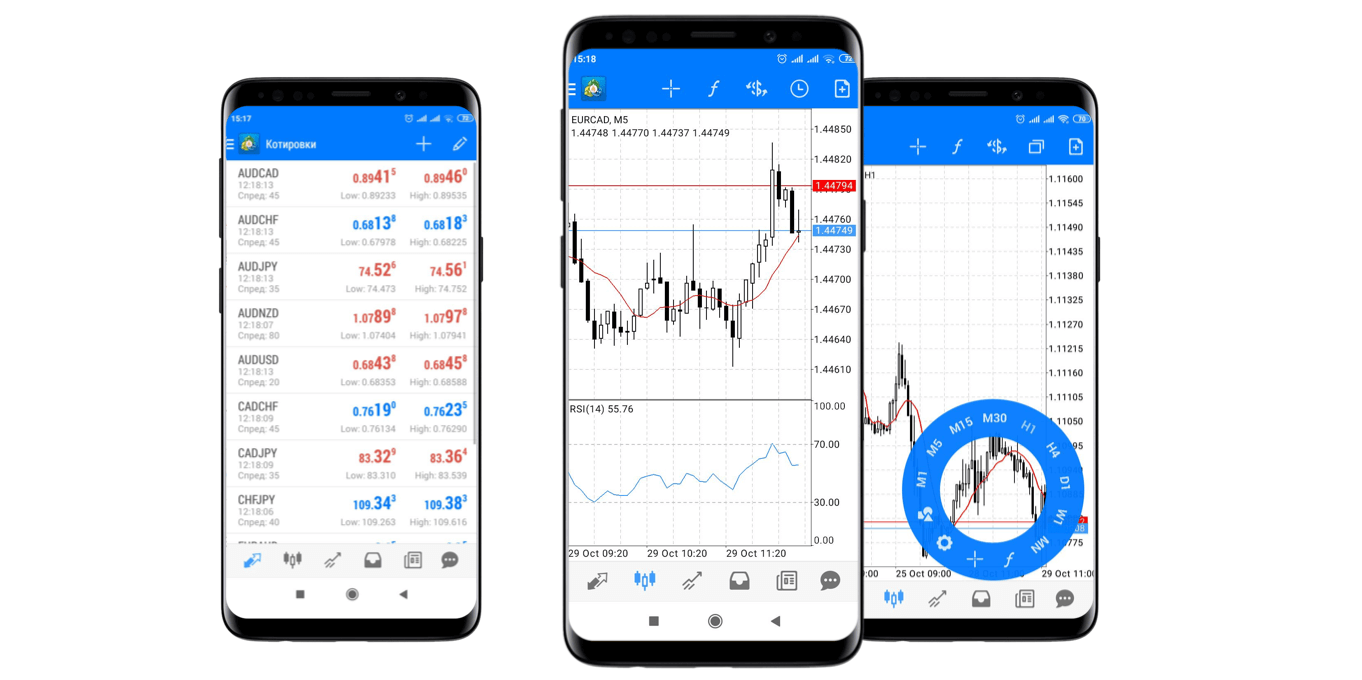 MT4 and MT5 mobile applications can also be downloaded on Android and iOS devices and linked with the Exness Trading account. The MT4 and MT5 trading applications are widely used by traders around the globe. However, the interface is average and limited charting tools are available with the MetaTrader trading application.
Desktop Trading Platforms
For desktop devices, MT4 and MT5 are the only two options for trading at Exness. These platforms can be downloaded on windows, Linux, and iOS devices and linked with an Exness trading account. The third-party software and trading tools can be paired with the MetaTrader desktop trading platforms.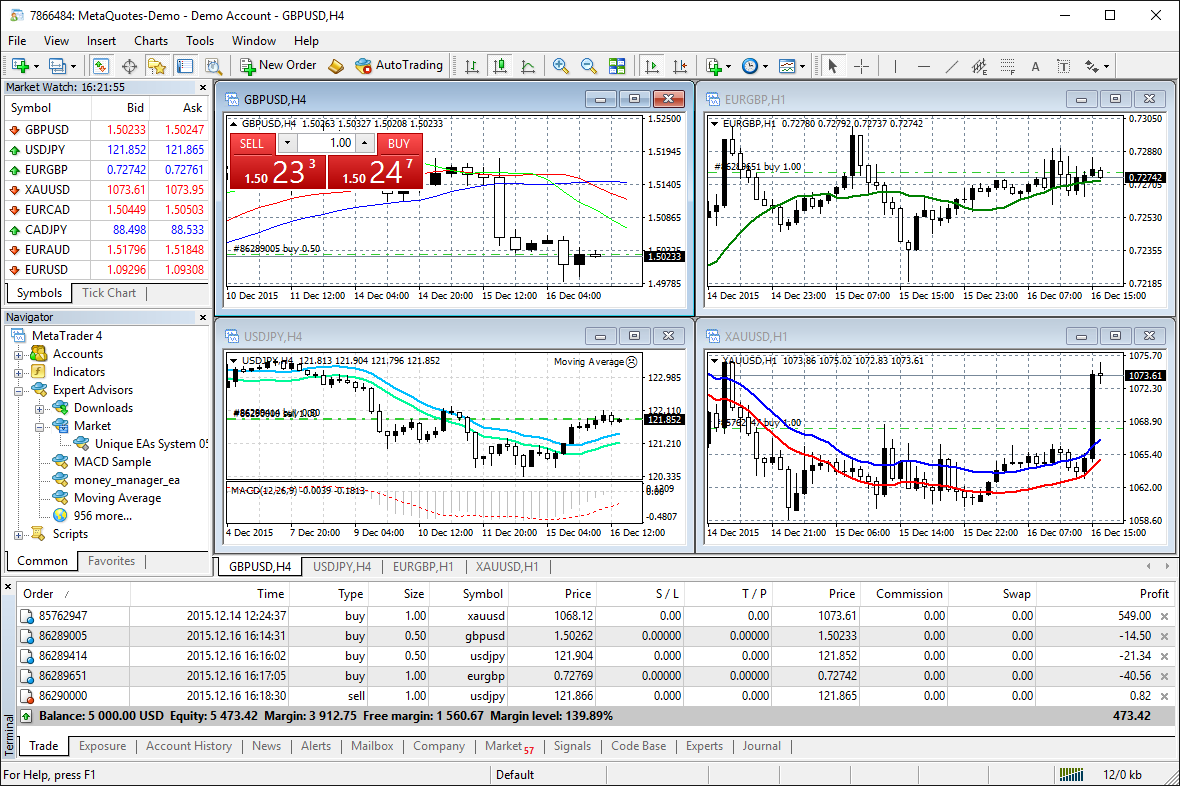 MT4 is one of the oldest and most widely used trading platforms for online forex and CFD trading. It was incorporated in 2005 by MetaQuotes Software. MT4 has better compatibility with all types of devices as it is the most basic online trading software with all the necessary tools and indicators.
MetaTrader 5 is an upgraded version of MT4 that offers more tools and indicators to enhance the trading experience. It was introduced in 2010 and has a modern interface. MT4 is considered ideal for beginners while MT5 is considered ideal for automated traders and experienced traders.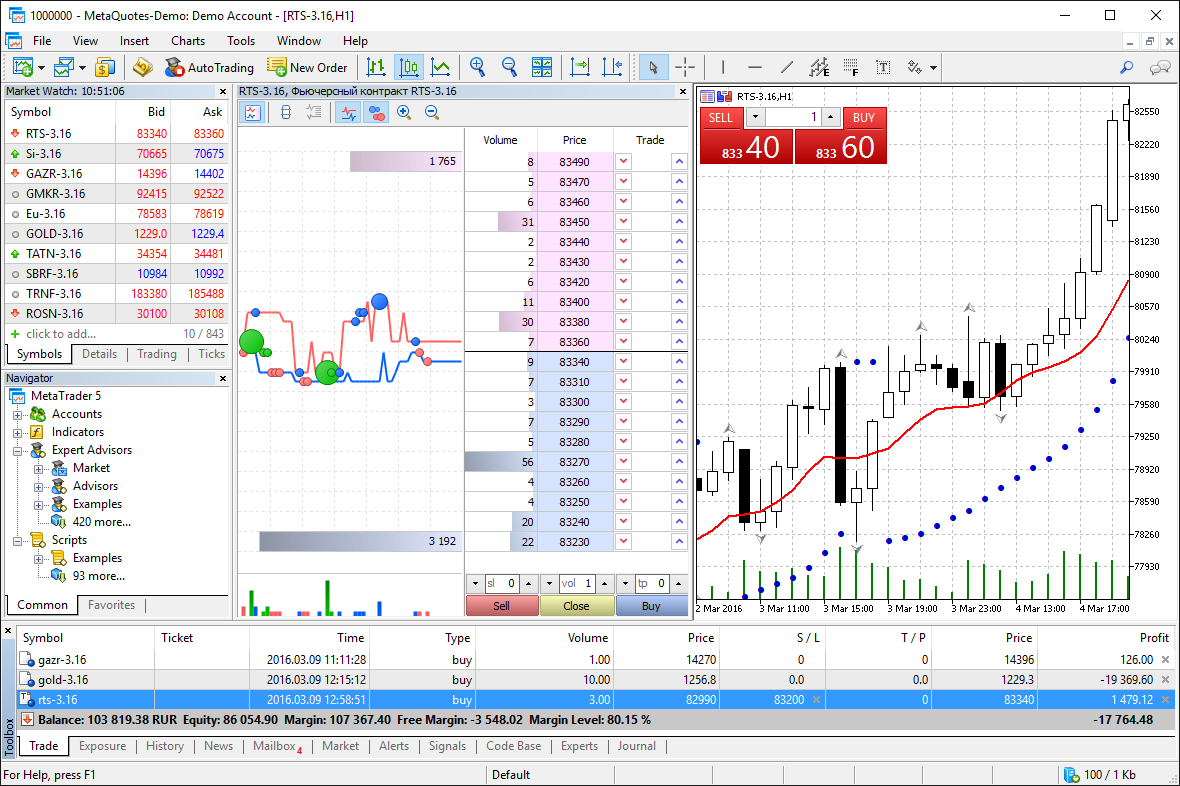 Exness Research and Education Tools
Following are the research and education tools offered by Exness:
Market Analysis: Exness offers daily, weekly, and monthly market analyses encompassing major forex pairs, commodities, indices, and cryptocurrencies. These analyses deliver technical and fundamental insights, price projections, and potential trading opportunities.

Economic Calendar: An economic calendar displays upcoming economic events, data releases, and indicators that could impact the financial markets. This tool aids traders in staying well-informed about significant market-moving events.

Trading Central: Exness potentially provides access to Trading Central, a third-party tool specializing in technical analysis. This resource offers extensive research, trading signals, and market commentary, assisting traders in making informed decisions based on technical analysis.
Webinars and Seminars: Exness frequently organizes webinars and seminars covering a diverse range of trading topics, strategies, and prevailing market trends. These virtual sessions enable traders to learn from industry experts and expand their trading knowledge.
Educational Articles and Guides: Exness's website likely features a wealth of educational articles, guides, and tutorials encompassing fundamental trading concepts, strategies, risk management, and other relevant subjects.
Video Tutorials: Video tutorials provide a visual and engaging means for traders to gain insights into trading platforms, technical analysis techniques, chart patterns, and various other trading-related aspects.
Demo Accounts: Exness often offers demo accounts, enabling traders to practice trading using virtual funds in a risk-free environment. This serves as a valuable tool for beginners to acclimatize themselves with the trading platform and the dynamics of the market.
Educational E-books: Some brokers, including Exness, may provide educational e-books that span a wide spectrum of forex trading subjects, catering to both novice and advanced traders.
Interactive Tools: Interactive tools such as calculators (e.g., pip calculators, margin calculators) and trading quizzes might be accessible, contributing to traders' skill enhancement and comprehension.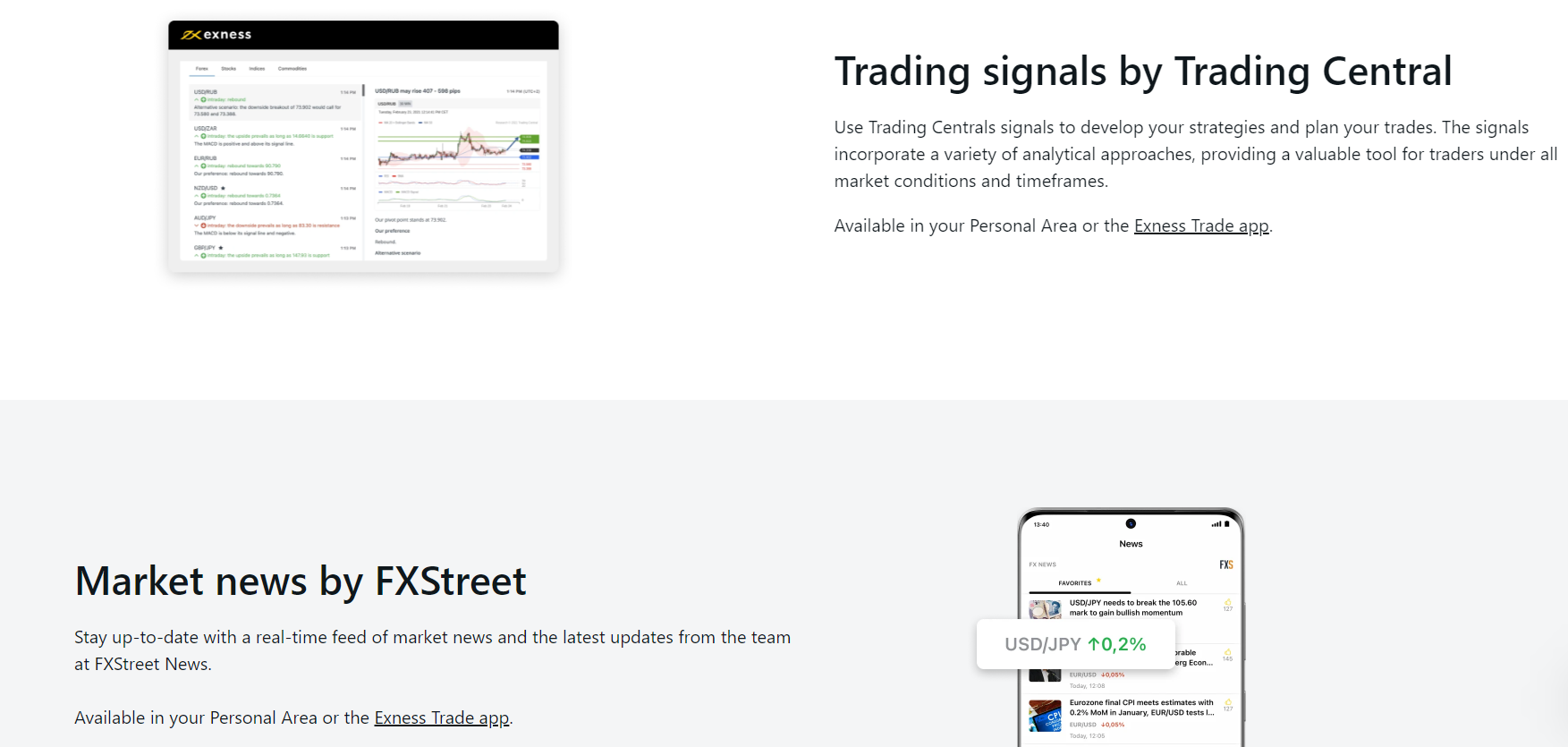 Exness Customer Support
The customer support service at Exness is decent with the live chat window and email. The absence of local phone support can be a drawback. We tried to connect with the support executives through all the methods to review their support service. Following was our experience.
Live Chat: When you start a conversation through the live chat window at the bottom right corner of the screen, you are first connected to a chatbot. We tried it 3 times and the bot wasn't able to resolve our query with helpful replies. Upon making a request, the support executives can be connected which is quite useful in resolving any issue faced.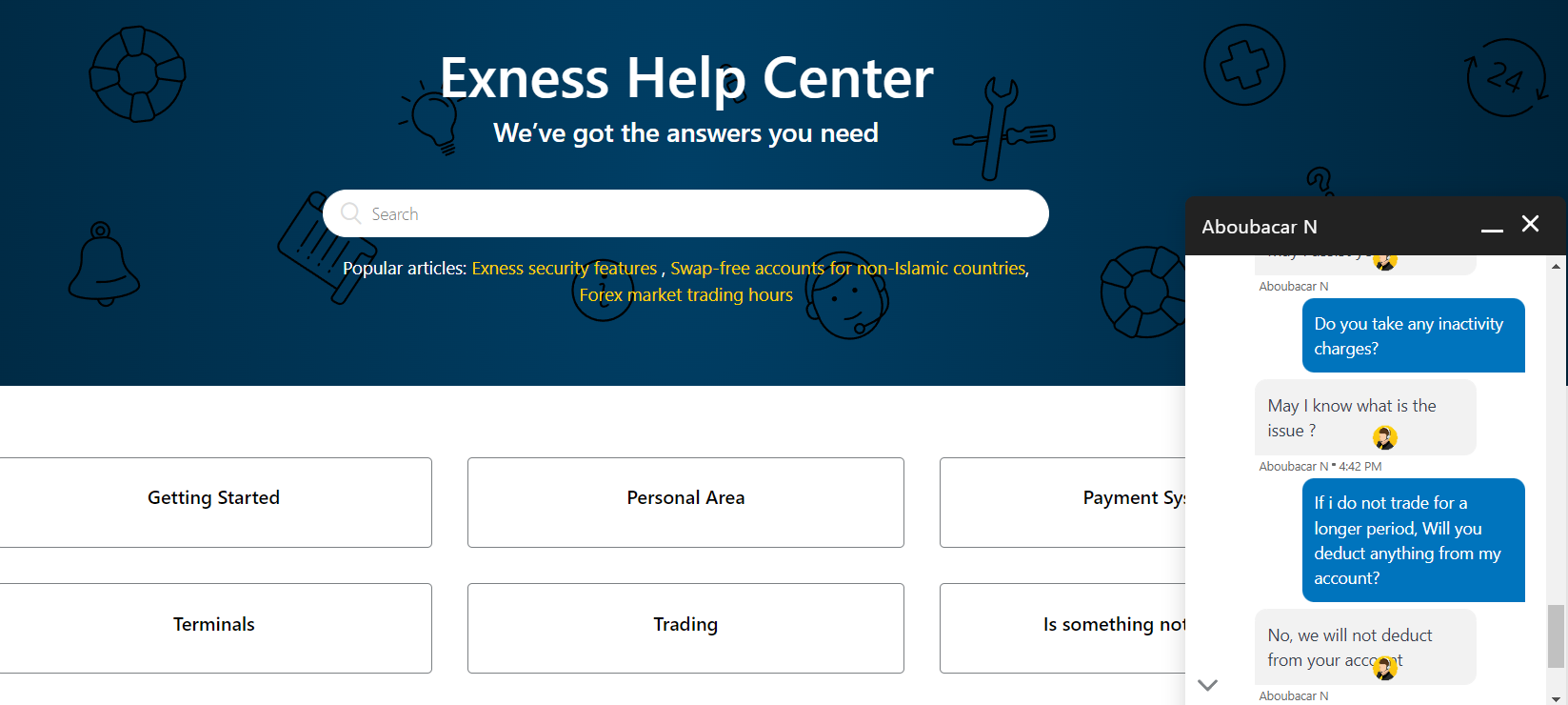 E-mail: The email support is decent but you might need to wait for 2-6 hours to receive a relevant and helpful reply. The live chat window is a much better alternative.
Help Center: The Center at the official website and App of Exness can resolve a lot of your queries. It contains hundreds of articles regarding common queries faced by the clients.
No Local Phone Support: There is no local office of Exness in Kenya and no local phone support is available. Although international phone numbers are available for customer support in English and several other languages.
Compared to all the regulated forex and CFD brokers in Kenya, the customer support service is decent at Exness.
Exness Bonus
At the time of this review, there is no bonus offering for opening the account or making deposits. Exness generally does not offer any bonus to traders in any manner.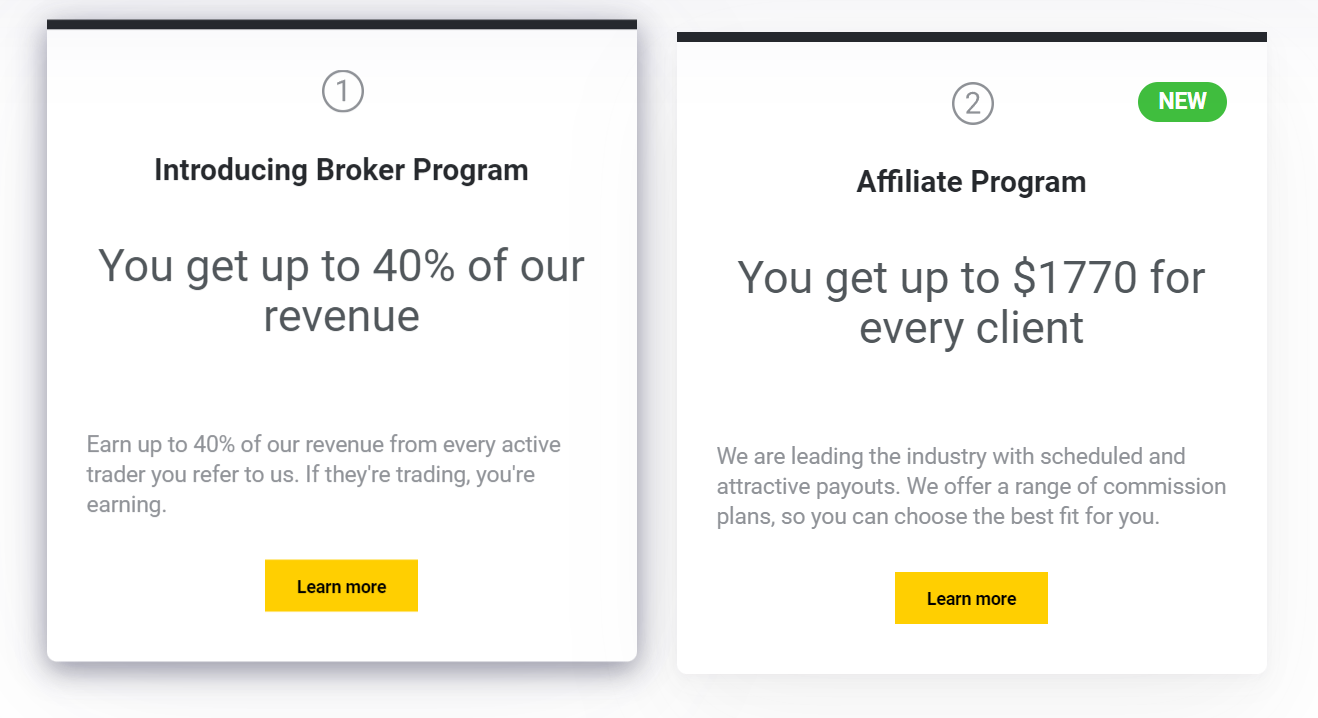 Exness Partnership Program
The partnership program at Exness allows clients to earn by recommending Exness to other traders. The Broker program allows you to earn 40% of the revenue generated from the client that was recommended by you. You can only earn from referring other clients if they execute trade orders and generate revenue for Exness.
Exness Affiliate Program
The Affiliate Program allows clients to earn up to $1770 equivalent by directing the traffic to Exness. Up to 25$ can be gained for each completed registration. Apart from this, no other bonus is offered to Kenyan clients.
Exness FAQs
What is the Minimum deposit at Exness in KES?
1$ or 114 KES is the minimum deposit amount at Exness but depends on the prevailing USD/KES conversion rates. The minimum deposit amount at Exness depends on the method selected for transacting. Internet banking deposit through local banks in Kenya has the lowest minimum deposit amount of 1$. Minimum deposit through m-Pesa is 10$.
Is Exness a Legit Company?
Yes, Exness is a legitimate financial service provider and holds regulatory license from FSCA in South Africa, FCA in UK, and CySEC in European Union. It offers trading services on forex and CFD instruments with leverage.
Is it safe to trade with Exness?
Yes,Exness is regulated by the Capital Markets Authority of Kenya and can be considered safe to trade in Kenya. Tradenex is the legal entity of Exness regulated by CMA of Kenya. Clients residing in Kenya are registered under CMA regulation.
Which country is Exness from?
Cyprus, Exness has its headquarters as well as foundation in the island nation of Cyprus. However, it has offices in several other countries including Kenya.
Where is Exness located?
Cyprus, Exness has its headquarters in Cyprus with registered address 1, Siafi Street, Porto Bello, Office 401, CY-3042 Limassol, Cyprus. The office for FSA registered Nymstar Limited is at F20, 1st floor, Eden Plaza, Eden Island, Seychelles. Exness also have offices in Kenya, United Kingdom, Curaçao, and BVI.