FXPesa Kenya Review 2022
FXPesa is a CMA regulated forex and CFD broker in Kenya. They allow trading with a minimum deposit of Kes. 500. Check our detailed review to know everything about FXPesa in Kenya.
FXPesa is a CMA-regulated forex and CFD broker in Kenya. They offer a wide range of trading instruments with 2 choices of account types for different types of traders.
We have thoroughly reviewed every component of FXPesa exclusively for the traders based in Kenya. Our in-depth review will help you get familiar with all the trading conditions, deposit/withdrawal methods, fees charged, bonus offerings, account types, etc.
FXPesa Kenya Pros
FXPesa is regulated by CMA in Kenya
They have separate spread-based and commission-based account types
300+ trading instruments available
Local bank deposits and withdrawals are available at FXPesa in Kenya
M-Pesa, Airtel Money, and MTN mobile money transfer available
Low minimum deposit of 500 KES for Executive account
Local phone support available in Kenya
Local office in Kenya
30% initial deposit bonus up to $150
FXPesa Kenya Cons
USD is the only choice for account currency
Marginally higher trading cost compared with other brokers in Kenya
MetaTrader 5 is not available as a trading platform
No research and analysis tools are available
FXPesa Kenya Summary
| | |
| --- | --- |
| Broker Name | EGM Securities Limited (FXPesa) |
| Website | www.fxpesa.com |
| Regulation | CMA |
| Year of Establishment | 2019 |
| Minimum Deposit | KSh500 with Executive Account |
| Maximum Leverage | 1:400 |
| Trading Platforms | MT4, FXTrader |
| Trading Instruments | 62 Forex Pairs, CFDs on 3 energies, 5 metals, 16 indices, 240 stocks |
Safety and Regulation
FXPesa can be considered safe for Kenyan clients as it is one of the 6 CMA-regulated non-dealing desk forex brokers in Kenya.
The Capital Markets Authority (CMA) regulatory license of FXPesa has been registered by the name of EGM Securities Limited as a Non-Dealing online forex broker. The license number is 107 which can be checked from the official CMA website.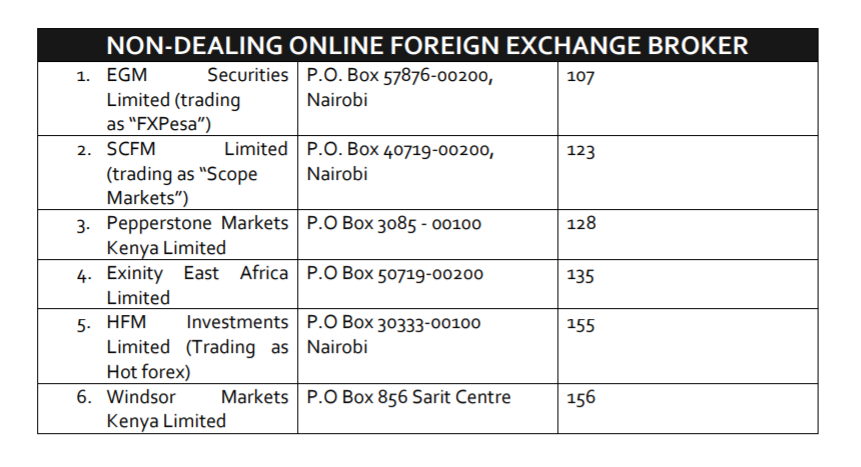 EGM Securities acquired the first CMA regulatory license in Kenya in 2019. Hence, it can be considered as the first CMA-regulated online forex and CFD broker in Kenya.
EGM securities is a registered financial company in Kenya with registration number PVT -AAAAFF7 and registered address at the 12th floor, Tower 1, Delta Corner Towers, Waiyaki Way, Westlands, Nairobi. FXPesa is the trading name of EGM Securities Limited.
The card transactions at FXPesa are processed by Equiti Capital UK Limited which is an affiliate of EGM Securities Limited. Equiti Capital UK Limited (Company No. 07216039) is authorized and regulated by the Financial Conduct Authority with FRM number 528328.
Money held in the trading accounts is kept in segregated bank accounts with a top-tier bank according to the regulatory compliance of the Capital Markets Authority in Kenya.
Kenyan clients at FXPesa are registered under CMA regulatory compliance and are safe. Complaints against the broker can be registered at CMA in Kenya. The third-party risk of choosing FXPesa is much lower compared to all the non-CMA regulated online forex brokers in Kenya.
FXPesa Fees
We have thoroughly covered all the components of the fees that can be incurred by FSPesa from Kenyan clients.
There are two account types at FXPesa namely Executive Account and Premiere Account. The Executive Account type does not involve a trading commission as the fees are built into spreads. The Premiere account has low spreads but a trading commission is charged on each executed trade order.
Following are the components of the fees incurred at FXPesa in Kenya:
Spread: The spreads are the difference between the bid and ask price of trading instruments. Higher spreads mean lesser gains for the traders and higher revenues for the service provider and vice versa.

The spreads at FXPesa with the standard Executive Account start from 1.4 pips per lot and 0 with the Premiere Account Type. The average typical spread for EUR/USD is 1.4 pips with the Executive Account and 0 with the Premiere account type. FXPesa incurs variable spreads that can change according to liquidity and market conditions.

The following table mentions the average typical spreads incurred at FXPesa in pips with both the account types.

| Trading Instrument | Executive Account | Premiere Account |
| --- | --- | --- |
| EUR/USD | 1.4 | 0 |
| GBP/USD | 2.2 | 0.2 |
| EUR/GBP | 2 | 0.2 |
| Gold/USD | 0.32 | 0.18 |
| Crude Oil | 0.028 | 0.028 |
| US Tech 100 Index | 1 | 1 |
| UK 100 | 0.7 | 0.7 |

Compared with other CMA-regulated online forex brokers in Kenya on average, the spreads are higher by a small amount with the Executive Account.

Trading Commission: The Executive Account type does not incur any sort of trading commission from the traders. There is a fixed commission for each trade with the Premiere Account type.

The trading commission on forex pairs and precious metals is $7 for a round-turn trade of a standard lot. The commission will be charged proportionately according to the lot size traded by the client. For example, a $70 commission will be charged for a round turn trade of 10 standard lots and $0.7 for 0.1 standard lot.

The commission for a round turn trade of standard lot of Future CFDs is $10 (excluding Natural Gas & High-Grade Copper). For other instruments except for forex, precious metals, and futures CFD, no commission is charged with any account type.

Most forex and CFD brokers including the other CMA-regulated brokers in Kenya charge a commission in the range of $6 to $8 with their zero spread accounts. Hence, the trading commission is average at FXPesa in comparison.

Swap Fees: Swap or overnight rollover is the fee that is incurred only if a position is kept open overnight. This fee can greatly affect the trading cost for spot CFD trades of more than one day. Future CFDs do not subject to rollover fees.

The swap rates for EUR/USD as a benchmark is -1.403 and -6.231 in pips for short and long position respectively. Each instrument has different swap rates for short as well as long positions. No swap rates will be applicable if clients choose the swap-free option while opening the account. However, this will incur additional trading fees.

The rollover fees at FXPesa will be incurred three times if a position is kept open from Friday to next Monday. We found the swap rates at FXPesa to be average when compared with other regulated CFD brokers in Kenya.

Non-Trading Commission: This includes all the charges that are incurred without entering a trade or opening a position. There are no account opening fees or account maintenance charges at FXPesa.

There is no commission for deposit but withdrawals through international wire transfer and e-wallets will incur additional commission. This has been separately reviewed under the deposit and withdrawal section. For all the other methods, there is no commission for deposits and withdrawals.

The only non-trading charges incurred at FXPesa are the inactivity fees. This fee will only be incurred if no trades are executed for 180 consecutive days. The amount that will be deducted from the account balance will be notified to the clients in advance.
Overall, the fees at FXPesa are average if we compare it with other CMA-Regulated Non-Dealing Forex brokers in Kenya. Some brokers have lesser fees by a very small amount while others also have higher.
FXPesa Account Types
FXPesa offers 2 choices of account types to suit different types of traders. Both the account types can only be opened with USD as a base currency. KES or any other currency cannot be chosen as the base currency of the account.
Both the account types provide access to trading on all the available instruments at FXPesa. The maximum leverage is also the same for both account types. The maximum tradable lot size is 150 while the minimum trade size is 0.01 lots for both the account types. The major difference between the 2 account types exists in terms of minimum deposit and trading fees.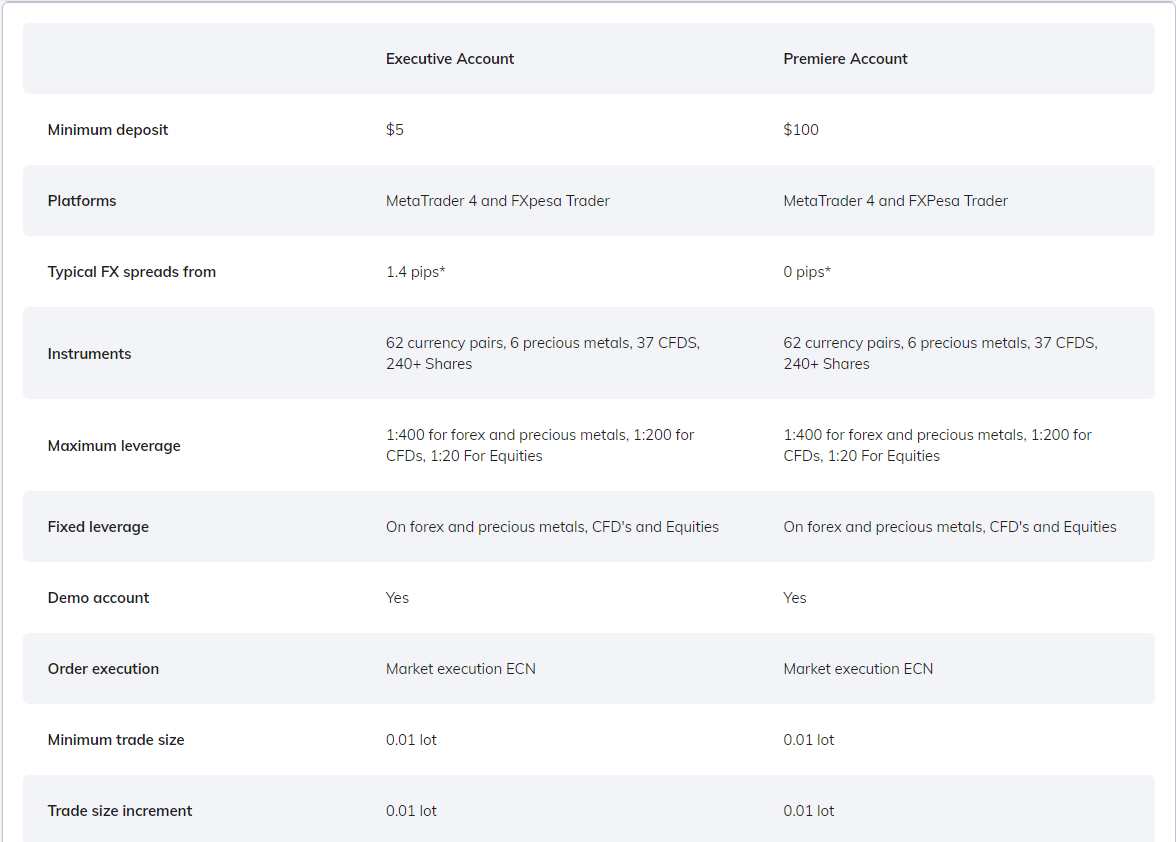 Executive Account: This account is ideal for beginners as it only includes spread as a trading commission. It can be opened with a minimum deposit of $5 or KSh500.
Premiere Account: This account is ideal for large volume traders and scalpers as the commission is the major fee component with this account. The spreads are very low and start from 0 pips. This account can be opened with a minimum deposit of $100 or KSh10,000.
How to Open an Account at FXPesa?
The account opening process at FXPesa is simple and user-friendly through the website and app. The account approval can be done within 24 after submitting all the required valid documents. There are 5 steps involved in opening the account at FXPesa.
Step 1: Basic Details
After opening the 'Real Account' window on the FXPesa website and app, clients need to provide their most basic details. This includes name, email, and phone number. The phone number has to be verified through OTP to move on to the next step.
All the details entered by the client have to be the same as those on their passport or any other personal ID and bank account.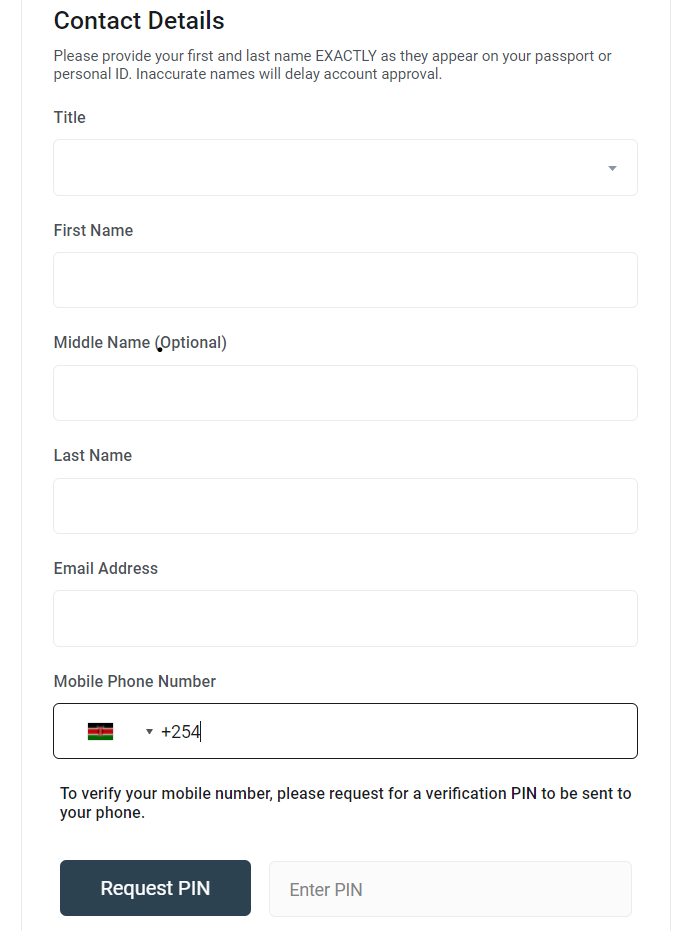 Step 2: Personal Information
This is where clients need to enter their personal details like date of birth, address, and ID document details. The account type and swap-free option are also to be selected in this step. After that clients need to create a password for their account.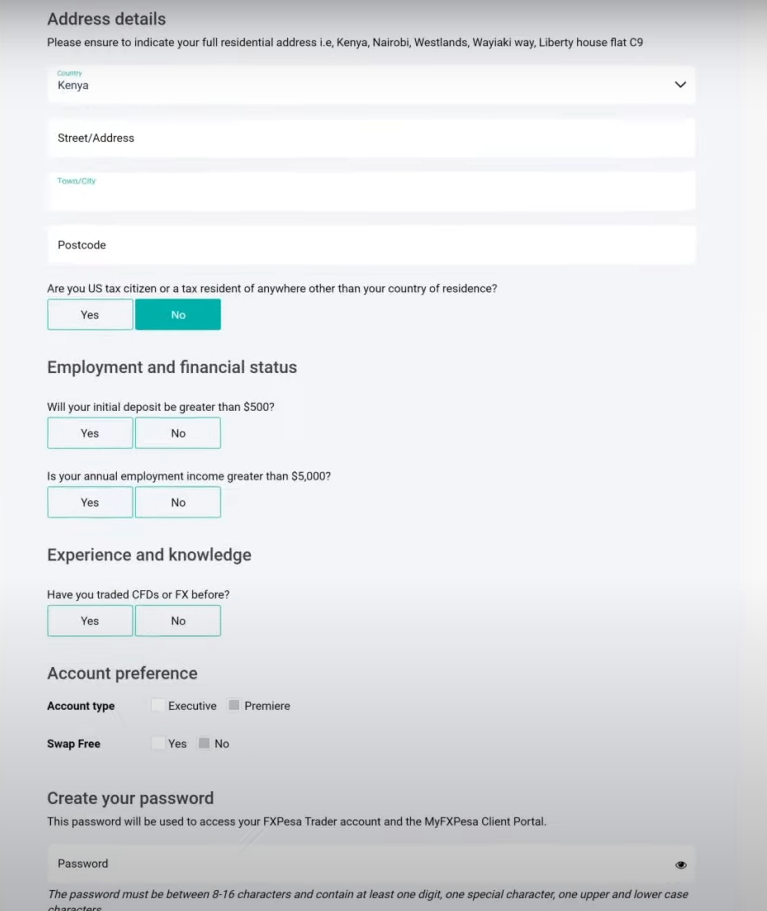 Step 3: Trading Experience and Declaration
In the next step, FXPesa will roughly ask for trading experience, income, and expected trading amount from the clients. A declaration form has to be signed electronically after this. Clients should read the declaration and understand it before signing it.
Step 4: Document Verification
After signing the declaration, clients will be redirected to their respective personal areas. To be eligible for trading, clients need to submit a digital copy of their Kenyan national ID or Passport issued by the Republic of Kenya. The executives at FXPesa will verify the documents and will approve the account. This process can take 24 hours.
Step 5: Make a Deposit
Once the account is approved, the username and password to log in on the trading platform will be mailed to the registered email address. Clients need to make a deposit through any of their preferred methods to start trading at FXPesa from the online trading platform.
FXPesa Deposits and Withdrawals
FXPesa accepts multiple methods for deposits and withdrawals from Kenyan clients. Deposits through all the available methods can be done in KES. However, all KES deposits will be automatically converted to USD as it is the base currency of the account at FXPesa. Following are the details of the available methods.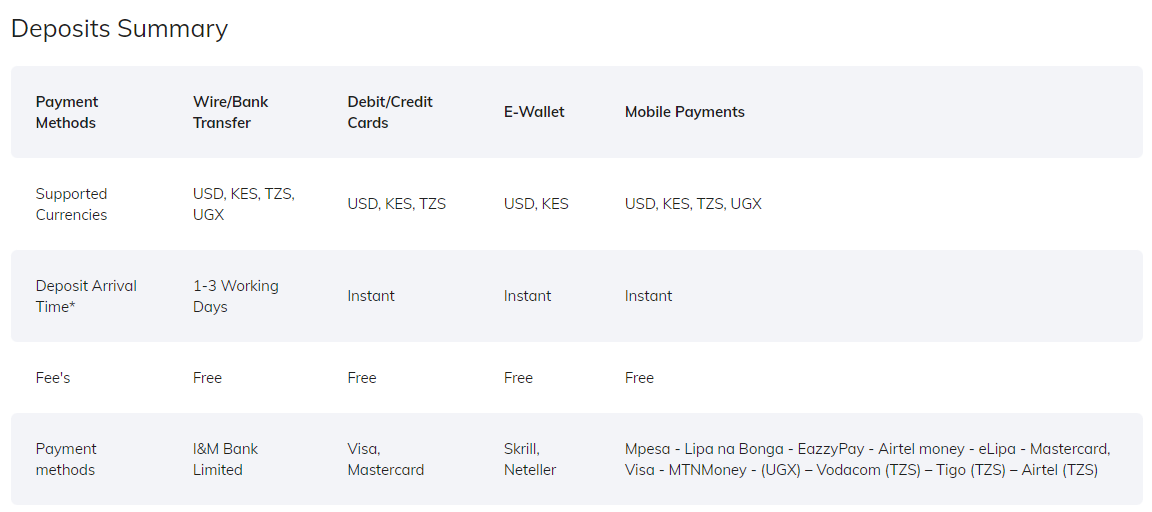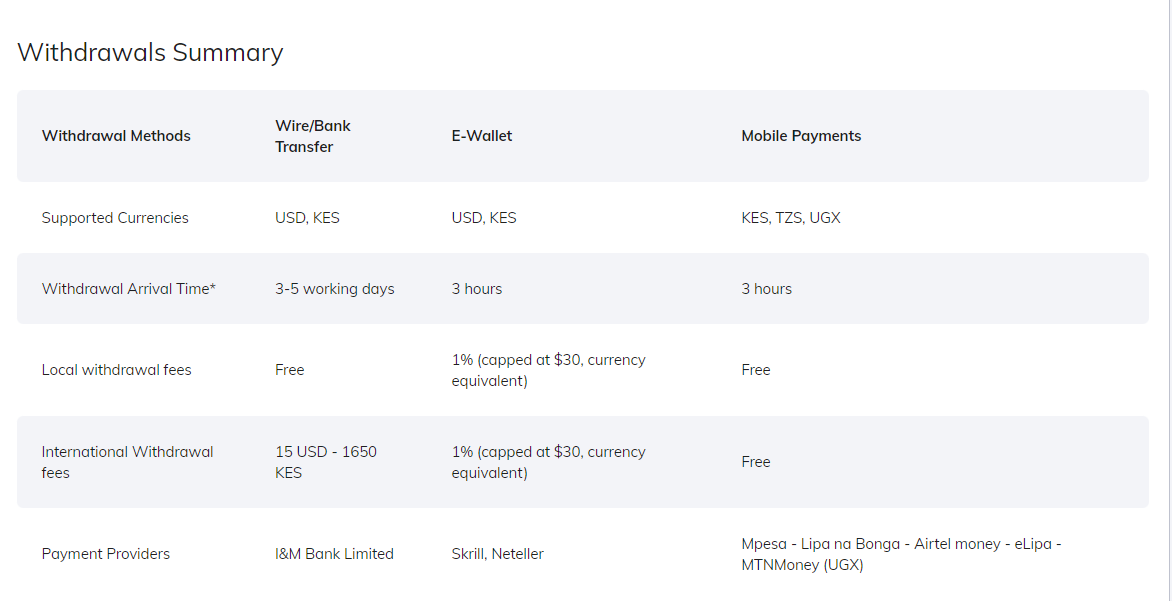 Bank Transfer: Kenyan clients can transact at FXPesa through local bank transfers and wire transfers. The time taken to process the transaction depends on your bank account. Generally, it takes 1-3 days for deposits and 3-5 days for withdrawals to process via local bank transfer.

The minimum deposit as well as withdrawal amount is $50 or KSh5000 through this method. There is no upper limit on the amount of deposit and withdrawal via bank transfer.

Mobile Money: The mobile phone-based money transfer is the most convenient method to deposit and withdraw at FXPesa in Kenya. FXPesa accepts free transactions through M-Pesa, Airtel Money, and MTN mobile payment methods.

The minimum deposit amount through these gateways is KSh500 while the minimum withdrawal amount is KSh100. The maximum limit for transactions with these methods is KES 150,000 per transaction and KES 300,000 per day. All the deposits are reflected instantly in the account balance while withdrawals can take up to 3 hours to process.

Debit/Credit Card: Deposits can also be made through the debit and credit card affiliated with the registered bank account. The minimum deposit amount is KSh500 of $5 and the payments are processed instantly. The withdrawal procedure will be through bank transfer.
E-Wallet: Kenyan clients can also deposit and withdraw through Neteller and Skrill. 1% commission up to $30 equivalent will be charged on withdrawal through Neteller and Skrill. Hence, this may not be an ideal choice to transact.
The minimum deposit and withdrawal amount through e-wallets is KSh3000 or $30. The maximum amount is $5000. Deposits are processed instantly while withdrawals can take up to 3 hours.
According to our review, the mobile money transfer payment gateways namely M-Pesa, Airtel Money, and MTN are the best methods for deposits and withdrawals in Kenya at FXPesa.
FXPesa Trading Platforms
FxPesa allows trading through MT4 and MT5 trading platforms. They also have a mobile trading app and an account management portal that can be used to track performance and other activities. Trades can only be executed through MT4, MT5, and FxPesa Mobile App.
The FxPesa Mobile App can be downloaded on Android and iOS devices to trade on financial markets on the go. The app has 100k+ downloads with overall positive reviews from existing clients. We found it good for executing trade orders but it has limited options to analyse the market.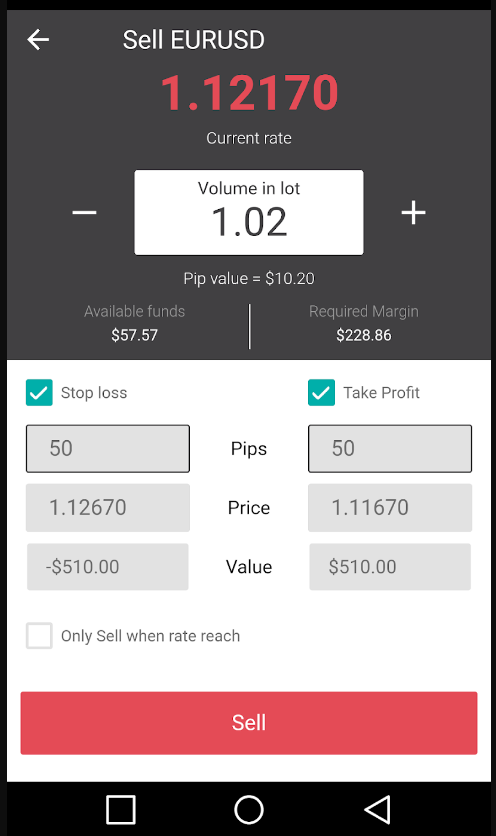 MT4 is the oldest and most basic CFD trading platform in the world that is still used by a large number of forex and CFD traders worldwide. It was developed by MetaQuotes Software in 2005 and is considered ideal for all types of traders.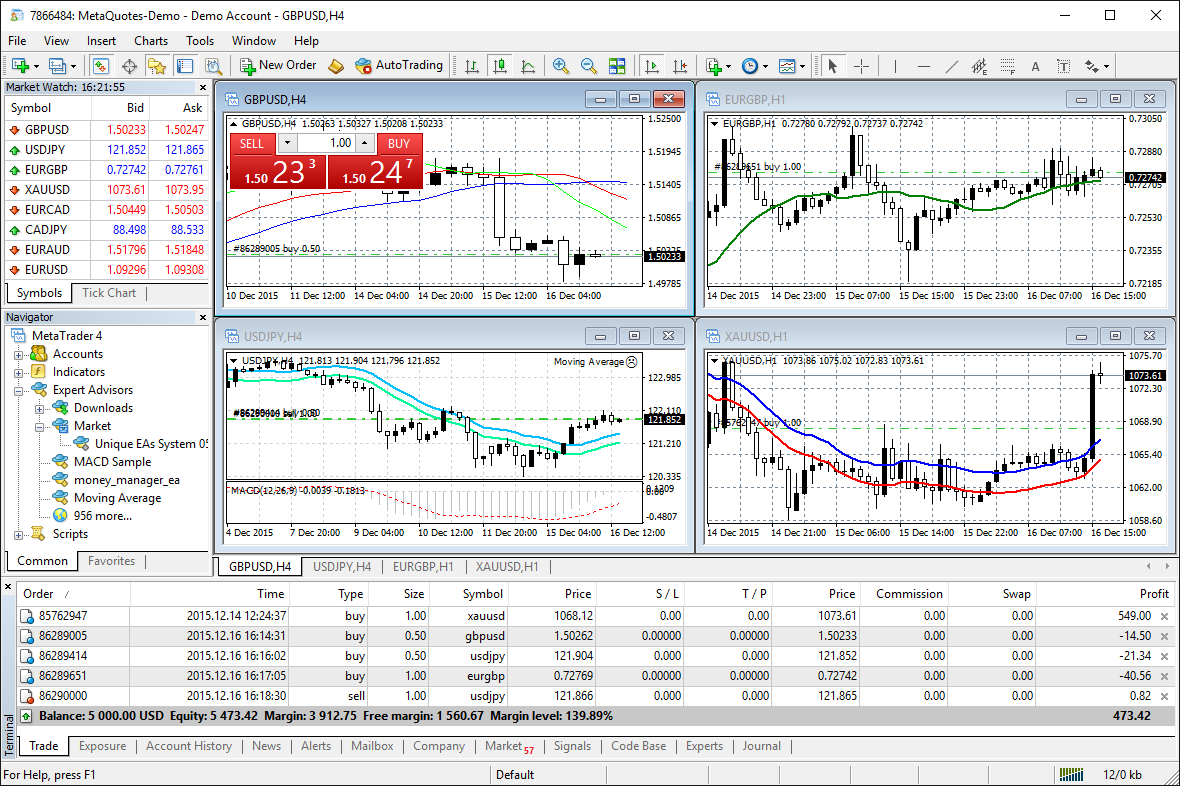 MT5 is an upgraded version of MT4 developed by the same company in 2010. It has a better-looking interface with more advanced features and tools. MT5 has been recently introduced by FxPesa as it is preferred by many intermediate, experienced, and professional traders.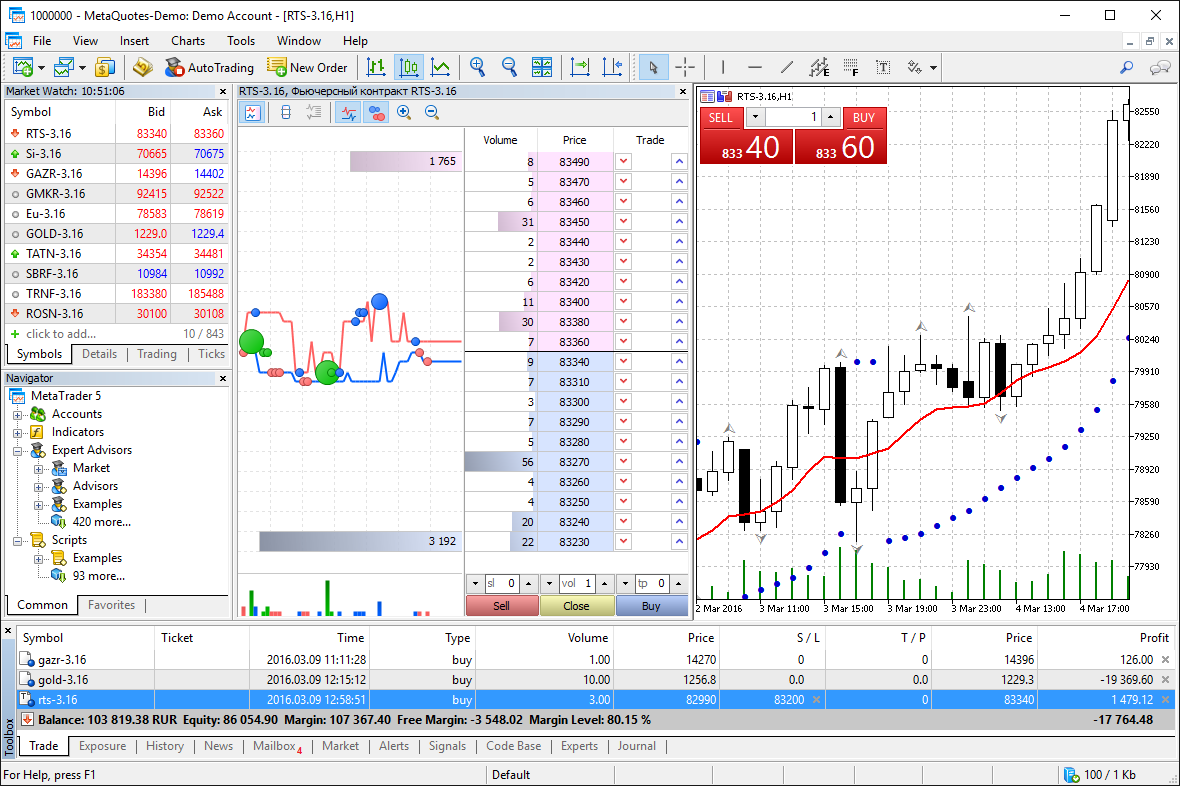 MT4 and MT5 can be downloaded on PC, Mobile, and tablet devices. These are supported by Windows, macOS, iOS, and Android devices. The FXPesa mobile trading app is only available in android and iOS devices.
Available Instruments
Following are the details of the available CFD trading instrument at FXPesa in Kenya. All these instruments can be traded with both account types at FXPesa. All these instruments are available as Contract for Deposit (CFD). This means there is no actual buying and selling of assets while trading these instruments. Only the price difference is speculated to book profits or losses.
62 Currency Pairs: Major, minor and exotic currency pairs are available to be traded at FXPesa with a maximum leverage of up to 1:400. The 62 currency pairs can be traded either with spread only or commission-based fee structure.
16 Indices CFD: Stock market indices of popular global stock exchanges can be traded at FXPesa in Kenya. There is no commission with indices trading as both the account types have a spread-based pricing structure with Indices CFD. The leverage is fixed for each index and the highest is 1:200. The contract specification of each available index can be checked on the FXPesa website and app.
8 Commodities CFD: Clients can trade with Gold, Silver, Platinum, WTI Crude, and Brent Crude crosses without commission. The leverage is fixed and is different for each particular instrument. The leverage on XAU/USD is 1:80.
240 Shares: Major shares of USA, UK, and European markets can be traded as spot CFD with a maximum leverage of 1:10. Some of the shares can also be traded as futures CFD. 6 stocks of the Nairobi Stock Exchange (NSE) can also be traded as futures CFD with the commission.
| Asset Class | Number of Instrument | Maximum Leverage |
| --- | --- | --- |
| Currency Pairs | 62 | 1:400 |
| Indices | 16 | 1:200 |
| Commodities | 8 | 1:80 |
| Shares | 240 | 1:10 |
Overall, there is an average number of trading instruments at FXPesa compared to other CMA-regulated brokers in Kenya. Trading on cryptocurrency CFD is not available.
FXPesa Customer Support
Kenyan clients can reach out to the customer support staff at FXPesa through 3 methods. Upon special request with the account manager, clients can also visit the FXPesa office in Nairobi for assistance. We checked the efficiency and diligence of the support executives through all the available methods.
Live Chat: The live chat support is first connected to a chatbot which will relate your specific query to the related frequently asked questions. We found it very helpful for beginners as it is fast and can resolve most of the queries faced by beginners.


Upon request, the live chat will be connected to a support executive. The average waiting time for this is 5-10 minutes. The support executives are helpful and will resolve every query with relevant answers. The live chat window is available 24 hours 6 days a week.

E-mail: Clients can also reach out to support executives through e-mail at [email protected] The response time can be 2 to 24 hours but the replies are helpful.
Local Phone Support: Kenyan clients can connect with the support executives at FXPesa through the local phone numbers +254 207 640 727 and +254 730 676 002. We have not tested the customer support service through phone support.

The customer support service at FXPesa is excellent when compared with other CMA-regulated forex and CFD brokers in Kenya. The availability of local phone support is a rare feature that makes FXPesa better than many other forex brokers in terms of customer support service.
FXPesa Research and Education
The research and education tools can enhance the trading experience and can assist the traders in making better decisions. However, at FXPesa there are limited research and education tools to assist the traders.
The academy section includes various education materials like tutorial videos, glossaries, guides, and infographics. FXPesa organizes free webinars every week to educate the traders on distinct topics. Multiple types of webinars can be accessed through their website and app.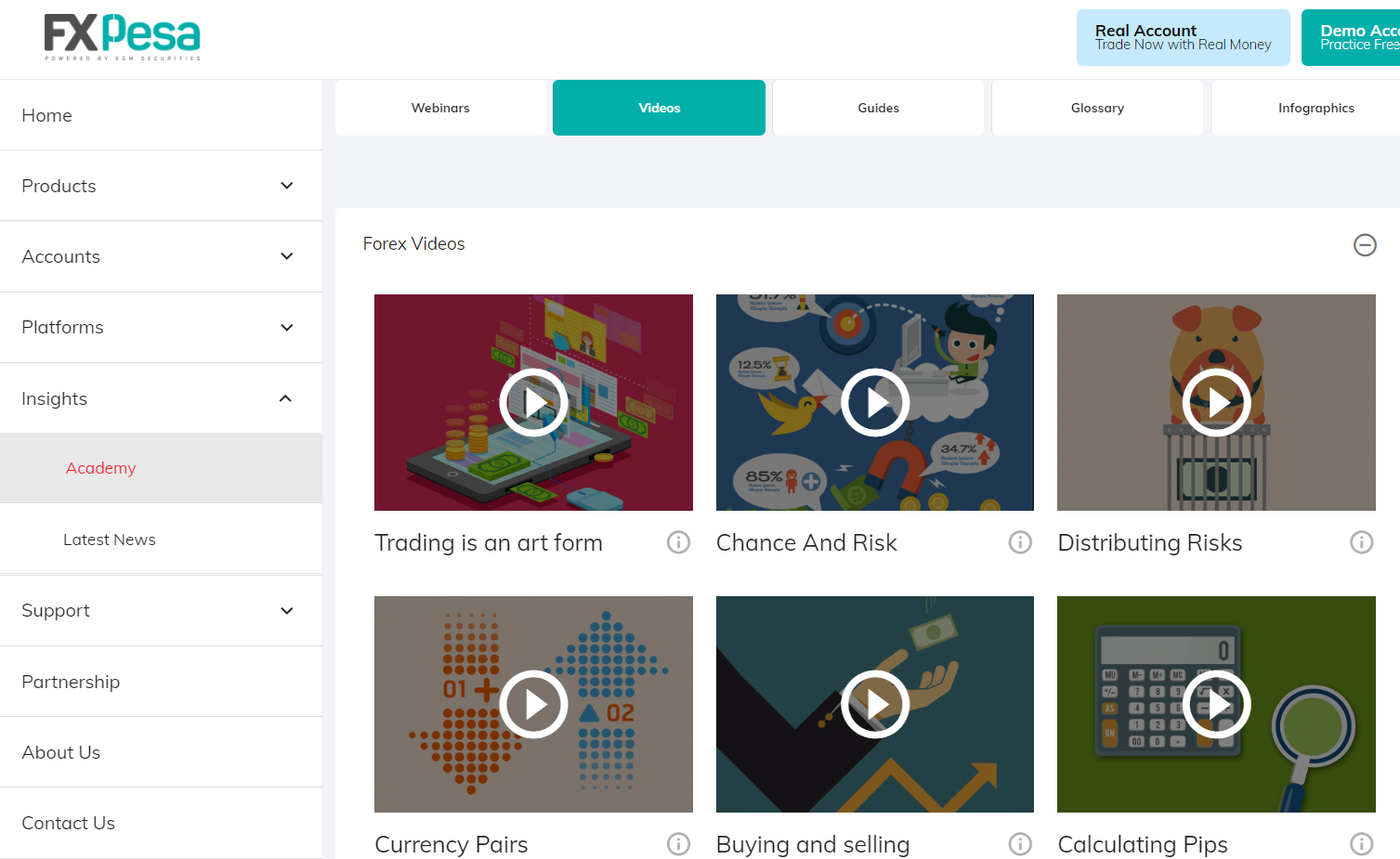 Apart from these education materials, no other research or analysis tools are provided by FXPesa. The research and analysis tools are available on the trading platforms but are not provided by FXPesa. No market updates, latest news, trend analysis, or any other services are not provided by FXPesa.
The education material can be helpful for beginners but are not useful for experienced traders. Most of the other CMA-regulated CFD brokers offer useful tools in the research and education section. No such tools are available at FXPesa.
FXPesa Bonus
At the time of this review, FXPesa is offering an initial deposit bonus of 30% on deposits. This bonus offer is called FXPesa Karibu Bonus Program The minimum deposit amount should be more than $100 or equivalent in KES to grab this bonus. A maximum of $150 can be gained from the Karibu bonus program.
Apart from this, FXPesa also has a referral program in which clients get rewarded for each referral. A referral bonus of $15 is added to the account, every time a referred client opens the account and makes a deposit.
The bonus offerings are decent when compared with other regulated brokers in Kenya. Many forex and CFD brokers have attractive bonus offerings that are much more than those offered at FXPesa.
Do We Recommend FXPesa?
Yes, FXPesa is a Kenya-based broker that is regulated by CMA and is safe for Kenyan clients. The services offered by FXPesa in Kenya are similar to those offered by globally renowned forex and CFD brokers. There are multiple advantages of choosing FXPesa in Kenya.
FXPesa offers local bank transfers and mobile money transfers at no cost with a very low minimum deposit. They have local phone support for Kenyan clients. The spreads are slightly higher than average but the commission is decent. The MT5 trading platform is not available. Although, for the local clients in Kenya, FXPesa can be a great choice for forex and CFD broker.
FXPesa FAQs
What is the Minimum Deposit at FXPesa in KES?
$5 or 500 KES is the minimum deposit amount at FXPesa. The minimum deposit amount at FXPesa depends on the method selected for transacting. Mobile money deposit through m-Pesa, Airtel Money, and MTN in Kenya has the lowest minimum deposit amount of KSh500. Minimum deposit through local bank transfer is KSh50,000.
Is FXPesa Regulated in Kenya?
Yes, FXPesa is one among the 6 online forex brokers regulated by Capital Markets Authority (CMA) in Kenya. The CMA license is registered by the name EGM Securities Limited under license number 107.
Does FXPesa have Cryptocurrency?
No, Cryptocurrencies cannot be traded at FXPesa in Kenya. Clients can trade instruments like currency pairs, indices, commodities, and shares as CFD at FXPesa in Kenya.
How do I Trade with FXPesa in Kenya?

To open a live trading account at FXPesa in Kenya clients need to follow 5 steps

Step 1: Enter Basic Details
Step 2: Enter Personal Information
Step 3: Complete Trading Experience and Declaration Form
Step 4: Document Verification
Step 5: Make a Deposit

Trading can be started after making the deposits