FSCA Regulated Brokers
Most forex brokers that cater to South African traders hold a Category 1 license for derivatives instruments and forex investment from the FSCA.
For example, Exness is a forex broker which has been licensed by the FSCA to offer forex trading services in South Africa. You can cross-check whether Exness has such a trading license by visiting FSCA's website.

You can further verify the category of license that Exness holds & the products which they are authorized to offer by clicking on "details".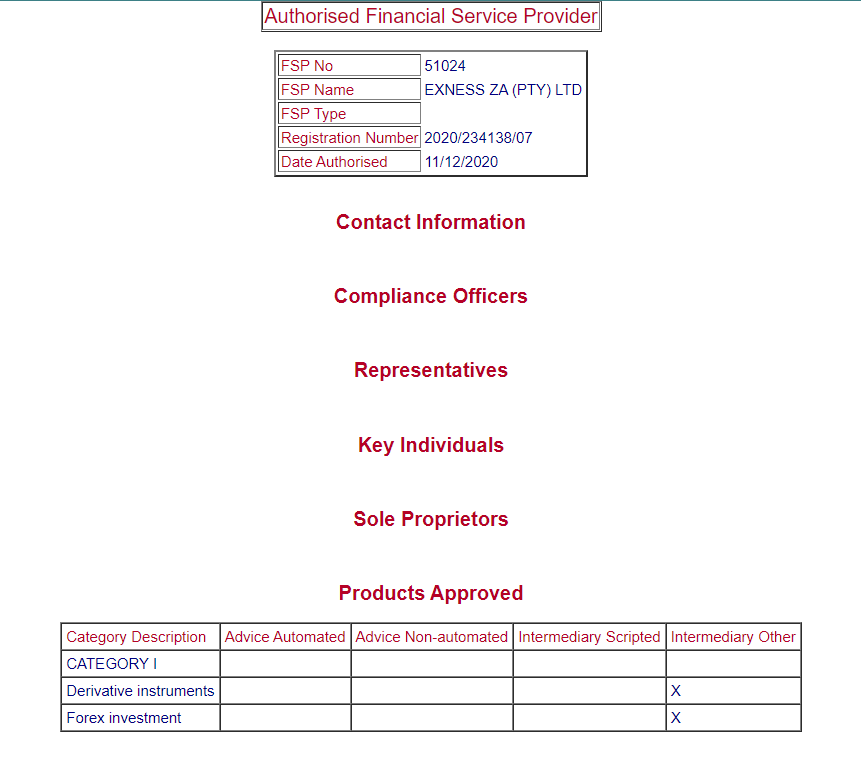 Before registering with a forex broker, as a South African trader, you must always verify whether the broker has been licensed by the FSCA.
It is very essential to only trade with forex brokers who are licensed by the FSCA. This is because being licensed means that the broker is regulated by the FSCA. The FSCA oversees the conduct and activity of the broker in question. This means that there is a far lesser likelihood that the broker is carrying on fraudulent or unfair practices.
Further, being regulated by the FSCA means that the broker in question can be taken to court in case it isn't complying with the extant regulations. In case you have problems in dealing with such a broker, you can take legal recourse against it.
In contrast, if a forex broker is not licensed by the FSCA, then a South African resident will have no means to take any legal action against such a broker. This is especially true if the broker in question does not have an office or a physical presence in South Africa. Hence, such brokers can easily run scams to defraud South African traders or carry on unfair practices.
Fees and Spread
South African traders must watch out for the fees and spread charged by forex brokers. There are different kinds of fees charged by such brokers. The most common fees are Non-trading Fees like deposit fees, withdrawal fees, and inactivity fees.
Additionally, a broker will charge trading fees in the form of spread, Overnight Swap Rates, and commissions. You should know about the exact range of fees charged by a forex broker before registering with them.
Usually, the details of the fees charged by a broker are detailed on their website. In case you have further questions, you can also contact customer support and ask them to let you know more about the fees.
The most important fees that are charged by a broker are the trading fees in the form of spreads and commissions.
Spread: The spread is the difference in the "bid" price offered by the broker versus the "ask" price of the currency pair in question (the meaning of the two terms is discussed later in the article). This difference is measured in pips. The higher the pip amount, the more spread you are being charged for the trade.
For example, below is the screenshot of the typical spread for major currency pair EUR/USD at HotForex South Africa for their various account types. Their spread is lower for the Zero Account type, but there is an extra commission that is not mentioned in this table.

The spreads are usually variable but some brokers can also offer fixed spreads on a few instruments. The amount of spread being charged by a broker depends on a variety of factors such as trading time, trading volume, currency pair, liquidity in the market, and so on.
Commission: Further, a broker may charge a commission per trade. The commission is a flat rate based on the number of lots that you are trading. Most often, brokers do not charge any commission but prefer to charge a high amount of spread. However, brokers may also charge a commission and a low spread.
The example below highlights the commission charged by HotForex SA with their Zero Account.

You should compare the spread and commission charged by different brokers before registering with a forex broker. The easiest way to compare the spread is by checking the average spread that they charge for trading the benchmark EUR/USD currency pair plus the commission charged per lot. This will give you the overall trading fees
Overnight Fees: You should also check the overnight Swap Rates of the broker. Some brokers have a higher Swap Rates for both Long & Short Positions than other forex brokers. For example, as per our research, XM has very high Swap Fees, while HotForex & Exness have low Swap Fees for majors.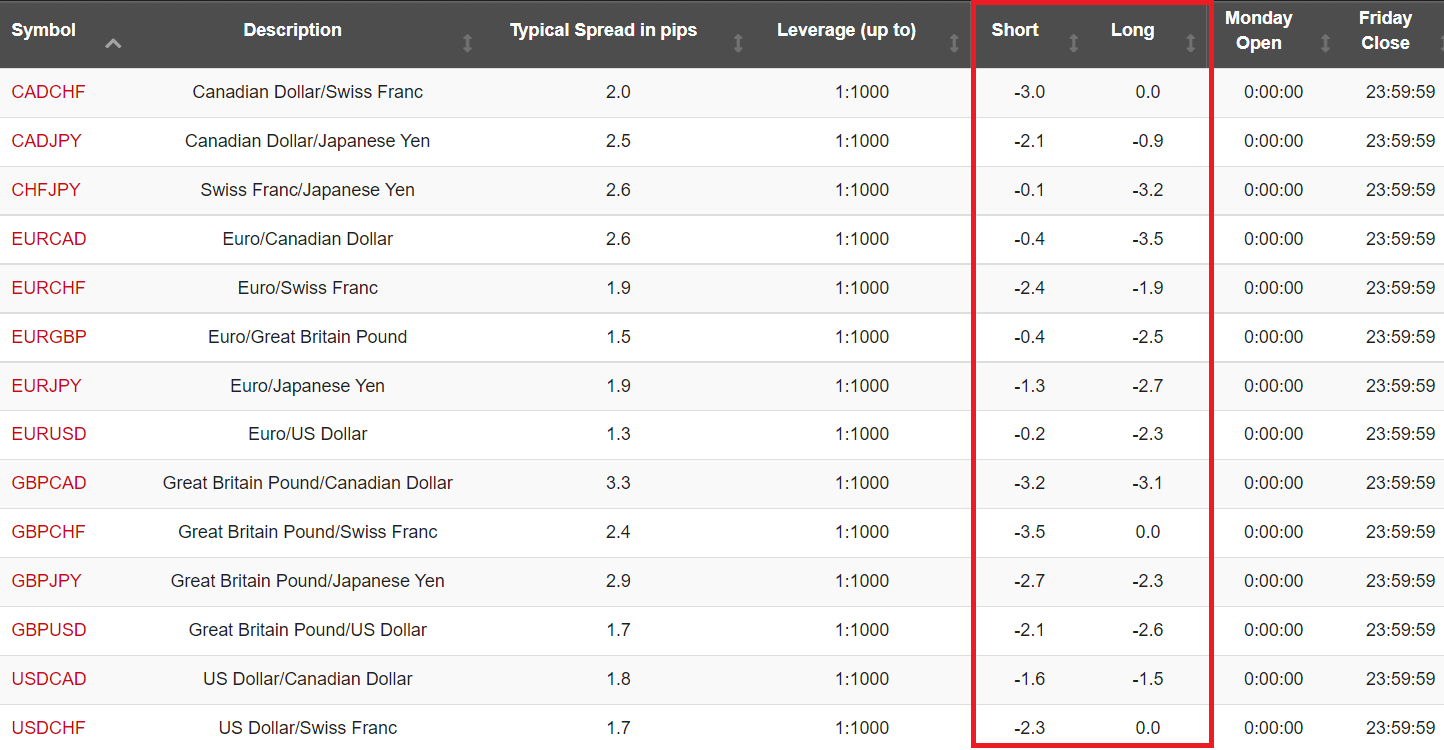 Demo Account
Further, as a new trader, you should only register with a broker that offers a demo account. A demo account allows you to practice trading in real-world conditions without using any real money. Virtual money will be deposited into your account and you can use it to test your trading skills and strategies.
Using a demo account is essential because it helps you understand how the forex market moves. You should pick two or three currency pairs and concentrate your research on them. Study these currency pairs and their movements to understand what makes them move.
A demo account will also help you to practice your risk mitigation strategies, such as implementing and maintaining a stop-loss, Risk Percentage, etc.
Which is the Best Forex Broker in South Africa?
There are more than 40 forex and CFD brokers that accept clients from South Africa. Some are regulated by FSCA of SA while others are offshore regulated brokers. Each broker offers different features and incurs different fees for the same.
A broker that is best suited for an experienced trader might not be ideal for beginners or vice versa. Clients can take the assistance of reviews by experts and existing clients but always decide on themselves. The forex broker recommended by your friends and family members might not be ideal for you or they may try to grab the referral bonus.
Traders must identify the best-suited brokers for themselves after thoroughly checking and comparing every aspect of the broker. FSCA regulation is the most important factor that needs to be considered while choosing a forex broker in South Africa.
The following are the important factors that must be considered while selecting the best forex broker for oneself in South Africa:
1. Regulations: Financial Sector Conduct Authority FSCA is the financial regulator in the jurisdiction of South Africa. Clients getting registered under FSCA regulation are protected and are exposed to less third-party risk. Traders must ensure that the chosen forex CFD broker must be regulated by FSCA in South Africa.
The details of the regulation are generally mentioned in the footnote of the official websites of the brokers. Clients can also access the FSCA website to cross-check the regulation details of a particular broker.
2. Fees: The spreads, commission, overnight charges, inactivity fee, deposit/withdrawal fee, and all other components of fees must be checked and compared. The higher fee is beneficial for the brokers and costly for the traders. Lower spreads can have a major impact on profits and losses booked by the trader.
3. Available Instruments: The chosen forex broker must offer adequate varieties of financial instruments including the ones that you wish to trade with. Traders must ensure that their preferred trading instrument is available with the chosen broker or not. Contract specifications on preferred instruments should also be checked before opening the account.
4. Trading Platform: All trading activity will take place on the trading platform. Clients must be convenient with the trading platform and all its features. Efficient and convenient use of the trading platform will enhance the outcomes of trades.
5. Deposit/Withdrawal: The best forex broker in South Africa must accept your preferred mode of deposit and withdrawal in time without additional commission. Traders must check the processing time of deposits and withdrawals along with the fees associated with each method before opening their accounts.
6. Customer Support: The best forex broker must offer quality customer support services through live chat, email, phone, or social media applications. Easy connectivity with the support staff will enhance the trading experience as traders can resolve any query faced while trading.
7. Trading Conditions: Clients must check every trading condition like leverage, account currency, deposit currency, account types, bonus, etc to choose the best forex broker for oneself. For example, if a broker does not support ZAR as the base currency of the account then the deposits made in ZAR will be converted to base account currency at prevailing rates.
For retail traders, it can be difficult to consider every aspect of a broker while choosing them. The best practice for beginners is to start with a demo account and trade with virtual currency. This will not only allow you to comprehend the trading conditions and experience with a broker but will also grant you experience to make better trading decisions.
Chapter #3
Understanding Forex Trading with an Example
Understanding forex trading can be complex for those who have never traded on any financial instrument online in the past. Those who have a slight experience trading other capital markets like stocks, cryptocurrencies, or CFDs would be very comfortable with forex trading.
Let us understand the complete process and working methodology of the forex market with the help of an example.
Online forex trading is done through the trading platform which is software that can be downloaded on electronic devices. The trading platform connects traders to brokers, liquidity providers, and other forex traders.
Traders place buy or sell orders through trading platforms on their preferred trading instruments. The exposure and profit/loss depend on the volume traded and the leverage involved.
Leverage of 1:10 will allow you to open a position worth $100 exposure with $10 in your trading account.
In this example, we will take the leverage of 1:10 on the EUR/USD currency pair. The supposed market price for EUR/USD is 1.2100/1.2102. This means that the bid price is 1.2100 (the price that the dealer is willing to pay) and the ask price is 1.2102 (the price at which the dealer is willing to buy) and the spread is 2 pips (difference between the bid and ask price at 4th decimal).
First, we will place a buy order for 1 standard lot (100,000 units of the base currency). To place a buy order of 1 standard lot in EUR/USD, the following will be the calculation of the required account balance.
$1.2102 * 100,000 * 1/10 = $12,102
(ask price) * (units of base currency) * (leverage ratio) = (minimum account balance required to open the given position)
Now suppose the price of EUR/USD went up by 100 pips and reaches 1.2200/1.2202. By closing the buy position at this price, the following will be the profit.
(1.2200 * 100,000 * 1/10) – $12,102 = $12,200 – $12,102 = $98
(bid price * units of base currency * leverage ratio) – (exposure) = Profit/Loss
Now let us understand the same scenario with a short position on EUR/USD with 1 standard lot at the current market price of 1.2100/1.2102. Following will be the exposure amount in a short position.
$1.2100 * 100,000 * 1/10 = $12,100
(bid price) * (units of base currency) * (leverage ratio) = (minimum account balance required to open the given position)
Now suppose the price of EUR/USD went down by 150 pips and reaches 1.1950/1.1952. By closing the position at this position, the following will be the profit.
$12,100 – $(1.1952 * 100,000 * 1/10) = $12,100 – $11,952 = $148
exposure – (ask price * units of base currency * leverage ratio) = profit
It must be noted the exposure amount ($12,102 in the long position example and $12,100 in the short position example) will be at risk of capital markets. If the leverage is high, the profit/loss amount will move more with the change in the pip value of the underlying asset.

Chapter #4
Important Forex Trading Terminologies
There are a few terminologies that every trader would come across when trading forex or using a broker's platform. You must be aware of these terms to understand the market and use the trading platform.
1. Currency Pairs
A currency pair is how currency prices are represented for forex trading. All currencies are traded in pairs. A currency pair consists of two currencies symbolized by their three-letter names. For example, the United States Dollar and Euro are represented as EURUSD.
The price associated with the currency pair is the price at which you can buy or sell the first currency in return for the second currency. For example, if the EUR/USD price is 1.1612, it means that you can buy or sell 1 EUR in return for 1.1612 USD.
2. Leverage
Forex brokers allow you to trade with leverage. Leverage is the difference between the volume of currency pair you can trade versus the amount of money that you need in order to execute that trade. For example, a leverage of 1:1000 means that you can trade $1000 worth of currency for only $1.
Leverage allows you to make much larger trades with a relatively smaller amount of money. This means that the profit or loss from your trades can be much higher.
But there are huge risks associated with leveraging your market position, and you could lose big in case the market goes against your position.
It is advised to never use more than 1:10 leverage when trading forex. You should use much lower leverage when trading other CFD instruments like Crypto CFDs, and CFDs on indices, commodities, etc.
Many major regulators like FCA have gone ahead & restricted the leverage that can be offered by CFD brokers. But FSCA licensed CFD brokers can still offer high leverage. So, it is up to the traders to self-restrict the leverage that they are using while trading.
3. Bid Price
The Bid price is the price at which you can sell the base currency being referred to. For example, if the Bid price of the currency pair EUR/USD is 1.10, it means you can sell 1 euro for 1.10 dollars.
4. Ask Price
The Ask price is the price at which you can buy the base being referred to. For example, if the Ask price for the currency EURUSD is 1.15, it means you can buy 1 euro at a price of 1.15 dollars.
5. Forex Spread
The spread is the difference between the Bid price and the Ask price. The spread is how forex brokers make money from each trade. For example, if the spread at Broker A is 1 pip for GBP/USD, and 2 pips at Broker B, then it means that Broker A has lower trading fees. There may be some other fees that the broker charges, but usually, the tighter the spread, the less money the broker is charging from you.
6. CFDs
CFDs are also known as contracts-for-difference. Currency pairs are usually traded as CFDs through forex brokers.
A CFD is basically an agreement between a buyer and a seller to pay the difference in the price of a security between the time of entering into the contract and the time of exiting the contract. CFDs allow you to speculate on the price movements of various securities without owning the securities.
7. Forex Lot Size
A lot is the quantity of security that you are trading. There are three commonly used lot sizes.
Standard – A Standard lot consists of 100,000 units of the base currency.
Mini – A Mini lot consists of 10,000 units of the base currency.
Micro – A Micro lot consists of 1,000 units of base currency
8. Base Currency and Quote Currency
Currencies are always traded in pairs. The units of base currency are bought and sold in return for the quote currency. The base currency is mentioned first/above the quote currency. In the EUR/USD currency pair, EUR is the base currency and USD is the quote currency.
Chapter #5
Choosing the Best Forex Trading Apps
A forex trading app allows you to trade on the forex market through your smartphone. There are several forex trading apps out there. To open a trading account with any trading app, you need to open an account with a broker. Each forex broker can support single or multiple trading applications. These can be third-party apps or proprietary trading apps developed by the broker itself.
Here are the top three most chosen forex trading apps available in the market today:
MetaTrader
MetaTrader is one of the most popular trading apps out there. MetaTrader comes in two versions i.e. MetaTrader 4 and MetaTrader 5. The MetaTrader 5 has more advanced features when compared to the MetaTrader 4. however, MetaTrader 4 still remains popular and widely used.
MetaTrader is primarily meant for retail traders and investors who use the Android operating system on their mobile phones, however, an iOS version is also available. The trading app allows you to trade forex, stocks, futures, options, and many other types of financial instruments.
The trading app also comes with interactive charts, news, and various tools.
Most of the regulated Forex Brokers in South Africa like Exness, Tickmill, HotForex, AvaTrade, etc. offer MT4 & MT5 trading platforms to traders.
CTrader
Like MetaTrader, cTrader is also a 3rd party trading platform that some brokers offer. It is also available on desktop & mobile apps.
Few brokers like FxPro, IC Markets, and PepperStone offer the cTrader platform in South Africa.
Proprietary Trading App
Some forex brokers offer their own proprietary trading platforms, and may or may not offer 3rd party platforms like MetaTrader.
Plus500 & EToro offer their own platforms, and they don't offer any other trading platform besides their own. But these brokers may not have their app on all devices. Plus500 for example does not have its platform available on the web.
Some brokers that offer MetaTrader & other 3rd party trading apps also offer their own platform. Like AvaTrade has its own AvaTradeGo app, but they also offer MetaTrader platform.
So, the choice is with the trader whether to use a popular platform like MetaTrader, in which case you can choose a MetaTrader forex broker. If you are comfortable using any app and need features like copy trading, then you must choose brokers that offer it.
To use any of the electronic trading applications, traders need to open an account with a regulated forex broker. Clients must check and compare every aspect of the broker before opening their accounts. The safety, fees, trading instruments, deposits, withdrawals, tools, and trading conditions must be compared.
Chapter #6
Risks of Online Forex Trading
All forex traders should know that forex trading is a highly risky activity. You should only deposit as much money into your trading account as you are willing to risk.
The forex market can be extremely volatile during certain market events. The relative prices between currencies can change quickly and it can be difficult to keep track of the changes in real time unless you are very careful. During such an event, you can lose all your money if you are not careful & are highly leveraged.
Here are the Major Risks of Forex Trading
1. Leverage Risk:
Since forex trading is mostly done using high leverage by most traders, the risk is increased manifold. If you trade using a leverage of 1:1000, then your risk is 1000 times greater. The leverage allows you to trade at a much higher volume, which increases the risk.
If you want to trade a R100,000 position then you would need to have R100K in your account balance with the broker. But with leverage, you don't need the full amount in your account, and you can instead only need the money that is required as margin by your broker.
For example, if your broker offers 1:100 leverage, then you can trade on a position worth R100,000 with just R1000 in your account. But this is very risky because you would lose the initial capital very quickly if the market goes against your position.
The major regulators in the EU, US, UK & Australia have put restrictions on leverage that can be offered to retail traders by their brokers. But there is no such restriction on FSCA licensed forex brokers, and these brokers offer as high as 1:2000 leverage. This is very risky and traders can lose whole account equity.
Hence, you need to strictly self-regulate your leverage. If you're a new trader, then trading with a very low amount of leverage is advisable.
2. Unregulated Forex Brokers
It is also essential for you to only trade with a forex broker that is regulated by the FSCA.
The FSCA only licenses reputable brokers who have to follow strict codes of conduct. These forex brokers are less likely to have any unfair or fraudulent brokerage practices. This also allows you to stay away from brokers who may be looking to scam you. Also, if a licensed forex broker indulges in deceitful activities, then you can file a complaint against such a broker. Whereas there is no legal action that you can take against unlicensed forex brokers.
So, before choosing any broker, you must check if that broker is licensed by FSCA or not. If that broker is not licensed by FSCA or any other Top-tier regulation, then you must avoid such a broker.
Also, it is important to note that some illegal & fake forex\4
'] brokers may claim that they are authorized by the FSCA even though they are not. There have been cases where fake brokers used the license no. of genuine brokers on their website to claim that they were regulated. Unsuspecting users deposited their funds into the account of such scam forex brokers.
That is why you need to make sure that you verify the FSP license no. the FSCA's public search. And make sure to check that the forex broker that you are choosing is authorized under "CATEGORY I" to offer derivative instruments as an Intermediary. Also, the broker must be a licensed ODP.
3. Market Volatility
The forex market can be extremely volatile, especially during events like major news related to an economy.
For example, major news like an unexpected Interest Rate cut in the UK can have a major impact on the exchange rates of the GBP against other currencies. You should keep track of the news to not miss any important market updates that can impact the currency rates.
4. Economic Risk
For any investor, there is a risk that the economy that they are investing in takes a downturn or faces some political or economic challenges. This can also impact their currency exchange rates.
If you are trading the currency of a country with an unstable political environment, then also it can have an impact on your position if there is some unexpected event.
Also, some countries deliberately try to devalue their currencies to boost their exports. All these can have an impact on the exchange rates of currency.
5. Connectivity and Technical Glitch
Forex CFD trading is done online through trading platforms on electronic devices. The devices used for trading need an active internet connection without lags and glitches. The network must be safe from hacks and external attacks.
The device used for trading must be in good condition. Any lags or hanging of the device may lead to missing out on the trading opportunities. The use of public wifi should be avoided for trading. The passwords and login credentials should not be compromised.
Risk management techniques in forex trading
Position Size: Determine trade size based on account balance and risk tolerance (1-2% per trade).
Stop-Loss: Set stop-loss orders to limit losses if the market moves against you.
Take-Profit: Use take-profit orders to secure gains at a predefined level.
Risk-Reward Ratio: Aim for favorable risk-reward ratios (1:2 or better).
Diversification: Spread risk by trading different assets, not all in one.
Control Leverage: Use leverage carefully to align with risk tolerance.
Trading Plan: Develop a clear plan with entry/exit rules and risk limits.
Emotions: Manage emotions to avoid impulsive decisions.
Stay Informed: Be aware of market events that could impact trades.
Monitor Trades: Adjust stop-loss and take-profit levels as needed.
Review Trades: Analyze trades to learn and improve strategies.
Avoid Revenge Trading: Don't trade impulsively to recover losses.
Chapter #7
Pros and Cons of Forex Trading
There are some pros for traders trading in the forex market over other financial markets. But you must understand all the risks before making a decision whether to trade forex & CFDs or not..
Pros of Forex Trading
Following are the advantages of trading forex:
Largest Capital Market
You invest in the world's largest financial market. With daily transactions crossing over USD 5 trillion, the sheer size of the forex market makes it truly a global marketplace with several profit opportunities.
24-Hour Market
The forex market operates around the clock so that you will find a trading opportunity any time of the day in at least one global time zone. As the forex market is a decentralized OTC market, its working hours are not subject to any centralized exchange system. For instance, trading hours begin at 5 PM EST in the USA on Sunday and roll continuously with other markets until Friday at 5 PM. Note that even though currency trading is restricted for retail traders on weekends, the exchange rate keeps moving.
Low Capital Requirement and Lower Transaction cost
In addition to very low investment requirements, even the transaction cost of trading forex is relatively lower. For instance, you can start dealing in currencies with just USD 100 or even lower. The main earning of a broker comes from the bid-ask spread. Spread is measured in pips, the difference between the sell and buy price of a currency. However, some brokers do charge a commission or flat fees per transaction. You should factor in commission and spread while choosing a broker to lower your overall trading cost.
Availability of Leverage
The availability of high leverage is perhaps the main reason why forex trading appeals to so many people. It enables you to place a higher trading order with minimum capital.
Almost all the forex brokers offer leverage where you can borrow against deposited money in your trading account. It's similar to taking a mortgage against your property; the only difference is that the margin requirement is very low. For instance, you can place a USD 100 order with just 3.33 US dollars if your broker offers a 1:30 leverage ratio. However, leverage is a double-edged sword. It can amplify your losses, so heed caution when trading forex with leverage. You should avoid using high leverage.
Most Liquid Market
Forex market is also the world's most liquid market. Liquidity refers to how quickly an asset can be sold or bought without affecting its value. Major currency pairs such as EUR/USD or USD/JPY are considered most liquid than exotic currency pairs.
Major pairs are more liquid hence the spread will be lower on major pairs. The spreads on less traded pairs are higher due to low liquidity.
Volatile

The same volatility, which makes it riskier for traders, can also present ample profit opportunities. Volatile market conditions cause rapid changes in the value of currency pairs, thus, increasing your chances of gains from the trade.

But this is also a big risk. If a currency pair changes in its value by a lot then it is considered volatile and can be a risk for investors as you can lose big if you are on the opposite side. For example, USD/TRY is considered a very volatile currency pair. You may lose quickly if you are in the wrong position, also you must consider the Swap Rates when trading such currency pairs.

Scalable

Scalable means you can trade in mini, micro, or standard lots, making it easier for traders to control investment size and capital exposure.

Affordable Technology

You don't have to spend money on acquiring expensive hardware and software to start with forex trading. All you need is a computing device or a smartphone with a reliable internet connection. Your broker will provide charting and trading technologies at no cost once you subscribe.

Cons of Forex Trading

Following are the challenges or disadvantages of trading forex:

High Risk

Forex market is not ideal for many traders due to its high risk. The market risk in forex trading is much higher compared to other capital markets like stocks, commodities, etc. The involvement of leverage further increases the risk of losing a substantial amount within a few seconds.

The market is active 24 hours a day and any news event around the globe can affect the prices of currency pairs. Hence, at times it becomes impossible to correctly predict the price movement.

Lack of Transparency

There is no particular location from where the forex market is controlled or managed. Foreign currencies are exchanged in many ways mainly through central banks, private banks, large financial institutions, etc. The forex market is largely influenced by large-scale market makers, liquidity providers, and banks. Hence, there is no transparency about how the trade order is getting executed. The trading volume and market sentiment are also difficult to predict in the forex market.

Complex Valuation Method

The value of one currency in return for another keeps on changing due to multiple reasons at every minute. It is quite complex for retail traders to calculate the valuation of one currency in terms of another. The valuation depends on the economic and financial details of the involved currencies and their predictions. Compared to other capital markets, it is much more complex to do a valuation of the currencies.

Difficult to Learn

Stocks, commodities, and other markets are much easier to comprehend compared to the forex market. In the stock market, traders can get assistance from experts and portfolio managers. Comparatively, it is challenging to learn forex trading and understand the forex market. Traders have to learn most of the forex trading on their own.
Chapter #8
What are the Costs of Forex Trading?
The cost that will be incurred by traders in forex trading will differ from broker to broker. Each broker charges different types of fees and the amount of fees can also be different.
Spreads and commissions are the major source of revenue for brokers and liquidity providers.
To be familiar with the fee structure, clients must check or inquire about the following components of fees before opening the account.
These are the common ways in which a forex broker will charge the traders in Australia for trading.
1) Spreads: Spreads are the major component of fees involved in forex trading. This is the difference between the bid and ask price or the buy and sell price.
Wider spreads mean lesser profit and lesser probability to make profits in a forex trade. Clients should seek brokers that offer narrower spreads.
2) Trading Commission: The commission that is incurred while executing trade orders is called a trading commission.
Some brokers offer commission-based trading on currency pairs with low spreads or zero spreads. Commission-based spread-free trading is considered ideal for large-volume traders and scalpers.
A commission on forex pairs can range from $2 to $10 for a Roundturn trade (both sides) of a Standard Lot. Details of commission (if charged) must be checked before opening the account.
3) Swap Fees: Swap fees are also called overnight charges. These are the charges that are incurred if a trading position is kept open overnight.
Orders that are opened and closed on the same day will incur no swap fees at all.
For every night the position is kept open, the swap fees will be added. Swap rates or overnight charges differ from broker to broker on every instrument.
4) Non-Trading Charges: These are the charges that will be incurred without executing trade orders. Non-trading charges can be of various types and can be tricky to identify as they are not clearly mentioned.
5) Inactivity Fee: An inactivity fee is a fee that gets deducted from the account balance if no trade orders are executed in a prolonged period of 3 months to 1 year.
6) Deposits & Withdrawals: Deposits and withdrawals can incur additional commission for some or all of the methods. Clients must check the commission or fees for deposits and withdrawals.
Other non-trading charges include account opening fees, conversion fees, internal transfer fees, etc. Subscription to additional services can also cost additionally.
Clients must enquire from the support executives about the non-trading charges separately.
Forex Trading in South Africa FAQs
Is Forex Trading legal in South Africa?
Forex trading is legal in South Africa & regulated by the FSCA. You can legally trade forex with any FSCA-regulated forex broker that is licensed under their ODP Regime for offering derivative instruments to traders in South Africa.
Is forex trading profitable?
How to Trade Forex in South Africa?
How can Beginners Learn Forex Trading in South Africa?
What is Forex Trading & How does it work?