FSCA Regulated Brokers
Most forex brokers that cater to South African traders hold a Category 1 license for derivatives instruments and forex investment from the FSCA.
For example, Exness is a forex broker which has been licensed by the FSCA to offer forex trading services in South Africa. You can cross-check whether Exness has such a trading license by visiting FSCA's website.

You can further verify the category of license that Exness holds & the products which they are authorized to offer by clicking on "details".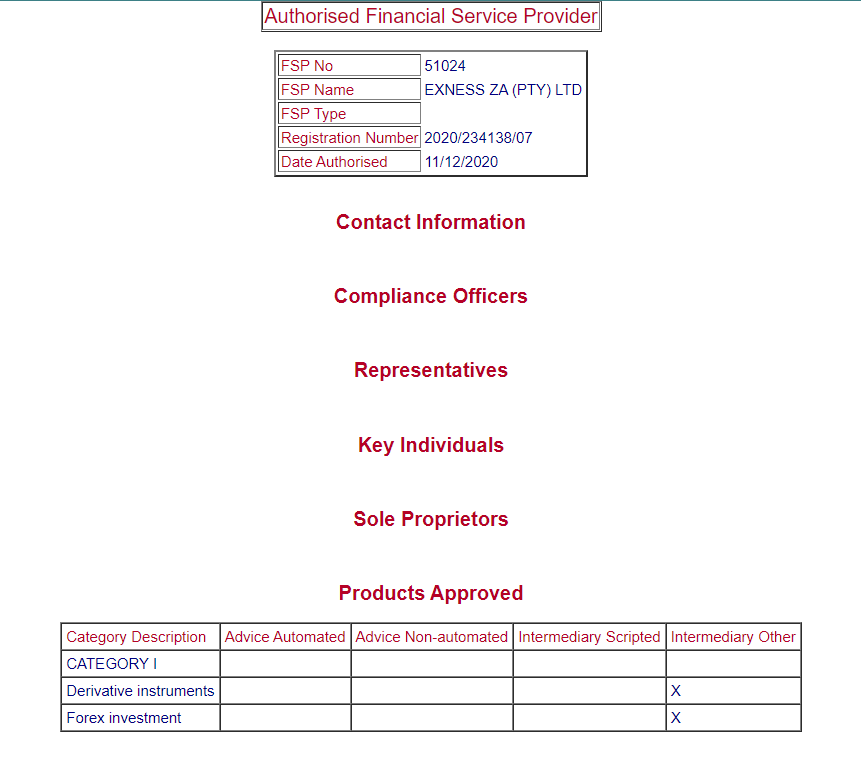 Before registering with a forex broker, as a South African trader, you must always verify whether the broker has been licensed by the FSCA.
It is very essential to only trade with forex brokers who are licensed by the FSCA. This is because being licensed means that the broker is regulated by the FSCA. The FSCA oversees the conduct and activity of the broker in question. This means that there is a far lesser likelihood that the broker is carrying on fraudulent or unfair practices.
Further, being regulated by the FSCA means that the broker in question can be taken to court in case it isn't complying with the extant regulations. In case you have problems in dealing with such a broker, you can take legal recourse against it.
In contrast, if a forex broker is not licensed by the FSCA, then a South African resident will have no means to take any legal action against such a broker. This is especially true if the broker in question does not have an office or a physical presence in South Africa. Hence, such brokers can easily run scams to defraud South African traders or carry on unfair practices.
Fees and Spread
South African traders must watch out for the fees and spread charged by forex brokers. There are different kinds of fees charged by such brokers. The most common fees are Non-trading Fees like deposit fees, withdrawal fees, and inactivity fees.
Additionally, a broker will charge trading fees in the form of spread, Overnight Swap Rates, and commissions. You should know about the exact range of fees charged by a forex broker before registering with them.
Usually, the details of the fees charged by a broker are detailed on their website. In case you have further questions, you can also contact customer support and ask them to let you know more about the fees.
The most important fees that are charged by a broker are the trading fees in the form of spreads and commissions.
Spread: The spread is the difference in the "bid" price offered by the broker versus the "ask" price of the currency pair in question (the meaning of the two terms is discussed later in the article). This difference is measured in pips. The higher the pip amount, the more spread you are being charged for the trade.
For example, below is the screenshot of the typical spread for major currency pair EUR/USD at HotForex South Africa for their various account types. Their spread is lower for the Zero Account type, but there is an extra commission that is not mentioned in this table.

The spreads are usually variable but some brokers can also offer fixed spreads on a few instruments. The amount of spread being charged by a broker depends on a variety of factors such as trading time, trading volume, currency pair, liquidity in the market, and so on.
Commission: Further, a broker may charge a commission per trade. The commission is a flat rate based on the number of lots that you are trading. Most often, brokers do not charge any commission but prefer to charge a high amount of spread. However, brokers may also charge a commission and a low spread.
The example below highlights the commission charged by HotForex SA with their Zero Account.

You should compare the spread and commission charged by different brokers before registering with a forex broker. The easiest way to compare the spread is by checking the average spread that they charge for trading the benchmark EUR/USD currency pair plus the commission charged per lot. This will give you the overall trading fees
Overnight Fees: You should also check the overnight Swap Rates of the broker. Some brokers have a higher Swap Rates for both Long & Short Positions than other forex brokers. For example, as per our research, XM has very high Swap Fees, while HotForex & Exness have low Swap Fees for majors.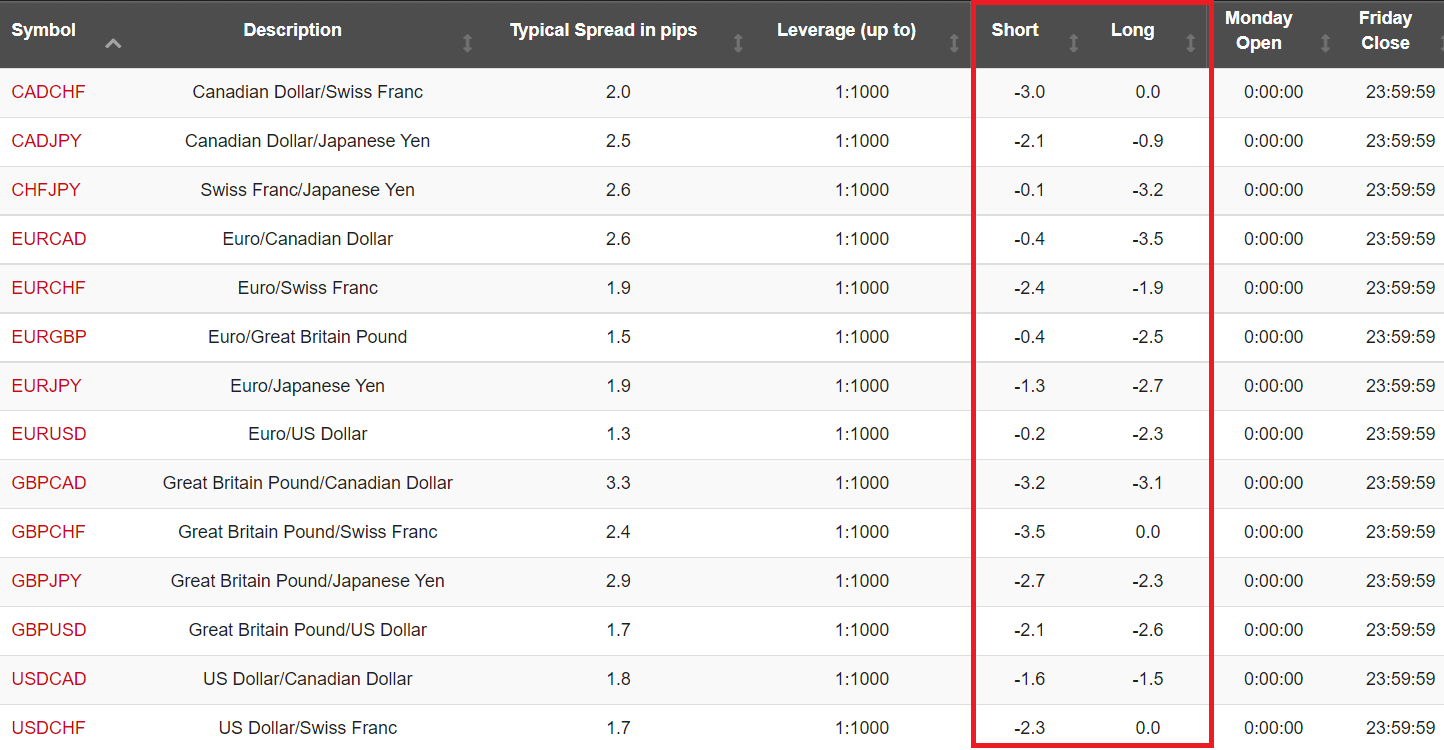 Demo Account
Further, as a new trader, you should only register with a broker that offers a demo account. A demo account allows you to practice trading in real-world conditions without using any real money. Virtual money will be deposited into your account and you can use it to test your trading skills and strategies.
Using a demo account is essential because it helps you understand how the forex market moves. You should pick two or three currency pairs and concentrate your research on them. Study these currency pairs and their movements to understand what makes them move.
A demo account will also help you to practice your risk mitigation strategies, such as implementing and maintaining a stop-loss, Risk Percentage, etc.
Which is the Best Forex Broker in South Africa?
There are more than 40 forex and CFD brokers that accept clients from South Africa. Some are regulated by FSCA of SA while others are offshore regulated brokers. Each broker offers different features and incurs different fees for the same.
A broker that is best suited for an experienced trader might not be ideal for beginners or vice versa. Clients can take the assistance of reviews by experts and existing clients but always decide on themselves. The forex broker recommended by your friends and family members might not be ideal for you or they may try to grab the referral bonus.
Traders must identify the best suited brokers for themselves after thoroughly checking and comparing every aspect of the broker. FSCA regulation is the most important factor that needs to be considered while choosing a forex broker in South Africa.
Following are the important factors that must be considered while selecting the best forex broker for oneself in South Africa:
1. Regulations: Financial Sector Conduct Authority FSCA is the financial regulator in the jurisdiction of South Africa. Clients getting registered under FSCA regulation are protected and are exposed to less third-party risk. Traders must ensure that the chosen forex CFD broker must be regulated by FSCA in South Africa.
The details of regulation are generally mentioned in the footnote of the official websites of the brokers. Clients can also access the FSCA website to cross-check the regulation details of a particular broker.
2. Fees: The spreads, commission, overnight charges, inactivity fee, deposit/withdrawal fee, and all other components of fees must be checked and compared. The higher fee is beneficial for the brokers and costly for the traders. Lower spreads can have a major impact on profits and losses booked by the trader.
3. Available Instruments: The chosen forex broker must offer adequate varieties of financial instruments including the ones that you wish to trade with. Traders must ensure that their preferred trading instrument is available with the chosen broker or not. Contract specifications on preferred instruments should also be checked before opening the account.
4. Trading Platform: All trading activity will take place on the trading platform. Clients must be convenient with the trading platform and all its features. Efficient and convenient use of the trading platform will enhance the outcomes of trades.
5. Deposit/Withdrawal: The best forex broker in South Africa must accept your preferred mode of deposit and withdrawal in time without additional commission. Traders must check the processing time of deposits and withdrawals along with the fees associated with each method before opening their accounts.
6. Customer Support: The best forex broker must offer quality customer support services through live chat, email, phone, or social media applications. Easy connectivity with the support staff will enhance the trading experience as traders can resolve any query faced while trading.
7. Trading Conditions: Clients must check every trading condition like leverage, account currency, deposit currency, account types, bonus, etc to choose the best forex broker for oneself. For example, if a broker does not support ZAR as the base currency of the account then the deposits made in ZAR will be converted to base account currency at prevailing rates.
For retail traders, it can be difficult to consider every aspect of a broker while choosing them. The best practice for beginners is to start with a demo account and trade with virtual currency. This will not only allow you to comprehend the trading conditions and experience with a broker but will also grant you experience to make better trading decisions.