eToro UK Review 2022
eToro is an FCA regulated CFD broker. It offers a unique social trading and copy trading feature on its proprietary trading platform. Check all the pros and cons of choosing eToro in the UK before opening your account.
eToro is an online broker that provides trading and investment services on various financial instruments. They offer a unique social trading platform where clients can conveniently copy trades of other traders around the globe.
eToro is an established broker with a proprietary trading platform. It is regulated by Several regulatory authorities in various jurisdictions. There are several pros and cons of choosing eToro in the United Kingdom.
eToro UK Pros
eToro is regulated and authorized by FCA in the UK
User friendly proprietary trading platform is available for CFD trading
The minimum deposit is $10
More than 3000 trading instruments are available
Cryptocurrencies can also be held as physical asset at eToro
Copy trading does not involve any additional commission
Clients with higher equity (>$5000) receive premium services
eToro UK Cons
Spreads are slightly higher than average
Each withdrawal incurs a fixed commission of $5
MT4, MT5, or cTrader trading platform are not available
Inactivity fees ($10/month) are charged after 12 months of inactivity
Local phone support is not available in the UK
We are committed to providing honest and unbiased reviews of forex and CFD brokers for clients based in the UK. Traders and investors must check and compare every aspect of the brokers before choosing any FSP in the UK.
Our review includes details of regulation, fees, account types, trading platforms, available instruments, and several other important factors.
eToro UK Summary
| | |
| --- | --- |
| Broker Name | eToro (UK) Ltd |
| Website | www.etoro.com |
| Regulation | FCA, ASIC, CySEC |
| Year of Establishment | 2007 |
| Minimum Deposit | $10 |
| Maximum Leverage | 1:30 |
| Trading Platforms | eToro Proprietary |
| Trading Instruments | 3000+ CFDs on forex pairs, commodities, indices, shares, ETFs, cryptocurrencies |
Safety and Regulation
The safety of traders and investors with any financial service provider depends largely on the regulation under which clients are getting registered.
Clients residing in the UK are registered at eToro under the regulation of the Financial Conduct Authority (FCA). Following are the details of major regulatory licenses held by eToro globally.
Financial Conduct Authority (FCA) of the UK
eToro (UK) Ltd is the legal entity of eToro that is regulated under the Financial Conduct Authority in the UK. The FCA license of eToro is registered under FRN number 583263. eToro acquired the FCA license in 2013.

FCA is a top-tier financial regulator in the jurisdiction of the UK. Clients can cross-check the latest details of regulation from the official FCA website. Clients registered under FCA regulation are protected by up to £85,000 per client in case of an unsettled dispute or bankruptcy of the broker.

The FCA regulated entity of eToro has a local office in the UK on the 24th Floor, One Canada Square, Canary Wharf, London, E14 5AB.

Australian Securities and Exchange Commission of Australia
eToro acquired the regulatory license from the ASIC in 2017. The Australian Securities and Exchange Commission is a top-tier regulatory authority based in the jurisdiction of Australia.

eToro AUS Capital Limited is the legal entity of eToro that is regulated under ASIC with license number 491139 and ABN number 66612791. Only the clients residing in the jurisdiction of Australia are registered under ASIC regulation.

Cyprus Securities and Exchange Commission (CySEC) of EU
eToro is regulated by CySEC with entity name eToro (Europe) Ltd and registration number 109/10. Client residing in the European Union are registered under the CySEC regulation.

Financial Services Authority Seychelles (FSAS)
eToro (Seychelles) Ltd. is the offshore regulated entity under which most of the international clients are registered at eToro. FSA of Seychelles is a lower-tier regulatory authority compared to FCA and ASIC. Clients registered under the FSA of Seychelles are not protected and are at higher risk.
eToro was initially incorporated in 2007 by co-founders Ronen Assia, David Ring, and Yoni Assia. It is a privately held firm and is not listed on any stock exchange.
The broker started its operation as an online forex broker with the name RetailFX. Later on, they added more financial products, and the name was changed to eToro. Currently, it is a well-regulated FSP that accepts clients from various countries.
Due to FCA regulation, eToro can be considered safe for clients residing in the UK.
eToro Fees
We have covered every part of the fees that can possibly be incurred from traders in the UK. Each component of trading and non-trading fees has been reviewed. Following are the components of fees charged at eToro.
Spread: This is the difference between the bid and ask price and also the major part of trading fees at eToro. There are no commission-based accounts with a lower spread. Hence clients must check the average typical spread for the preferred instrument before opening their account.

The average typical spreads for major currency pairs CFDs start from 1 pip and 2 pips for commodities CFD. The average spread for EUR/USD is 1 pip and for Gold is 45 pips.

The spreads are variable and can widen during volatile market conditions.

Trading Commission: No trading commission is charged at eToro for any of the CFDs. Spread is the only trading fee for CFDs on stocks, indices, commodities, and currencies.

Cryptocurrencies can be bought and sold with ownership of the asset with a fixed commission of 1% of the total amount on each order. Short selling orders on cryptocurrencies are executed as CFDs.

Overnight Charges: This is the fee that is incurred when a position is kept open overnight. Each CFD instrument at eToro has a different swap fee for the long and short positions. The overnight charges for EUR/USD for a long and short position are $ -0.5343 and $ -0.1103 respectively.
Non-Trading Commission: This includes all the charges that are incurred without executing trade orders. The account opening is free but eToro incurs an inactivity fee of $10 each month if no trades are executed for one year.
Deposits are free at eToro through all the accepted methods but a withdrawal fee of $5 is incurred for each withdrawal. If the clients are withdrawing in currency other than USD, a conversion fee will also be applicable for the conversion of the withdrawal amount.

The currency conversion fee, as well as the withdrawal fee, can be avoided by using the eToro Money Account. The eToro Money Account has been described below in this review.

There is no commission for copying the trade orders of other traders at eToro. Only the spreads and overnight charges (if applicable) will be incurred while copy trading.
Overall, according to our review and comparison with FCA-regulated CFD brokers in the UK, eToro has an average fee structure. There is no trading commission but buying cryptocurrencies as an asset (without CFD) will incur a 1% commission.
The spreads are moderate when compared with other CFD brokers in the UK. The non-trading fees are slightly high as $5 is incurred for each withdrawal along with the currency conversion fee (if applicable).
eToro Account Specification
There are no choices of account types at eToro with different trading conditions. Each client gets similar features and trading conditions in the UK.
USD is the only available base account currency at eToro. GBP or any other currency cannot be chosen as the base account currency.
eToro offers additional services to clients that hold more than $5000 equity in their account or portfolio. This grants access to eToro Club membership that has 5 different tiers.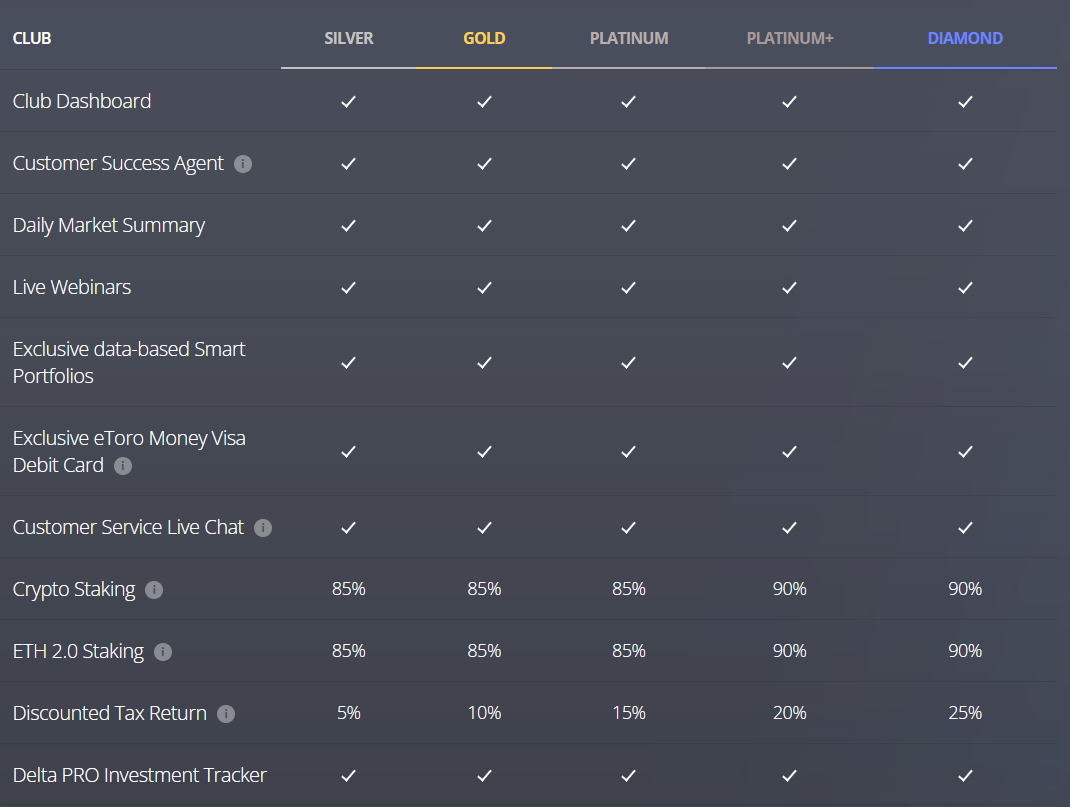 The additional services with basic silver membership ($5000 equity) include customer success agent, daily market summary, live webinars, exclusive portfolios, 85% cryptocurrency staking, etc.
The number of services increases as clients are promoted to a higher tier of eToro Club. Clients can enjoy benefits like free withdrawals, crypto fee rebates, tickets to sporting events, subscriptions to financial publications, etc.
The eToro Club membership does not affect the fee structure or availability of financial instruments for trading and investment. The trading conditions are the same for all types of traders at eToro.
eToro Money Account
The eToro Money Account can be very useful for those individuals who wish to deposit and withdraw with currencies other than USD. The eToro Money account is similar to a wallet which can be used to send, store, and receive fiat or crypto holdings.
The withdrawals through the eToro Money account from the main eToro account are free of any commission or currency conversion charges. Clients can also use the eToro wallet balance through a VISA debit card.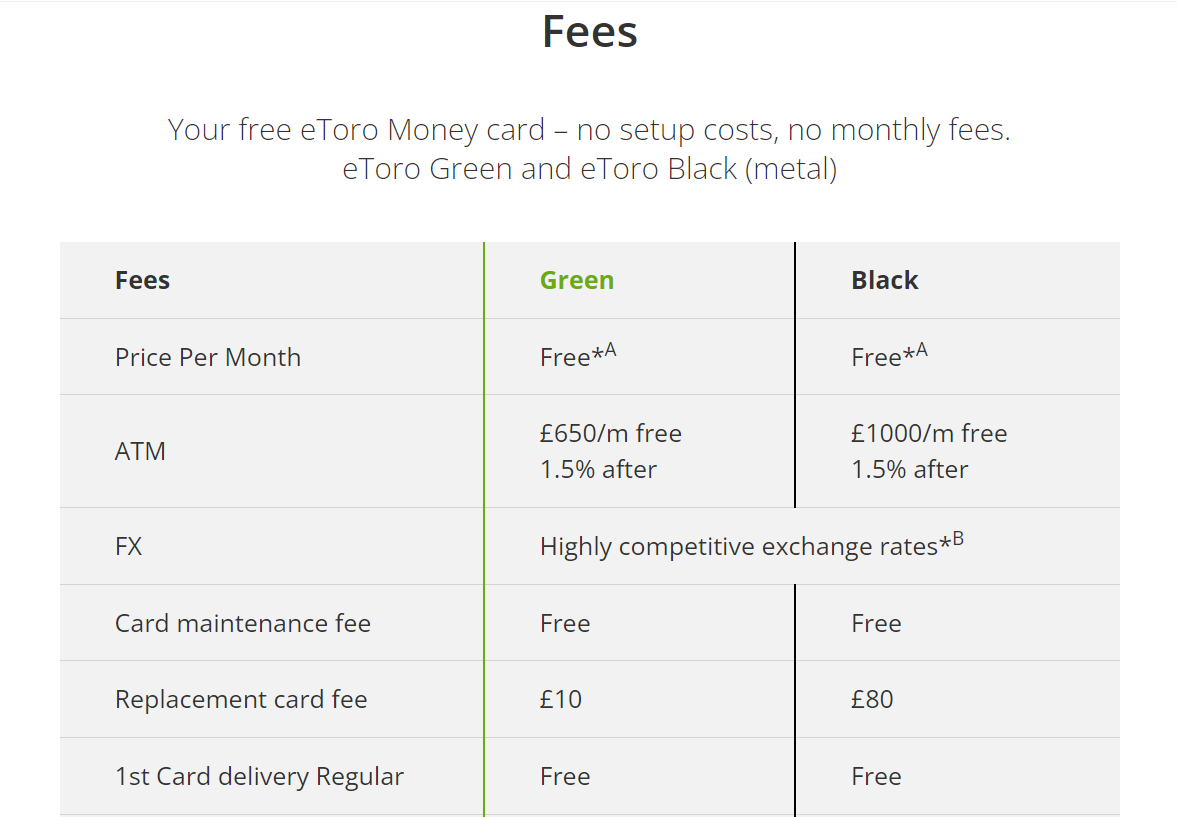 The eToro Money account is provided by eToro Money UK Ltd. The money held in the account is protected by Financial Services Compensation Scheme. Only the members of the eToro Premium club can open the eToro Money Account.
How to Open an Account at eToro
The account opening process is simple and fast at eToro. A new account can be opened and verified within a day.
Step 1: Username and e-mail
The first step after you click on "sign up" on the official website of eToro is to select a unique username and enter the email address. Clients also need to select a password before moving further.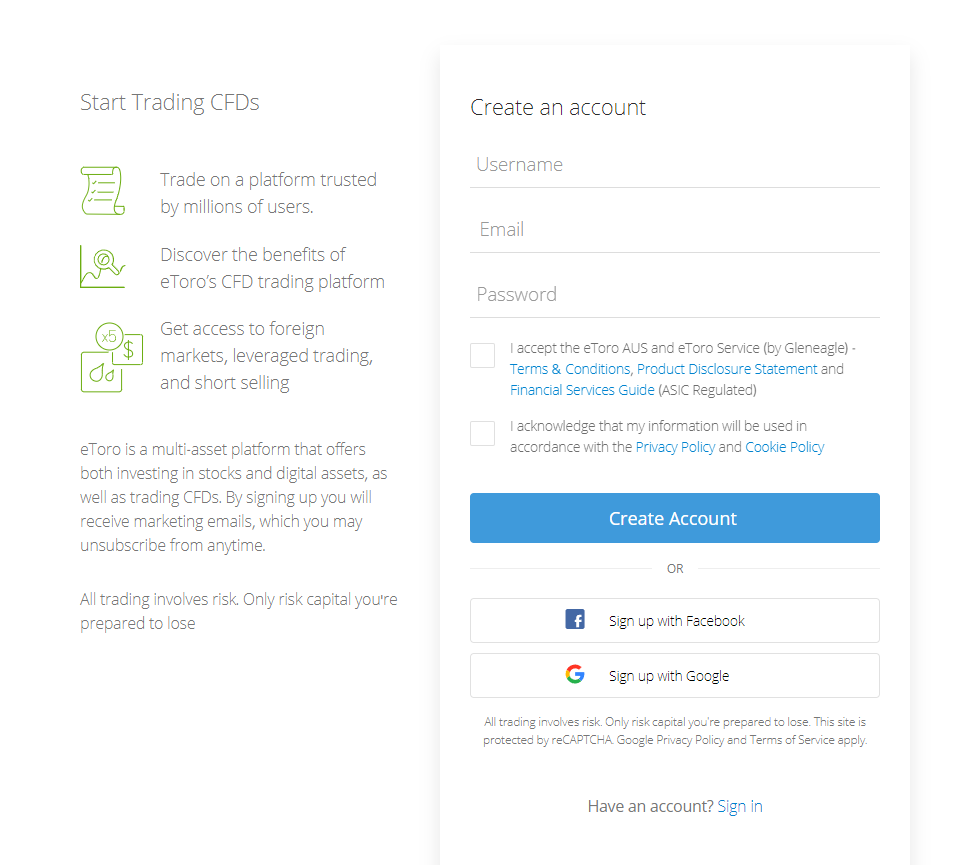 Step 2: Complete Profile
Once you enter the email and password, you will be redirected to the web trading platform of eToro where you can see trading instruments and get familiar with the platform. On the top left corner below your username, there will be an option to "complete profile". The real or demo account can also be selected from here.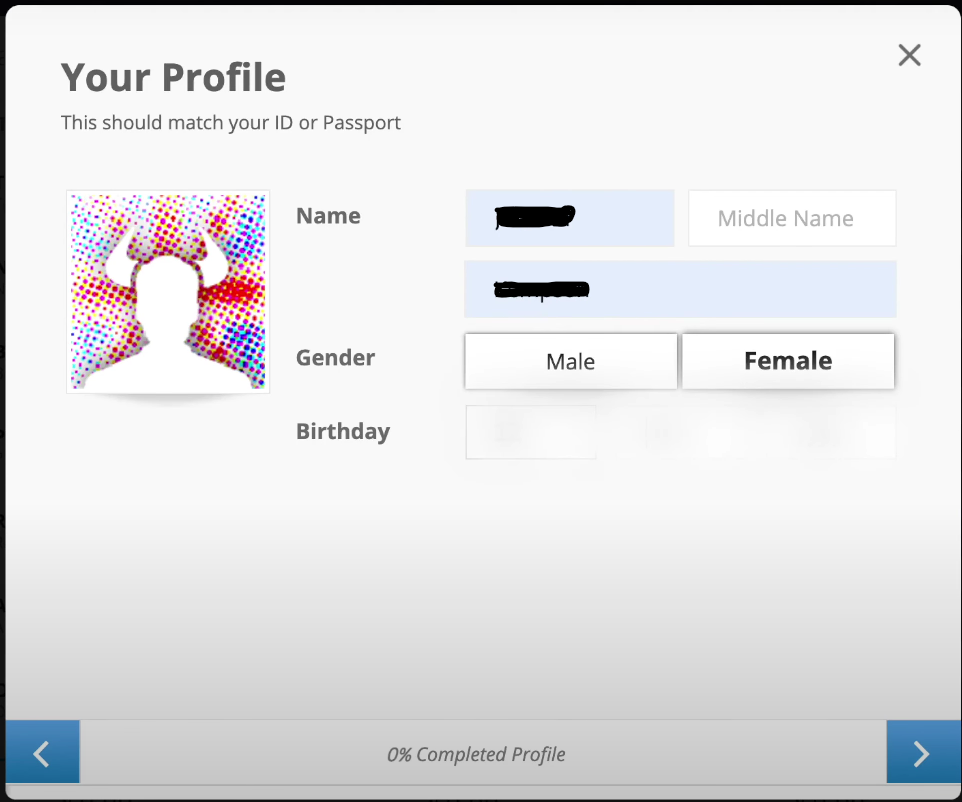 Once you click on "complete profile", the first step is to enter your full name, gender, and date of birth. Make sure to enter the same details as on the national ID.
Step 3: Address
The next step in completing the profile is to enter the address along with the country and National Insurance number.
Step 4: Trading Experience
eToro will take a quick survey of your trading experience by asking questions related to your personal trading experience. After this, your mobile number needs to be entered which will be verified via OTP to move further in the account opening process.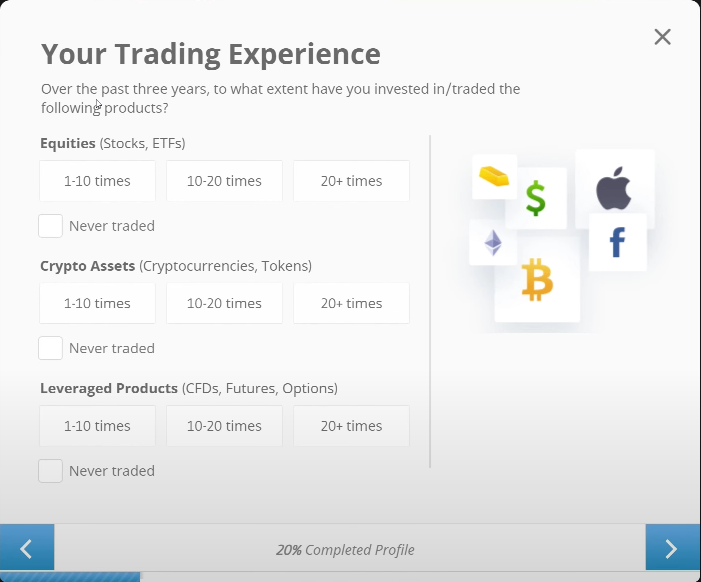 Step 5: Deposit Funds
After completing the above steps, clients can deposit funds using their preferred methods. The minimum deposit amount is $10 for UK clients and money can be deposited either in USD, GBP, EUR, and AUD.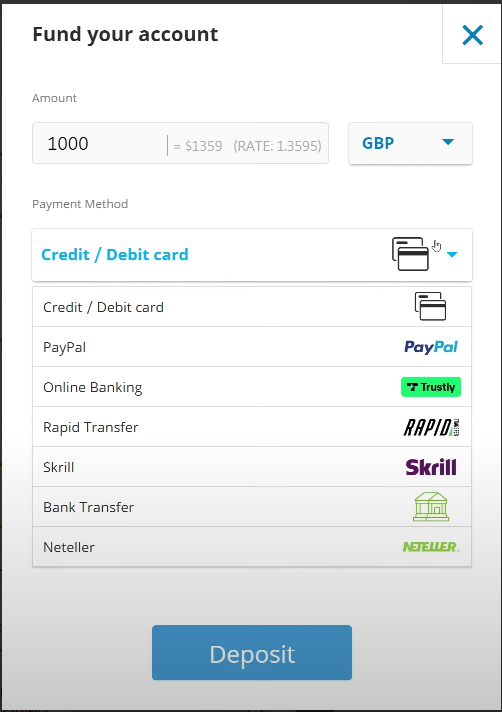 The amount deposited in any currency will be converted to USD according to prevailing conversion rates.
After the deposited amount gets reflected in the account balance, clients can place trade orders on any of the available instruments through the trading platform.
eToro Deposits and Withdrawals
eToro accepts multiple methods for deposits and withdrawal in the UK. We have reviewed the methods through which clients can transact in the UK.
The minimum deposit amount for clients residing in the UK is $10. The minimum amount for the initial, as well as the subsequent deposit, is $10 in the UK. The minimum deposit amount through wire transfer is $500. The minimum withdrawal amount at eToro is $30.
The deposits through all the accepted methods are free of additional commission. Withdrawals through all the methods will incur a fixed commission of $5 on each withdrawal.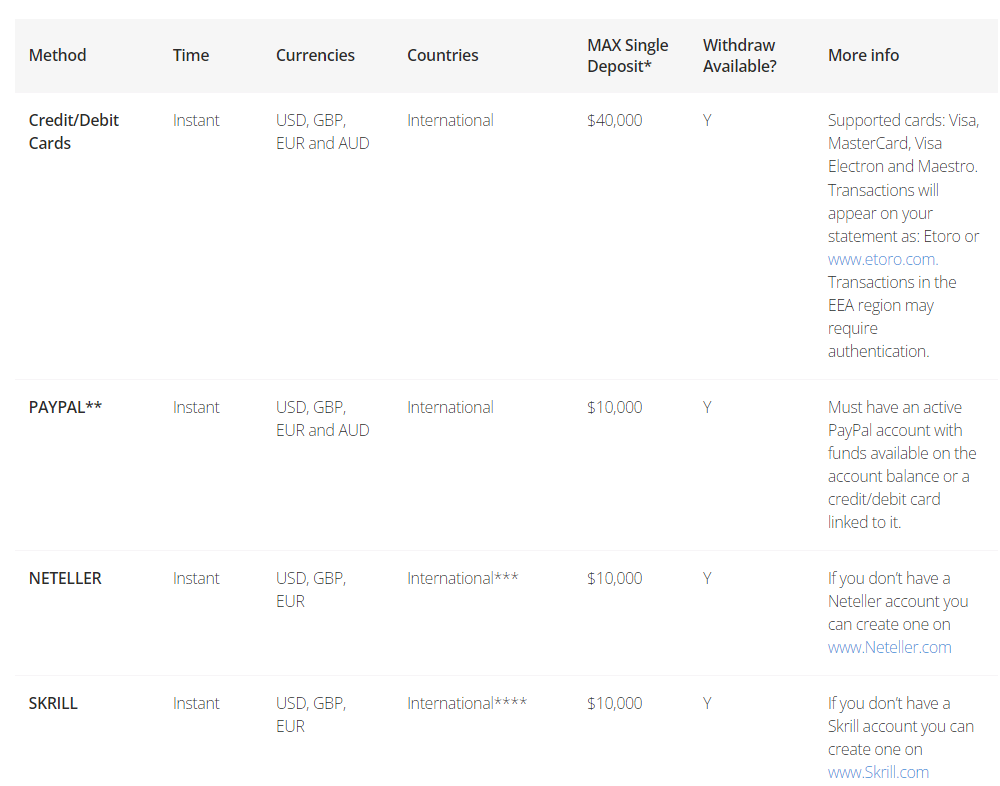 Credit/Debit Card: The deposits through cards are reflected instantaneously in the account balance. Visa, MasterCard, Visa Electron, and Maestro cards are supported for transactions at eToro. The maximum deposit amount through this method is $40,000 at one time.
E-Wallets: The deposits and withdrawals can be done instantly through e-wallets like Paypal, Neteller, and Skrill. Transactions are processed instantly and the maximum limit for each transfer is $10,000.
Bank Transfer: Deposits and withdrawals can also be done through online bank transfers. Transactions through these methods are processed instantly. The maximum limit for a single transaction is $40,000.
Wire Transfer: The minimum deposit amount through bank wire transfer is $500. The deposits and withdrawals are processed between 4 to 7 days.
eToro Trading Platforms
Clients at eToro can only trade with their proprietary trading platform. eToro does not offer MetaTrader or cTrader trading platforms.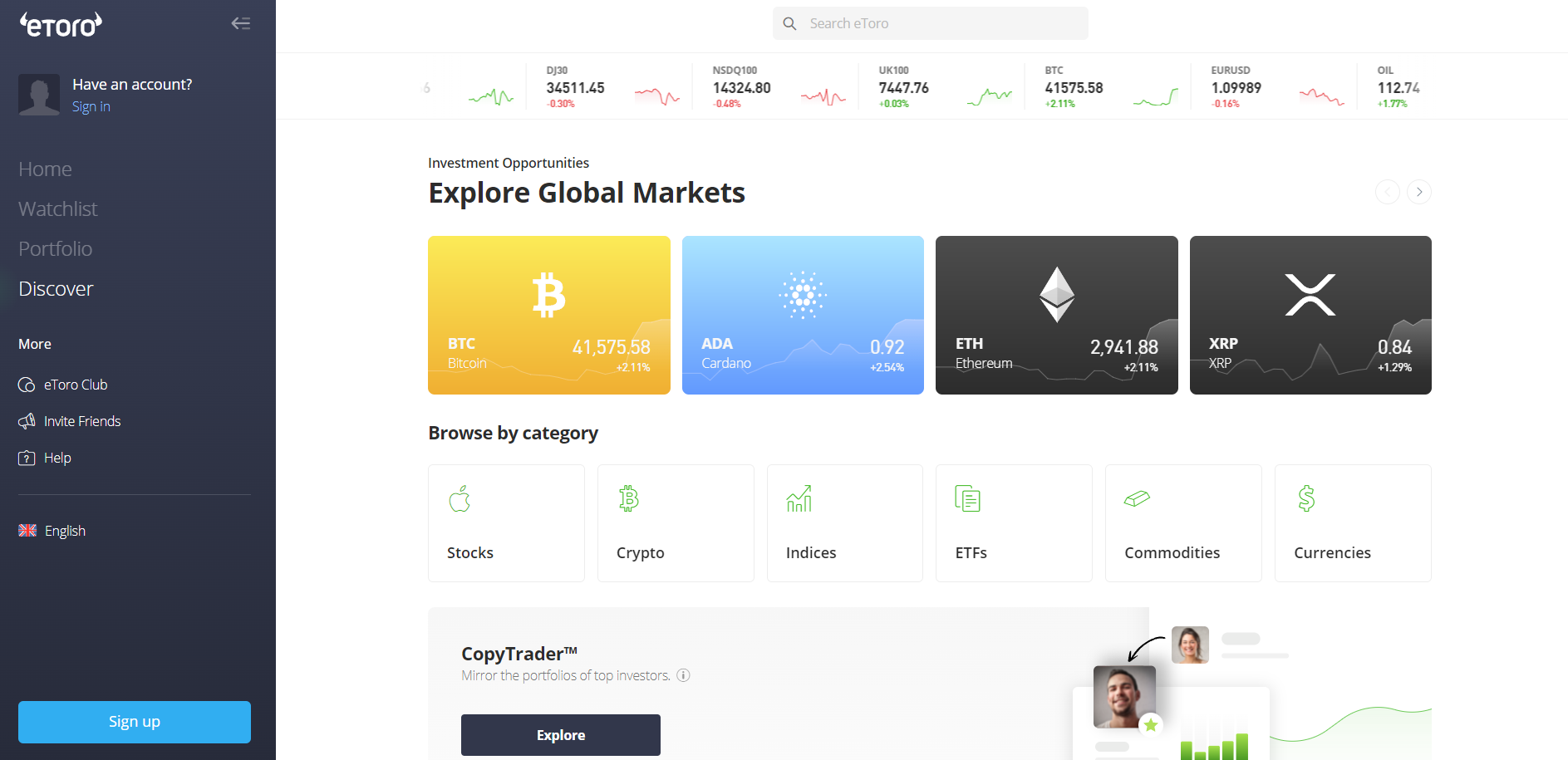 Their Proprietary trading platform is user-friendly and can be a good choice for beginners. Each available instrument at eToro can be accessed for trading, analysis reports, a live news feed, and charts through the trading platform.
Each instrument at the eToro trading platform has a separate feed where clients can connect and interact with each other. The eToro platform has better social media connectivity than MT4 or MT5 platforms.
The statistics, basic details, market trends, price trends, and history of each instrument are available on the proprietary trading platform of eToro.
The trade and investment orders of any client using the eToro trading platform can be copied by other clients. No additional fees or commission is charged for copying any of the traders. The pricing structure remains the same as that without copying for each instrument.
Any trader or investor can make their profile public. This allows other clients to copy your trade orders. eToro separately rewards the top traders and investors that are most copied. The historic returns, portfolio, most traded instrument, and other detail can be checked for any public profile before copying it.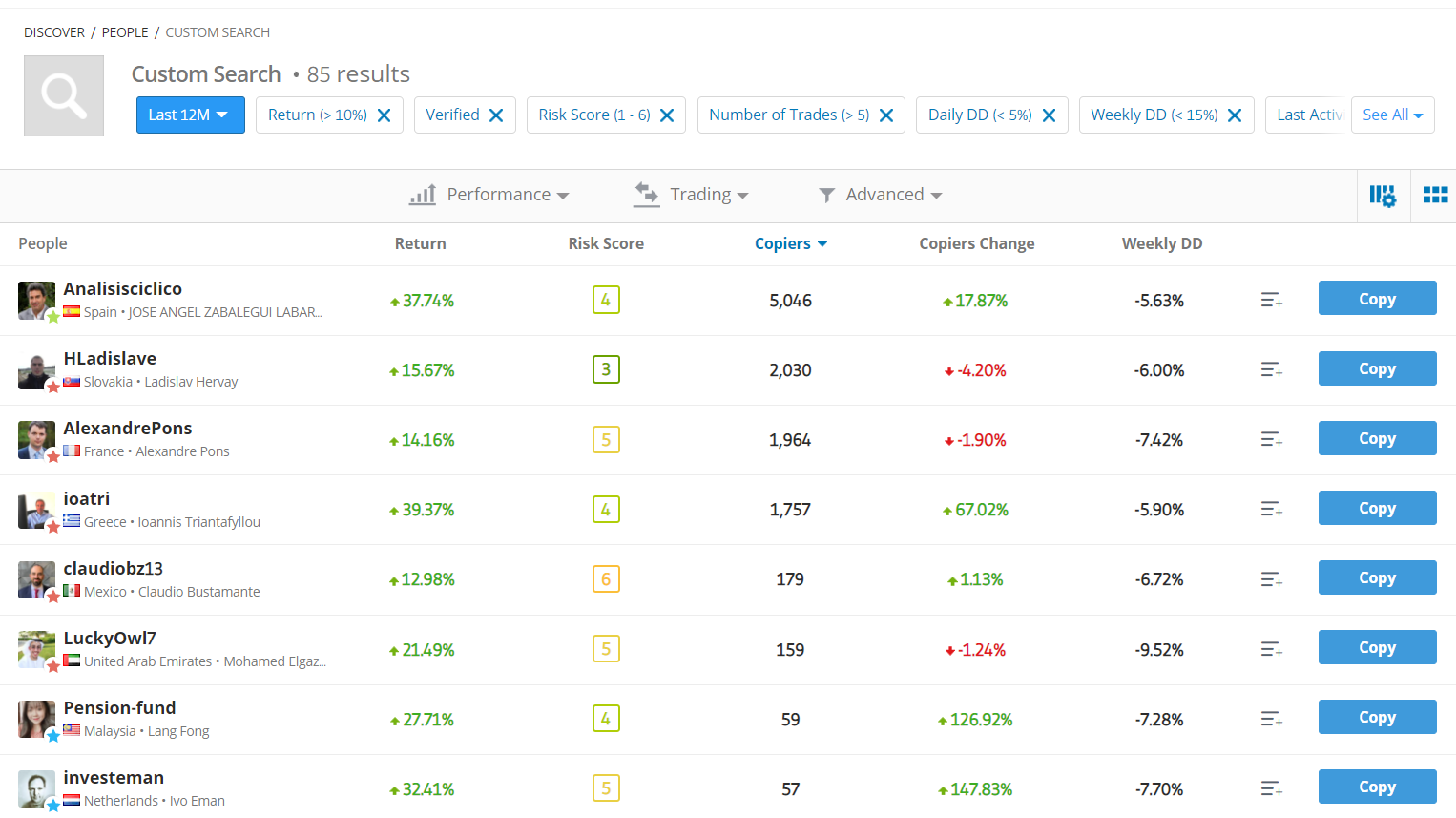 The copy trading feature at the eToro trading platform is quite handy and cost-effective when compared with other FCA-regulated brokers in the UK.
eToro Customer Support
The customer support service at eToro is different for existing clients and visitors. The visitors can only raise queries by raising tickets at the website. The existing clients can connect through a live chat with the support executives.
Compared to other regulated CFD brokers in the UK, we found support services to be limited at eToro. After opening the account, the clients can connect via email and live chat support.
However, if the account equity is more than $5000, clients get the silver eToro Premium Club services. This includes a personal relationship manager that can assist the traders at any instance while trading.
Local phone support is not available at eToro for clients in the UK. However, there are plenty of FAQs that can resolve major queries of traders.
Available Instruments
Opening an account with eToro grants access to trading on a variety of instruments. The maximum leverage that clients can use is restricted as per the regulatory regimes of FCA.
Following are the instruments that can be traded at eToro.
| Asset Class | Number of Instrument | Maximum Leverage |
| --- | --- | --- |
| Currency Pairs | 49 | 1:30 for majors, 1:20 for Minors |
| Indices | 13 | 1:20 |
| Commodities | 32 | 1:20 for Gold, 1:10 for others |
| Shares | 2500+ | 1:5 |
| ETF | 264 | 1:5 |
| Cryptocurrencies | 127 | 1:2 |
It must be noted that apart from cryptocurrencies, all other assets can only be traded as CFD. This means that there is no physical buying or selling of the underlying asset. Only the price difference between the opening and closing of the position is settled via cash.
Do We Recommend eToro?
Yes, eToro is a well-regulated CFD broker in the UK. It has a user-friendly trading platform and a unique copy trading feature that is free of added commission. eToro can be among the best choices for copy trading. It can also be an ideal choice for beginners as the trading platform is convenient to use compared to MetaTrader or cTrader.
The customer support services are below average for the clients that have lesser equity. eToro can also be costly for some clients as GBP is not available as the base currency and each GBP deposit involve a currency conversion fee. Withdrawals also incur a commission of $5.
eToro UK FAQs
Is eToro Safe for Beginners?
eToro is an FCA regulated CFD broker in which clients are protected by up to £85,000 per client in case of an unsettled dispute or bankruptcy of the broker.
It has a user-friendly trading platform that is very easy to comprehend compared to other trading platforms. Hence, eToro can be a good option to trade CFDs for beginners.
What is the minimum deposit for eToro?
$10, the minimum deposit amount at eToro is different for every region and also depends on the method of depositing. For UK clients, the minimum deposit amount for all methods is $10 except wire transfer. Minimum deposit amount through Wire Transfer is $500.
Can you Make Money on eToro?
Yes, eToro is a CFD and crypto trading platform where clients can make money if they make profits on the trade orders. However, if losses are booked on trades, clients can also lose money. It is advisable for the beginners to trade via demo account before using the real account to gain some experience. More than 70% of the beginners lose money while trading CFDs.