Best Forex Demo Account UK 2023
Forex demo accounts allows forex traders to trade on all the available financial instruments through virtual currency. Traders can use these accounts to test their strategies and gain experience of forex market.
Forex demo accounts can play a key role to kickstart your forex trading journey in the UK. Forex trading involves financial risk and it is always better to begin forex trading with a demo account.
We have prepared a list of the best demo forex trading accounts in the UK. We have also mentioned the basic details of the demo accounts to assist the traders in making better choices.
Demo Account Should be Your First Step in Forex Trading.
A demo account allows trading on forex pairs without depositing any real currency. Many forex brokers and FSPs provide demo accounts for free to allow beginners to gain trading experience before they actually trade on forex pairs.
Experience plays a key role in forex trading. Most beginners in forex trading book losses in the initial phase while experienced traders generally book more profits. The price movements and market sentiments can be better grasped with experience to take advantage of the forex market.
Here is a List of the Best Forex Demo Accounts in the UK for 2023 based on our Research
Beginners who spend adequate time and effort on demo accounts initially have better chances to make profits in the forex market. The demo accounts can also be used to test the strategies, gain experience, and get familiar with the terminologies and price movements in the forex market.
There are several ways in which a demo trading account can be proven helpful for beginners. We have also described how a beginner can make better use of demo accounts along with the list of best forex demo accounts in the UK.
Each demo account can have a different interface and trading platforms. MT4, MT5, and cTrader are the most popular third-party platforms supported by forex brokers. A broker can also have proprietary trading platforms like eToro and Plus500. Demo accounts can be opened on different trading platforms to differentiate between the personal trading experience and interface.
Following are the best forex brokers in the UK that offer free demo accounts. All the brokers mentioned in the list are regulated by the FCA.
#1 CMC Markets – Overall Best Demo Account
CMC Markets is an FCA-regulated forex broker that offers separate demo accounts for CFD trading and spread betting. The CFD demo trading account can be opened by anyone without submitting documents or making a deposit.
The demo account at CMC Markets can be opened with two different trading platforms namely MetaTrader 4 and the web platform of CMC Markets. Traders can trade more than 10,000 financial instruments and learn about their price movement and market trends through demo accounts.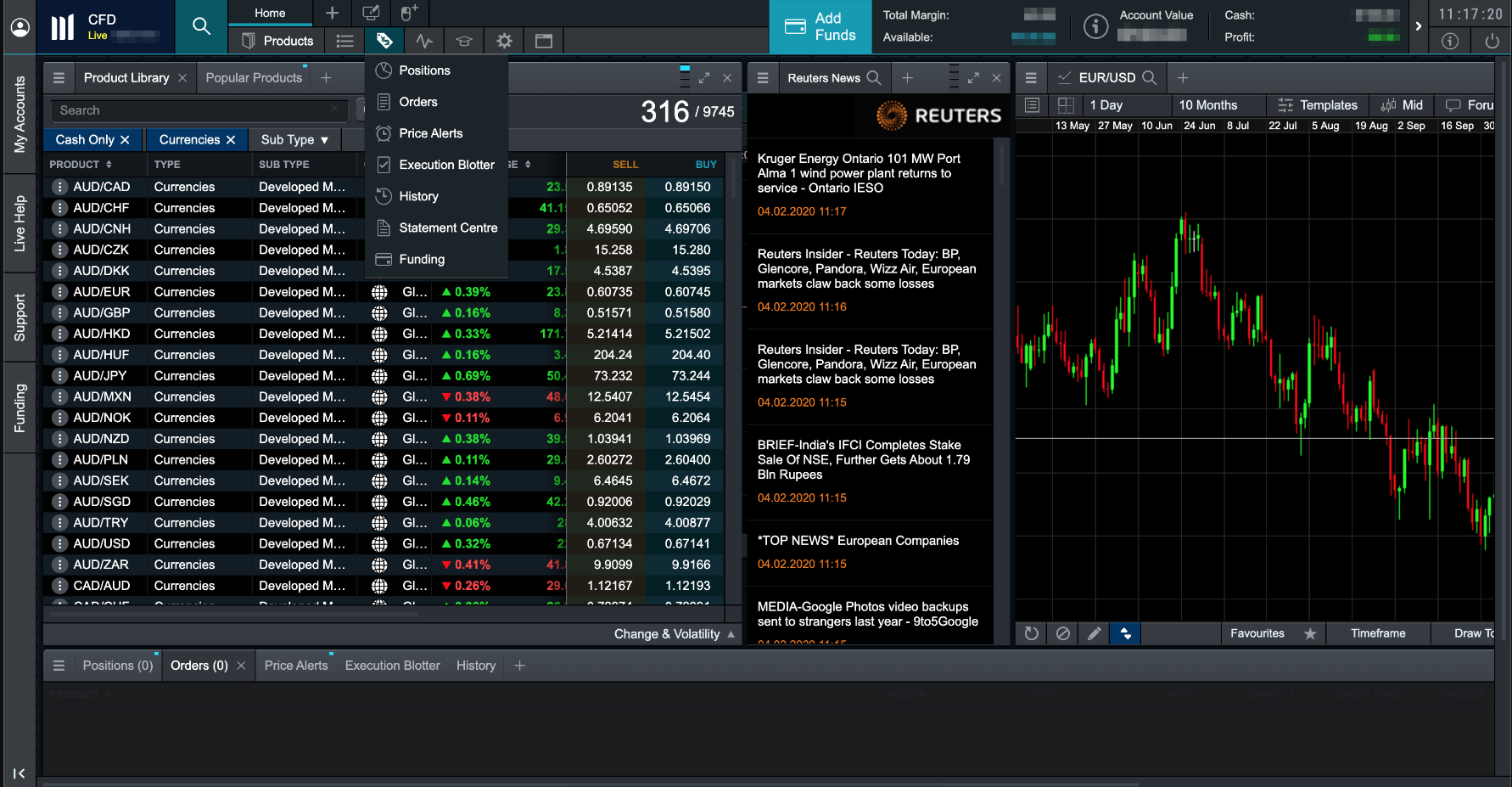 CMC Markets incur a low spread compared to the majority of other FCA-regulated brokers in the UK. It also allows opening accounts with GBP as base currency which is an additional advantage for UK clients.
#2 Plus500 – Best unlimited demo account
Plus500 allows traders to open a free demo account that allows trading through virtual currency on all the available currency pairs. Plus500 supports its proprietary trading platform and no other forex trading platform is supported.
Plus500 offers a user-friendly interface on their proprietary trading platform. The demo account can be opened directly by entering your email and password. No other data needs to be provided to Plus500 to open a demo account.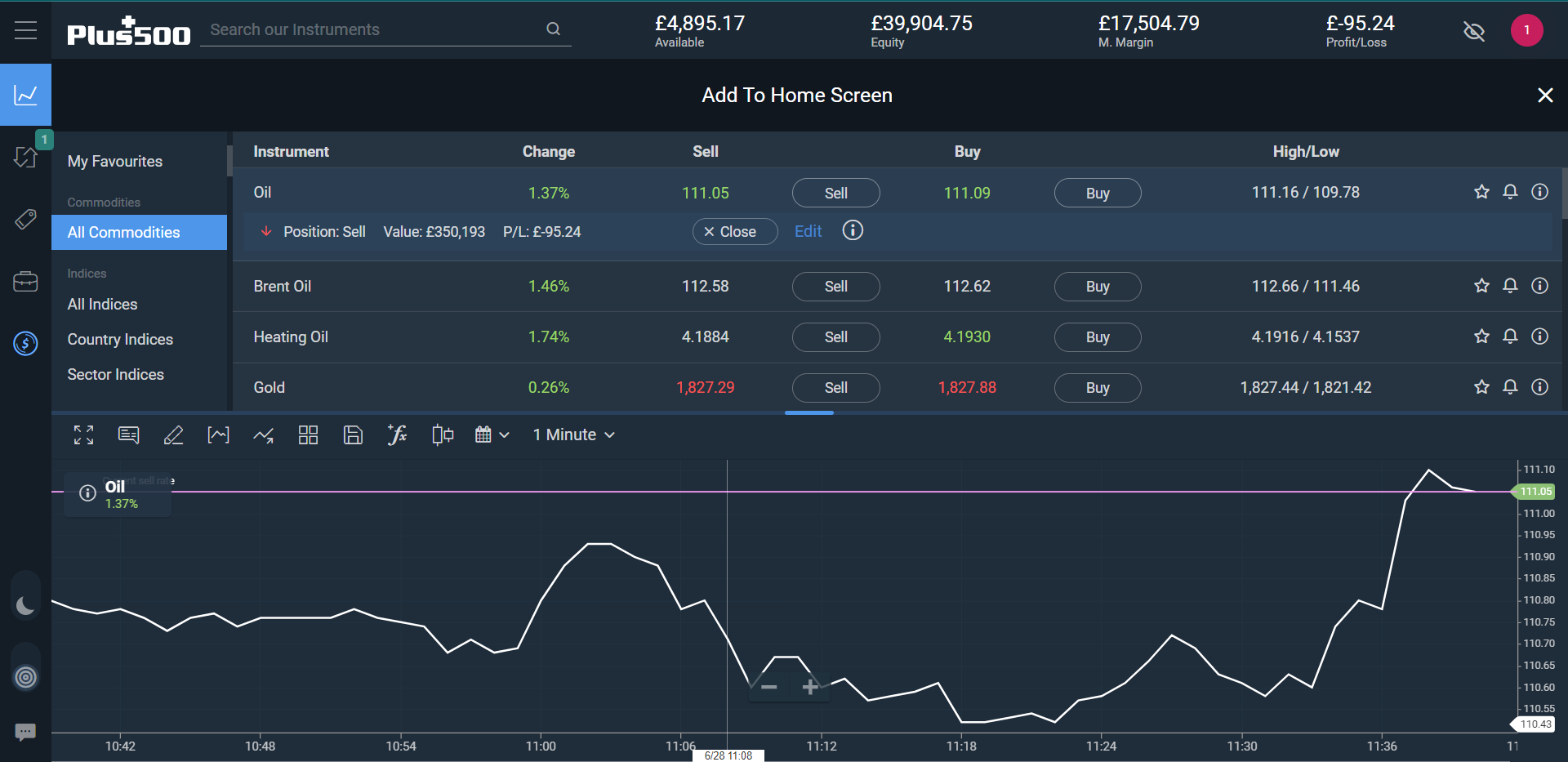 Traders are provided GBP 40,000 virtual currency on the demo account by default. This amount cannot be changed or no top-ups can be made. Plus500 is an ideal choice for demo accounts for those who find MT4 or other platforms perplexing and seek an easy-to-use forex trading platform.
#3 Pepperstone- Best Demo Account for UK Traders
Pepperstone is an FCA-regulated forex and CFD broker that allows clients to open a free demo account on multiple trading platforms. Traders can choose the configuration of the demo account and also add any amount of virtual currency.
The demo trading account at Pepperstone can be opened with four trading platforms namely MT4, MT5, cTrader, and Trading View. Clients can also choose the account type offered by Pepperstone in the demo account.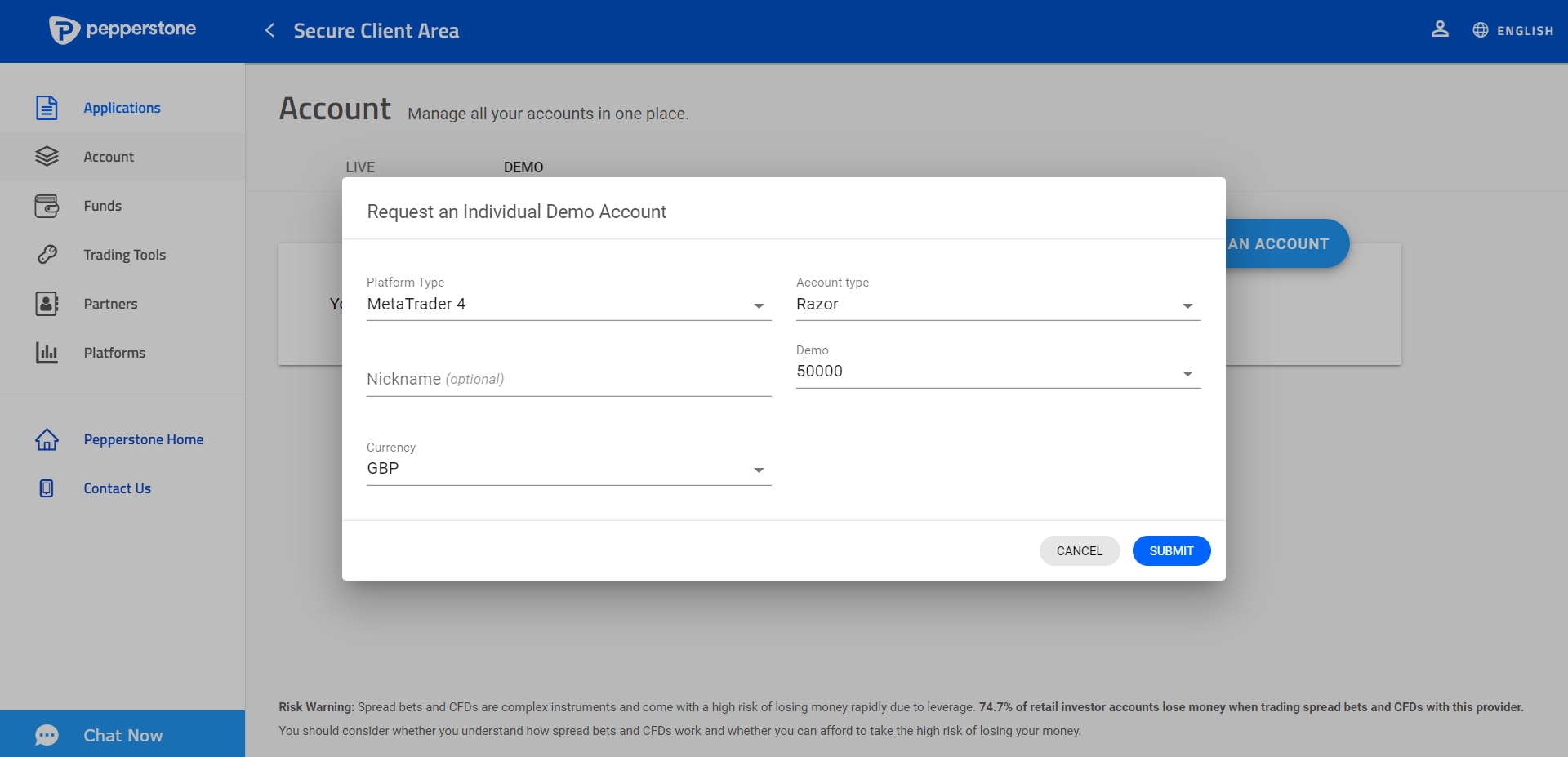 Pepperstone offers 2 different account types namely Razor and Standard. The Standard account is a spread-only account where no commission is charged. The Razor account involves a fixed commission of $3.5 per each side trade of a standard lot. The spreads are very low with the Razor account. Traders can open both types of demo accounts separately to compare the fees charged with either configuration.
The base account currency can also be chosen between GBP, USD, and EUR. The amount with which you wish to start demo trading can also be entered while opening the demo account.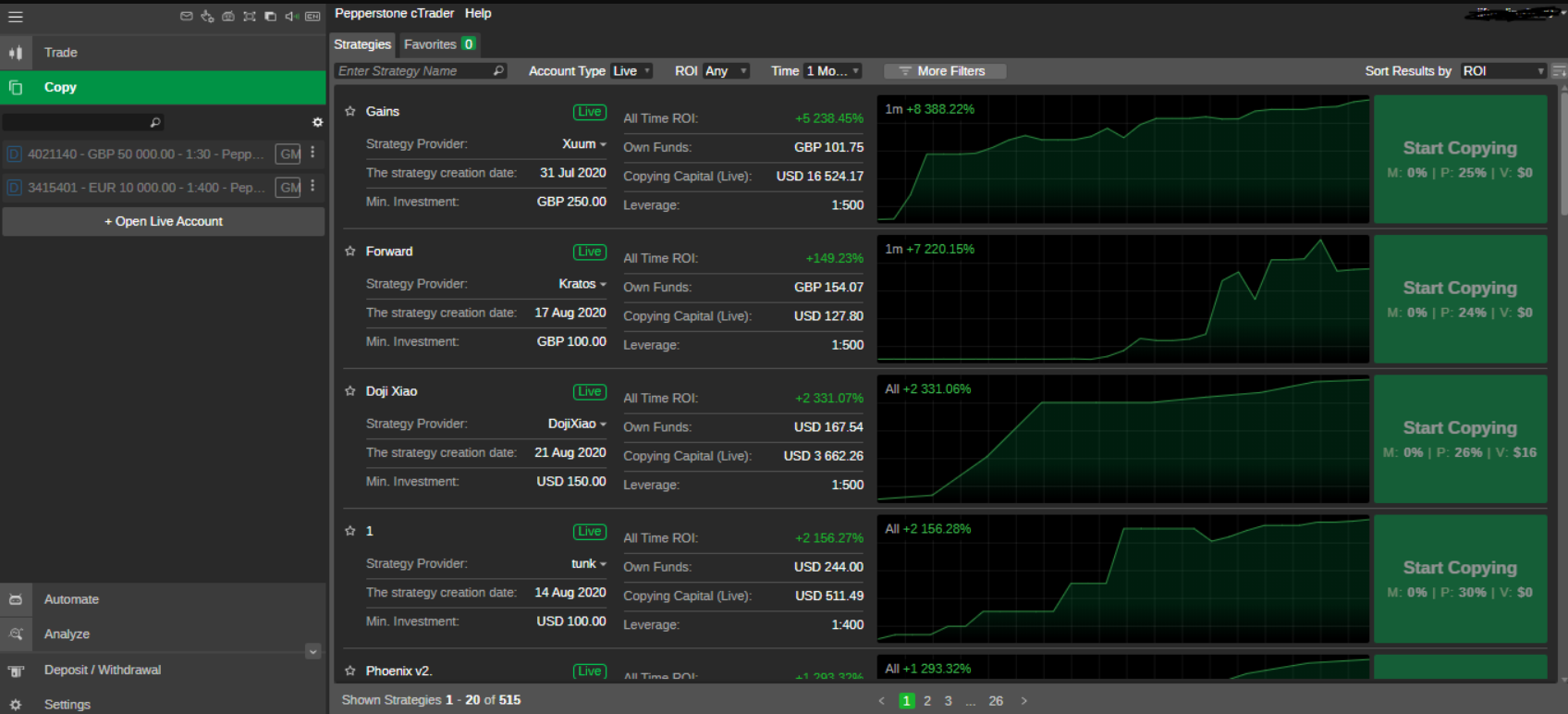 Due to multiple options and the ability to configure the account, Pepperstone is one of the best options to open a demo account for forex and CFD trading in the UK.
#4 IG Markets – Best Demo Account with dummy cash
IG is among the oldest FCA-regulated CFD brokers in the UK that allows trading on a large number of instruments.
The demo accounts at IG Markets can be opened within a minute without submitting documents or making a deposit. The demo account at IG Markets opens in the default web trading platform which is based on MT4. This can be converted to ProRealTime which is a proprietary trading platform of IG.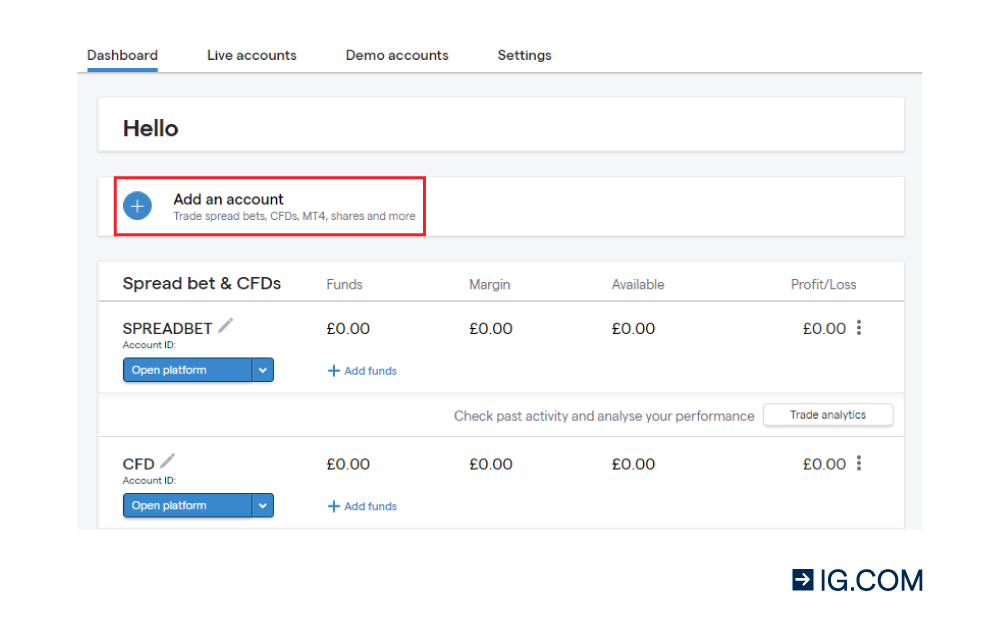 The demo account allows trading with initial equity of £10,000 which can be further increased from the dashboard. There are no choices for account types at IG Markets but different platforms are available to choose from. The demo trading account at IG Markets is among the best for clients residing in the UK.
#5 AvaTrade – Best Demo Account for Beginners
AvaTrade is a forex and CFD broker that supports multiple trading platforms and user-friendly demo accounts. AvaTrade is not regulated by FCA in the UK, hence it won't be ideal for trading with real currencies in the UK.
AvaTrade is regulated by multiple top-tier regulatory authorities globally. However, they are not yet licensed and regulated by FCA in the UK. AvaTrade holds a regulatory license from ASIC in Australia, FSCA in South Africa, and CySEC in the EU. Clients residing in the UK are registered under the Financial Services Commission of British Virgin Island.
The trading cost at Avatrade is low. They offer a single account type with spread as the only trading fee. The average spread for EUR/USD is 0.9 pips. The inactivity fee is high as they incur $50 for three months of inactivity and $100 for a year of inactivity.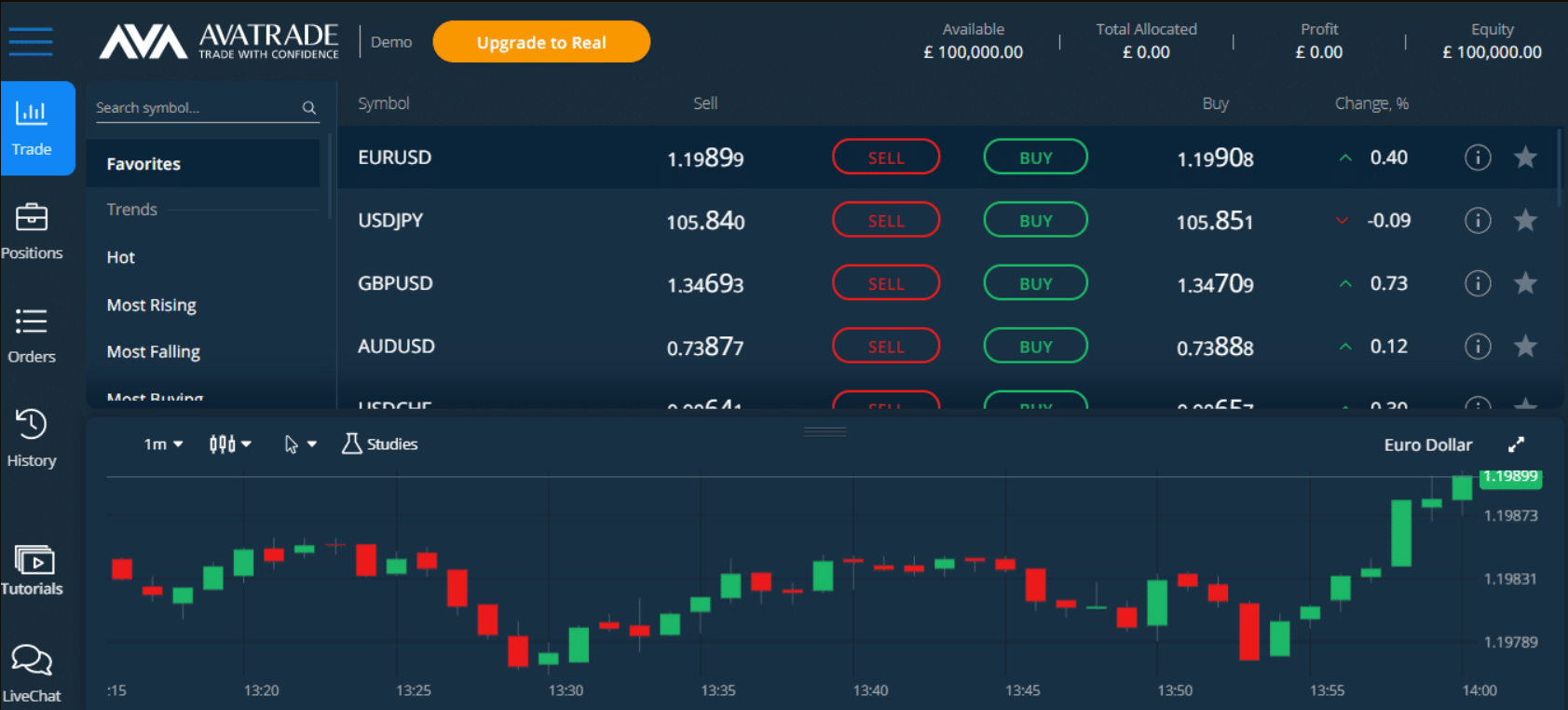 The demo trading account at AvaTrade can be opened with multiple trading platforms. The AvaTradeGo is the most user-friendly platform with limited tools and a modern interface. Demo accounts can also be opened with MT4 and MT5 trading platforms which is the most widely used forex and CFD trading platforms globally.
AvaTrade incurs no fees for opening a demo account and traders can trade on 65 currency pairs and several other CFDs on indices, commodities, etc. Copytrading can also be done with the demo account.
How to Make the Most Out of Forex Demo Account?
The basic purpose of a forex demo account is to get familiar with the forex market and the process of forex trading. It is also used for testing the strategies of forex trading. Traders can gain a lot from the demo account by considering several measures while using the demo forex trading account.
Account Currency and Equity
The base account currency in which the account balance is kept plays a vital role in demo forex trading. Most demo accounts offer as high as $100,000 virtual money for trading. Booking higher profits are always easier with higher account equity.
To get the best trading experience through demo trading, traders must always choose the currency that they will actually use for trading and start with the amount that they actually wish to deposit initially.
This will let you grasp the possible returns and the risk that you are about to take in the forex market. If you start demo trading with $100,000, you can open any position of any size and can book substantial returns. However, the profits and their fluctuation will be much lower when smaller deposits are made.
Leverage
Leverage is one of the most important factors in forex trading. While trading forex through a demo account, traders must ensure that the leverage they have taken is similar to the one that they will be taking in actual trades.
The maximum leverage that the brokers and FSPs can provide to the retail traders is 1:30 for major pairs and 1:20 for minor pairs. All FCA-regulated brokers are restricted to cap the maximum leverage on all financial instruments. Brokers that are not regulated by FCA are not compliant to limit the leverage and they may offer much higher leverage.
Trading Platform
The trading platform is where traders will spend most of their time while trading forex. For beginners, it can be difficult to choose the best forex trading platform for themselves. Demo accounts can come in handy for this issue as traders can test multiple trading platforms through demo accounts and can choose the most suitable and convenient platform.
Financial Instruments
The instruments that you will be trading with the real account must be tested for suitability through the demo account. Each forex pair or CFD instrument can have different specifications and price movements.
Before you trade on a new instrument with your hard-earned money, it is always better to garner some experience on the instrument through a demo trading account. Using a demo account before a real account will reduce the risk as a prediction of price swings will become easier.
Risk vs Reward
To make the best out of a demo trading account, traders must place realistic orders with research and limits on price movements. By placing the stop loss and taking profit limit orders, traders can identify the risk-to-reward ratio in forex trading. Analysis of the risk-to-reward ratio must be learned while using the demo account.
Treat It as a Real Account
Approach your demo account as if it were a real trading account. Take it seriously and apply the same level of discipline and decision-making that you would with real money. This will help you gain a more realistic trading experience and learn valuable lessons without risking actual funds.
Understand the Platform
Familiarize yourself with the trading platform provided by the demo account. Learn how to execute trades, place orders, set stop-loss and take-profit levels, and utilize various features and tools available. Understanding the platform will enhance your efficiency and effectiveness when executing trades.
Practice Different Trading Strategies
Use the demo account to experiment with different trading strategies and techniques. Test various indicators, chart patterns, or fundamental analysis methods to see how they perform in different market conditions. This will help you identify strategies that align with your trading style and improve your decision-making skills.
Key Takeaways
Beginners in forex trading must always start with a demo account
The account balance and leverage in the demo account should be realistic
Every new strategy in forex and CFD trading can be tested with a demo account
All forex brokers in the UK allow opening demo accounts for free with different features
Traders can get comfortable with the trading platform through a demo account
Tips to Reduce Risk while Trading Forex
Use Proper Position Sizing: Determine the appropriate position size based on your risk tolerance and account size to limit potential losses.
Set Stop-Loss and Take-Profit Levels: Define levels at which your trades will be automatically closed to limit losses and secure profits.
Diversify: Avoid putting all your capital into a single trade. Diversifying your trades can help spread risk.
Stay Informed: Keep track of economic calendars, news, and events that could impact the forex market.
Use Demo Accounts: Practice with demo accounts before trading with real money to gain experience.
Educate Yourself: Invest time in learning about forex trading, strategies, technical and fundamental analysis, and risk management.
Choose a Reputable Broker: Select a regulated and reliable broker with a transparent trading platform.
Comparison of Best Demo Account UK
| Broker Name | Typical EUR/USD Spread | Minimum Deposit | Max. Leverage | Visit |
| --- | --- | --- | --- | --- |
| CMC Markets | 0.7 pips | £100 | 1:30 | Visit Broker |
| Plus500 | 0.5 pips | $100 | 1:30 | Visit Broker |
| Pepperstone UK | 0.09 pips | £0 | 1:30 | Visit Broker |
| IG Markets | 0.6 pips | $0 | 1:30 | Visit Broker |
FAQs on Best Forex Demo Account UK
What is the best demo account?
According to our analysis and comparison, Pepperstone is one of the best demo forex trading accounts in the UK. It allows clients to open demo accounts in 4 different trading platforms, 3 currencies including GBP, and 2 different pricing structures. Traders can open multiple demo accounts with any amount of virtual currency at Pepperstone.
What is the risk of using demo forex trading account?
Demo trading account involves no risk. Since no money needs to be deposited, there is no financial risk involved in using a demo trading account. The demo accounts are provided to help the traders in learning about forex and CFD trading.
Are demo accounts realistic?
Yes, the prices of currency pairs and other CFD instruments remain the same for demo and live trading accounts. There is no difference in the prices and trading conditions with the live and demo accounts. For better learning, traders should always keep the leverage and deposit the same as they will be using with the live account.
How long should I trade demo?
It depends on the trading experience and learning ability, but beginners should spend 2-3 hours for at least 30 days on demo accounts before moving on to live accounts. There are no preset criteria on the amount of time you should spend on demo accounts. Traders can move on to open live accounts whenever they feel comfortable and confident to trade with real money.
Which broker can I use for demo account?
Majority of the forex brokers that are regulated by the FCA in the UK offer demo trading accounts. Only a few forex and CFD brokers do not offer demo accounts. Pepperstone, CMC Markets, IG Markets, and Plus500 offer the best demo trading accounts in the UK.
What is the best demo trading app?
MT4, MT5, and cTrader are the best demo trading app used by the majority of forex traders worldwide. Traders can open a demo account on these trading platforms without opening their account with any broker or providing their details.
Which forex account is best for beginners?
The forex account that is ideal for beginners should require a smaller initial deposit, offer a user-friendly platform, and incur a lower spread. The account should provide more educational and research tools. Generally, the commission-based account is not ideal for beginners as the trading volume is low.
How do I get a forex demo account?
The forex demo account is provided by almost every broker that offers forex and CFD trading services. Apart from broker, traders can directly download the MT4, MT5, or cTrader trading platform and open the demo trading account directly without a broker. However, for a better experience of fees and trading conditions, it is better to open a demo account with a broker.
Can you withdraw money from a forex demo account?
No, the money held in the demo forex trading account cannot be withdrawn as it is not real money. The FSPs offer demo trading accounts for practice and the money held in a demo account is virtual money which can only be used for virtual trades. Traders can neither deposit nor withdraw from a demo forex trading account.