AvaTrade Nigeria Review 2023
AvaTrade offers low cost trading on forex and CFD instruments. It is a market maker that is regulated by FSCA, ASIC, CySEC and several other regulatory authorities. Check all the pros and cons for choosing AvaTrade in Nigeria.
AvaTrade is a well-regulated market maker that offers low-cost trading on forex pairs and CFDs of financial instruments. It is a market maker forex and CFD broker that offers tight spreads in Nigeria.
It supports trading through MT4, MT5, and its own mobile trading app AvaTradeGo. A wide range of financial instruments from different asset classes can be traded with AvaTrade by opening a single account.
AvaTrade Pros
AvaTrade is well-regulated by multiple authorities
Offers intuitive trading platforms
Provides a wide variety of trading assets
Offers extensive educational materials
Responsive 24/5 customer support
Supports expert advisors (EAs) for automated trading
AvaTrade Cons
Competitive but not always the narrowest
Charges fees for inactive accounts
Some withdrawal methods have fees
We have comprehensively reviewed AvaTrade specifically for the clients in Nigeria. Every component of the broker has been thoroughly covered to provide an honest review of the broker.
AvaTrade Nigeria Summary
| | |
| --- | --- |
| Broker Name | Ava Trade Markets Ltd |
| Website | www.avatrade.ng |
| Regulation | FSCA, ASIC, CySEC |
| Year of Establishment | 2006 |
| Minimum Deposit | $100 |
| Maximum Leverage | 1:400 |
| Trading Platforms | MT4, MT5 & WebTerminal |
| Trading Instruments | Forex, cryptoсurrencies, energies, metals, indices, stocks |
Safety and Regulation
The regulatory authorities grant operating licenses to brokers and financial services providers to operate in their respective jurisdictions. A broker with top-tier regulations is considered safe for trading. AvaTrade holds multiple regulatory licenses from multiple tier 1 regulatory authorities. Following are the details of the highest tier regulatory licenses held by AvaTrade.
FSCA of South Africa: Financial Sector Conduct Authority (FSCA) is a top-tier regulatory authority based in the jurisdiction of South Africa. AvaTrade acquired an FSCA license in 2015 under the name 'Ava Capital Markets (Pty) Ltd' with FSP number 45984. We cross-checked the authenticity of the license from the FSCA website and found it legitimate with approval for derivative instruments and forex pairs.

ASIC of Australia: Australian Securities and Investments Commission (ASIC) is another top-tier regulatory authority that overlooks the activities of FSPs in the jurisdiction of Australia. The ASIC license was acquired by AvaTrade in 2011 under the name of Ava Capital Markets Australia Pty Ltd with license number 406684 and ABN number 72 143 340 907.

CySEC of European Union: Avatrade holds the Cyprus Securities and Exchange Commission license by the name of DT Direct Investment Hub Ltd and license number 347/17. This license grants permission to operate the financial business in the European Union. This is a tier 2 regulatory authority that is compliant with the Markets in Financial Instruments Directive (MiFID) regulations.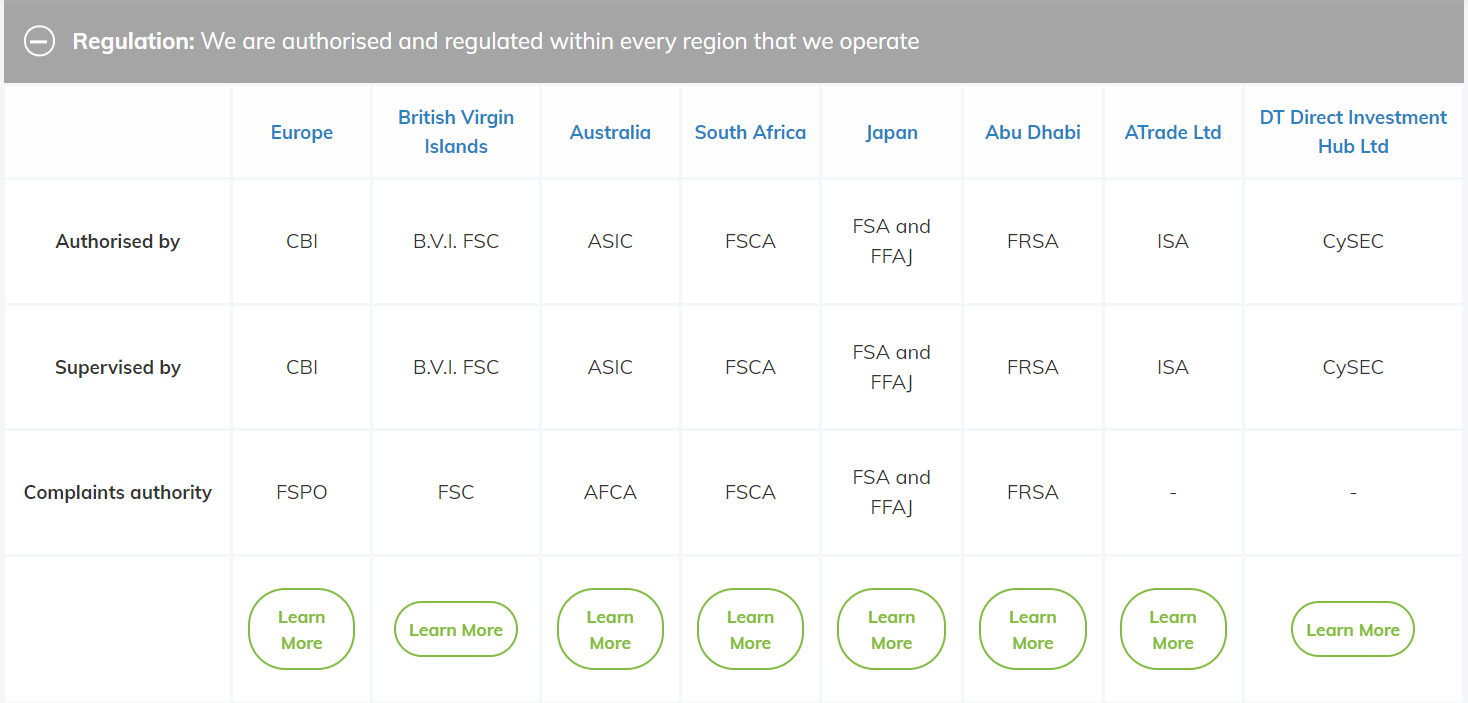 Apart from these major regulatory licenses, AvaTrade also holds a regulatory license from the Central Bank of Ireland (C53877), British Virgin Island Financial Services Commission, Financial Services Agency of Japan (1662), and Abu Dhabi Global Markets (ADGM) Financial Regulatory Services Authority (FRSA) (190018).
Top-tier FSCA and ASIC regulations in South Africa and Australia respectively make AvaTrade fairly safe for Nigerian traders. It has been in the business of online trading since 2016. It claims to have more than 200,000 registered customers globally with a monthly trading volume of more than 60 million USD. The third-party risk of choosing AvaTrade is very low.
AvaTrade Trading Fees
AvaTrade is a market maker. This allows it to offer competitive spreads that are lower than many of the regulated online forex and CFD brokers in Nigeria. The fees structure at AvaTrade is quite simple as there is a single account type. No commission of any type is charged from the traders.
Spread: The spreads are variable and change according to the liquidity in the market and other conditions. The spreads at AvaTrade start from 0.8 pips per lot. For the EUR/USD currency pair, the average typical spread is 0.9 pips. According to our review, the spreads at AvaTrade are lower than most of the top-tier regulated forex and CFD brokers in Nigeria. The table below describes the average typical spread for different trading instruments at AvaTrade.


| Trading Instruments | Average Spread in Pips |
| --- | --- |
| EUR/USD | 0.9 |
| GBP/USD | 1.6 |
| USD/ZAR | 85 |
| Gold | 0.34 |
| Crude Oil | 0.03 |
| BTC/USD | 0.2% over market |
| US Tech 100 | 1.00 over market |

We have compared the average spread incurred by various brokers in Nigeria. Traders must note that the spreads in the following table are with the Standard account with no trading commission involved. The fees are built into the spread for the most traded currency pairs.

| Trading Instrument | AvaTrade | FXTM | eToro | CMC Markets | Pepperstone |
| --- | --- | --- | --- | --- | --- |
| EUR/USD | 0.9 | 1.9 | 1.1 | 0.70 | 0.77 |
| GBP/USD | 1.5 | 2 | 2.3 | 0.9 | 1.19 |
| EUR/GBP | 1.5 | 2.4 | 2.8 | 1.10 | 1.40 |
| USD/JPY | 1 | 2.2 | 1.2 | 0.7 | 0.86 |
| USD/CAD | 2.0 | 2.5 | 1.7 | 1.3 | 1.07 |

Swap Fees: This is the fee that is incurred if the trader keeps the position open overnight. Swap fees are also called overnight fees and are different for each instrument. The swap fees also differ for the long and short positions. Avatrade charges much lower swap fees than many of the forex and CFD brokers in Nigeria.

Traders can calculate the swap fees for specific instruments and positions with the trading calculator on their website and app. This calculator can help in calculating all the details of the trade like spread, swap long, swap short, margin, spread cost, stop loss and take profit amount.

Inactivity Fees: AvaTrade charges inactivity if no trade orders are executed for more than 3 consecutive months. The inactivity fee is 50 USD/EUR depending on the base account currency.

The inactivity fee is charged once for each inactivity period of 3 months. For more than 12 months of inactivity, the fees incurred by AvaTrade is called administration fee. It is incurred if no trades are executed for 12 consecutive months. The administration fee at AvaTrade is 100 USD equivalent. It is incurred once for every 12 consecutive months of inactivity.

Other Charges: AvaTrade has a single account type that does not involve any sort of commission. Spreads and swaps are the only charges that are incurred to traders in Nigeria. The account opening is free. Funding and withdrawal through all the accepted methods in Nigeria are also free from the broker's side. Some of the transaction methods may incur additional charges.
Overall, AvaTrade is among the most cost-effective FSCA regulated forex and CFD brokers in Nigeria. The spreads are competitive and no trading commission is involved. The inactivity fee is much higher than most of the brokers and market makers in Nigeria.
AvaTrade Account Type
AvaTrade Demo Account
The Demo account at AvaTrade allows traders to gain experience with virtual currency of up to 100,000$. Opening the demo account grants access to MetaTrader 4, MetaTrader 5, Web Trading, and AvaTrade's own mobile trading platform application AvaTradeGo. The demo account can be opened without providing personal and financial details and documents.
AvaTrade Real Account
For clients residing in Nigeria, AvaTrade offers real USD and EUR based accounts. The Real account can also be converted to an Islamic or swap-free account. There is a single account type for all clients as there is no option to select between account types.
Standard Account: The Standard Account is the basic account type offered by Avatrade. It is suitable for beginner traders or those who prefer a straightforward trading experience. The Standard Account typically offers access to a wide range of financial instruments, including Forex, commodities, indices, and cryptocurrencies, with competitive spreads.
Apart from this, AvaTrade also offers following live accounts to traders
Options Account: Avatrade also offers an Options Account for traders interested in trading options. This account type allows traders to participate in options trading across various underlying assets, such as Forex pairs, stocks, and indices. Options trading provides traders with additional flexibility and strategies to manage risk and potentially profit from market movements.
Islamic Account: Avatrade offers Islamic (Swap-Free) Accounts that comply with Islamic Shariah principles. These accounts are designed for Muslim traders who require adherence to Islamic finance principles, which prohibit the charging or earning of interest (swap) on overnight positions. Islamic Accounts have no overnight interest charges or credits.
VIP Account: Avatrade provides a VIP Account for high-volume traders or those with substantial trading capital. The VIP Account offers additional benefits and features, such as lower spreads, personalized support, access to exclusive trading tools, and priority withdrawal processing.
AvaTrade has automated trading accounts named DupliTrade and ZuluTrade. Both these accounts are connected with AvaTrade Account. DupliTrade is a copy trading account where the trade orders from the experts can be automatically or manually copied. ZuluTrade is more like a social trading account where hundreds of traders around the can connect and follow each other's trading strategies and orders.
There is no spread-free or zero spread account type available at AvaTrade. Spread-based trading is ideal for many traders but high-volume traders and scalpers may not find it much convenient. A wide range of features can be accessed by opening an account at AvaTrade but lack of account options with different pricing patterns can be a drawback for some of the traders.
How to Open an Account at AvaTrade?
The account opening process is simple and only takes a few minutes.
Step 1) Enter basic details: The first step is to enter the email address, phone number, and choose a password. After this, you will be redirected to fill up basic details like name, address, etc. The trading platform and base account currency need to be selected by the user. By completing this, the demo account can be opened for web trader, MT4, and MT5 trading platforms.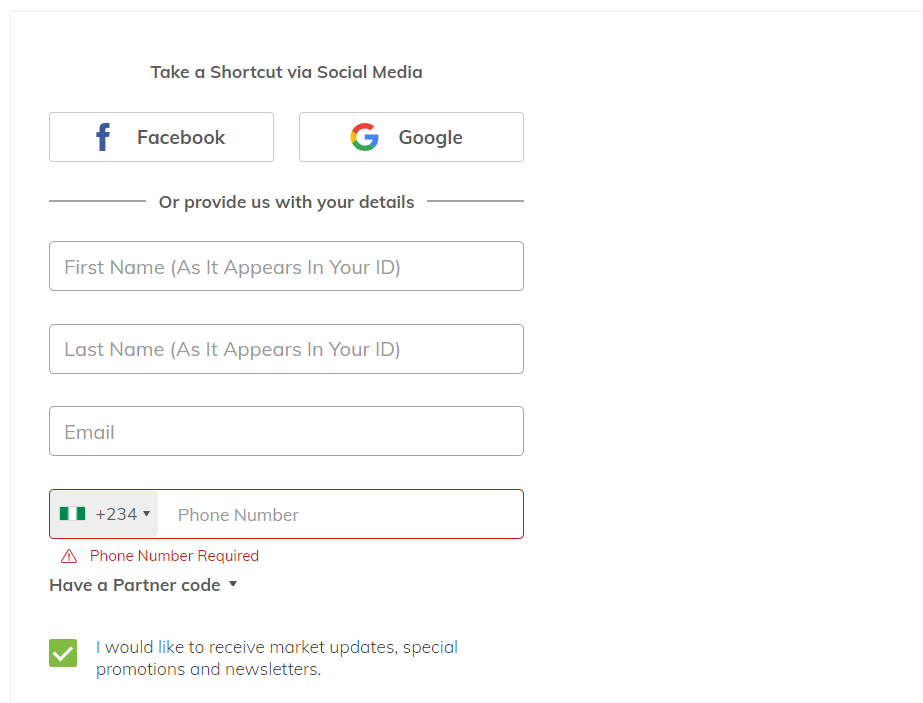 Step 2) Complete Verification & make a deposit: To open a live account, you need to enter a few more details like employment details, financial details, etc. To complete the verification, you need to submit documents for address and identity proof. Once the documents are verified by AvaTrade, the deposits can be made through multiple methods including local bank deposits. The trade orders can be executed once the deposit amount gets reflected in the account balance.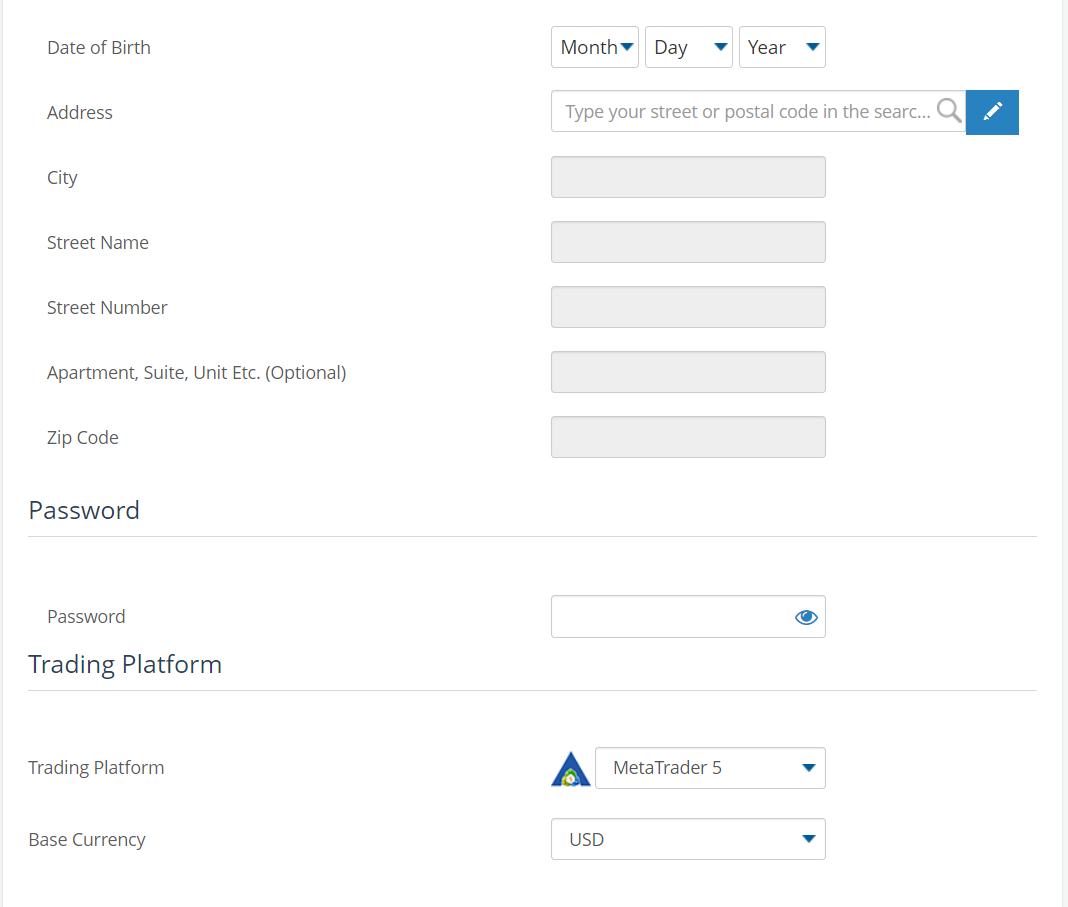 AvaTrade Deposits and Withdrawals
The deposit and withdrawal methods at AvaTrade depend on the country where you reside. For Nigerian clients, we found multiple methods with different conditions, processing time, and minimum amount. Following is the detailed review of each available deposit and withdrawal method at AvaTrade.
E-wallets: NEteller, Skrill, and Perfect Money e-wallets can be used to deposit and withdraw at AvaTrade in Nigeria. The transaction is processed instantly through these methods. The minimum deposit amount for all the three accepted e-wallets is 100$. Deposits cannot be made in NGN at AvaTrade. The conversion of NGN to USD will be done according to prevailing conversion rates.

Credit and Debit Cards: AvaTrade accepts payment and withdrawals through credit and debits VISA and Mastercard cards. The minimum and maximum deposit amounts are $100 and $20,000 respectively. The time taken to complete the deposits and withdrawal depends on your bank. Generally, deposits are processed instantly and withdrawals can take up to 3 business days to reflect in the account with this method.

Wire Transfer: Nigerian clients can also deposit and withdraw through bank wire transfers from international banks namely Barclays and Ingenico. The time taken depends on the bank account of clients. The minimum accepted amount at AvaTrade is $100 the minimum amount at the accepted banks is 500$ equivalent. Hence, this may not be the ideal choice to deposit and withdraw at AvaTrade in Nigeria.
It must be noted that the method used for the deposit should be the same as the method used for withdrawal. If multiple methods are used for deposit, then the proportionate amount in the account can be withdrawn through particular methods used for the deposit.
The e-wallets and Credit/Debit cards deposit and withdrawal methods are the most suitable method to transact at AvaTrade in Nigeria. Compared with other regulated forex and CFD brokers, the number of available deposit and withdrawal methods for Nigerian clients is lesser. However, the unavailability to deposit and withdraw from local bank transfer can be an obstacle for Nigerian clients.
AvaTrade Trading Platform
AvaTrade offers multiple trading platforms to suit different types of traders in Nigeria. They have an ideal trading platform for beginners, intermediate, and professional traders. We have separately reviewed the trading platforms at AvaTrade for web, mobile, and desktop devices.
AvaTrade Web Trading Platform
Web trading platforms do not require downloading any software. These platforms can be accessed through any browser. At AvaTrade, clients can choose between 4 web trading platforms to trade forex, CFDs, and CFD options. Additionally, AvaTrade also offers 2 platforms for automated trading.
AvaTrade Web Trader: The WebTrader at AvaTrade is the most basic trading platform with a simple interface. This platform gives access to various features and trading tools through any web browser.
The web trader also displays the live market sentiments with accurate data. This tells us whether the majority of traders are bullish or bearish on a particular instrument. Price alerts or notifications cannot be manually placed through webtrader.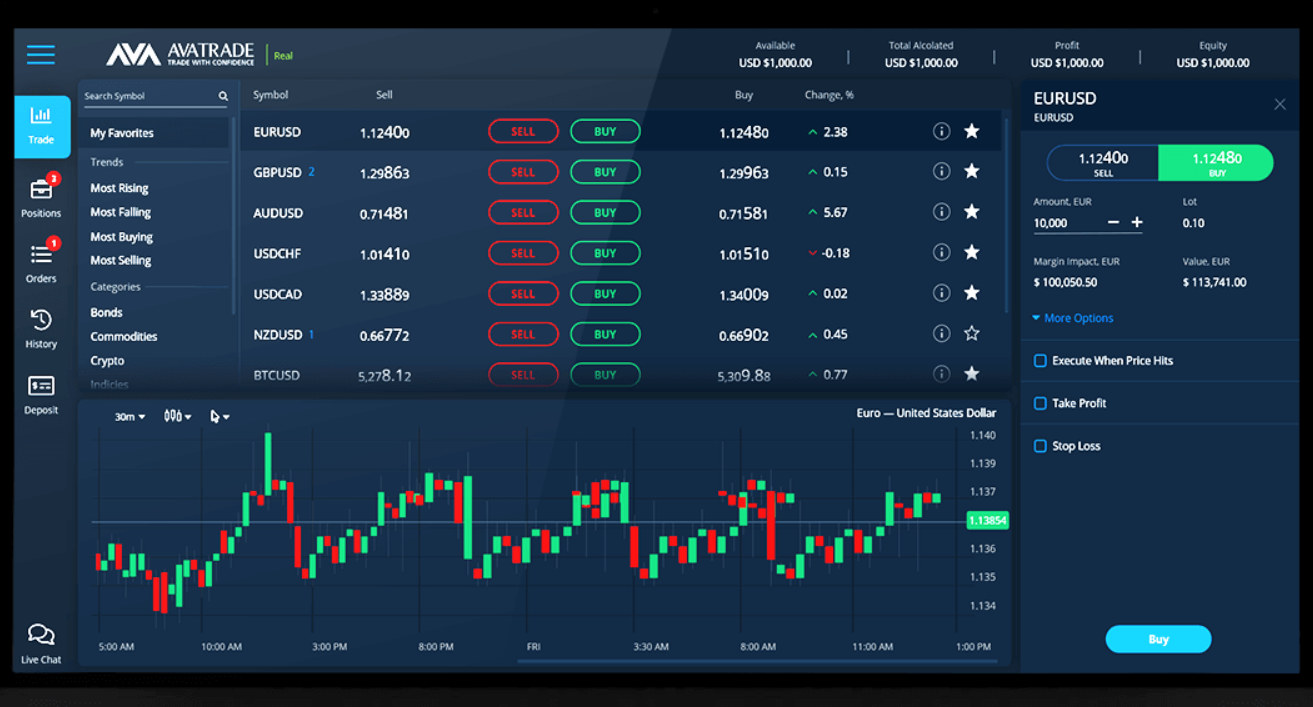 The web trader only has a one-step login and cannot be customized by clients. The position of tabs will remain the same. The trailing stop loss order cannot be placed through the web trader. The AvaProtect feature is very useful as it acts as insurance against losses on a trade at the expense of extra costs over spreads.
MetaTrader: The MetaTrader 4 and MetaTrader 5 trading platforms are available at AvaTrade through web browser. These platforms are available in 40+ languages and can be customised according to traders' requirements.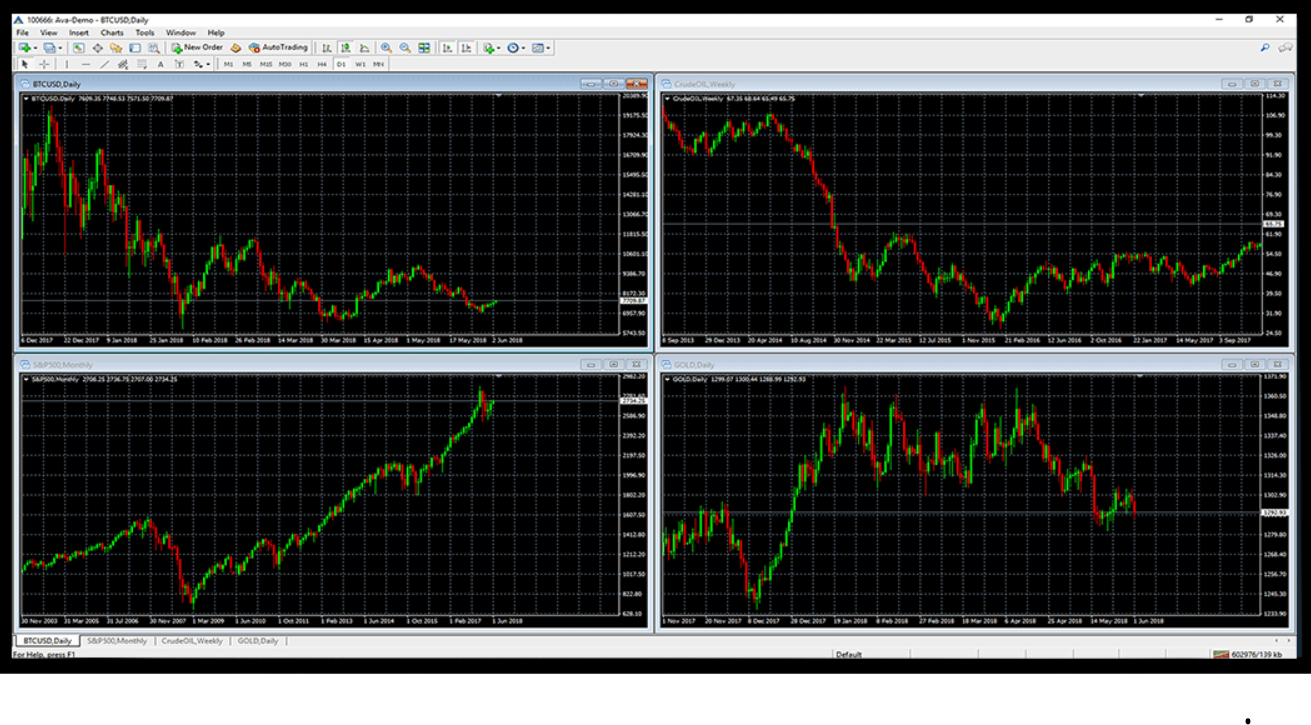 MT4 and MT5 web trading platforms at AvaTrade have one-step login. Price alerts can be set with this platform. GTC and GTT orders are available but trailing stop loss orders are not available through the web trading platform.
AvaOption: AvaOption is a proprietary trading platform at AvaTrade for trading FX and Options with several in-built strategies. The AvaOption web trading platform is only available in the English language and can be customised up to some extent. It has excellent risk management tools and can be very useful for experienced and professional traders.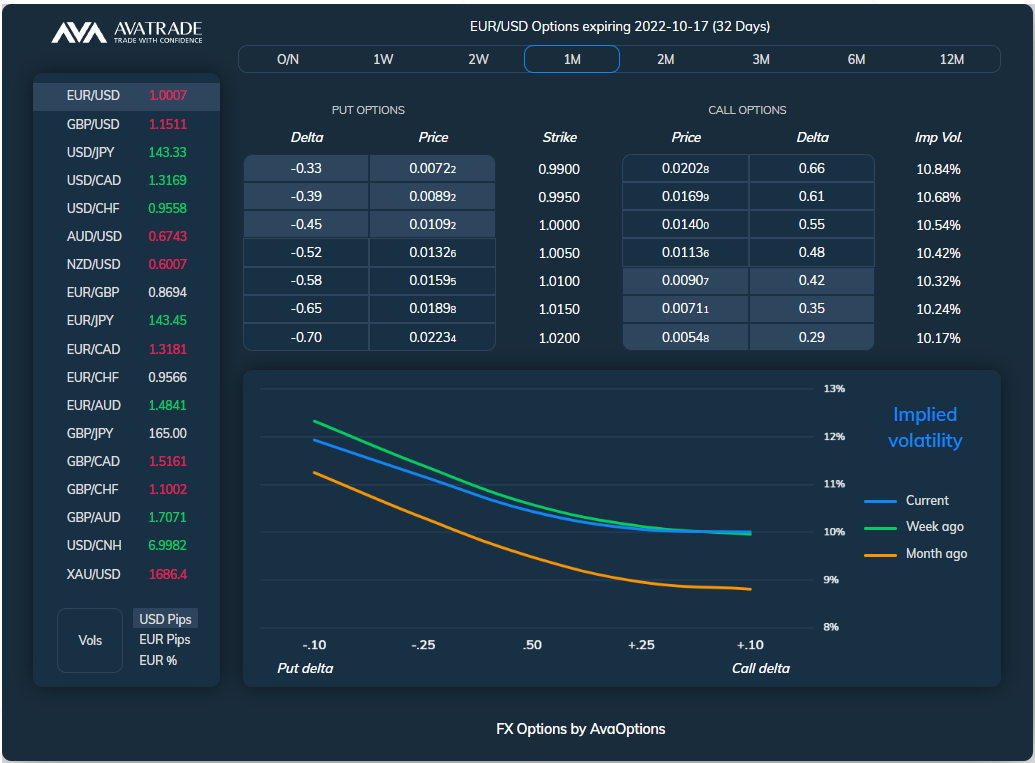 AvaTrade Mobile Trading Platform
AvaTrade offers 4 different trading platforms for android and iOS mobile and tablet devices. We have separately reviewed all the mobile trading platforms at AvaTrade to help clients choose the best one for themselves.
AvaTradeGO: AvaTradeGO is the proprietary trading platform designed by AvaTrade for mobile and tablet devices. It is the most chosen mobile trading platform at AvaTrade. The platform looks user-friendly with a modern interface.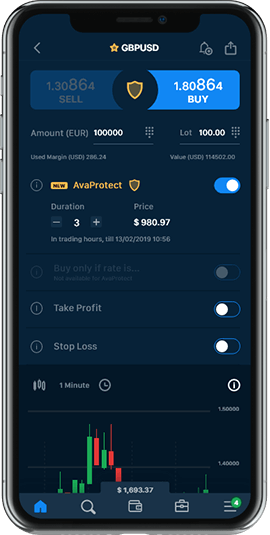 AvaTrade is only available in English and cannot be customized. It has a one-step login but clients can also set up a PIN or fingerprint login for additional security. Price alerts and notifications can be set by the traders.
AvaOptions Mobile: AvaOptions is the proprietary trading platform at AvaTrade that can also be downloaded on Android and iOS devices. The AvaOptions mobile offers all the features that are offered by the AvaOptions web trading platform on a smaller screen.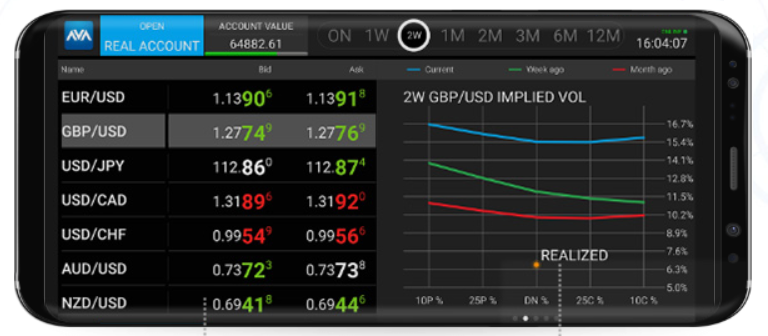 MetaTrader: The MT4 and MT5 trading platforms are also available on mobile at AvaTrade. The features, indicators, time frames, and patterns are lesser compared to web and desktop trading platforms. However, the MT4 and MT5 mobile platforms can be used to trade on the go.
AvaTrade Desktop Trading Platform
For desktop devices, AvaTrade offers 3 trading platforms namely MetaTrader 4, MetaTrader 5, and AvaOptions. The AvaOptions desktop platform can only be used to trade options.
MetaTrader 4: MT4 is the most chosen trading platform at AvaTrade. It is a third-party platform developed by MetaQuotes software in Cyprus in 2005. Despite being the oldest, it is still chosen by a large number of traders. It has a very simple interface that looks like Windows 98. It is compatible with all devices and works fast.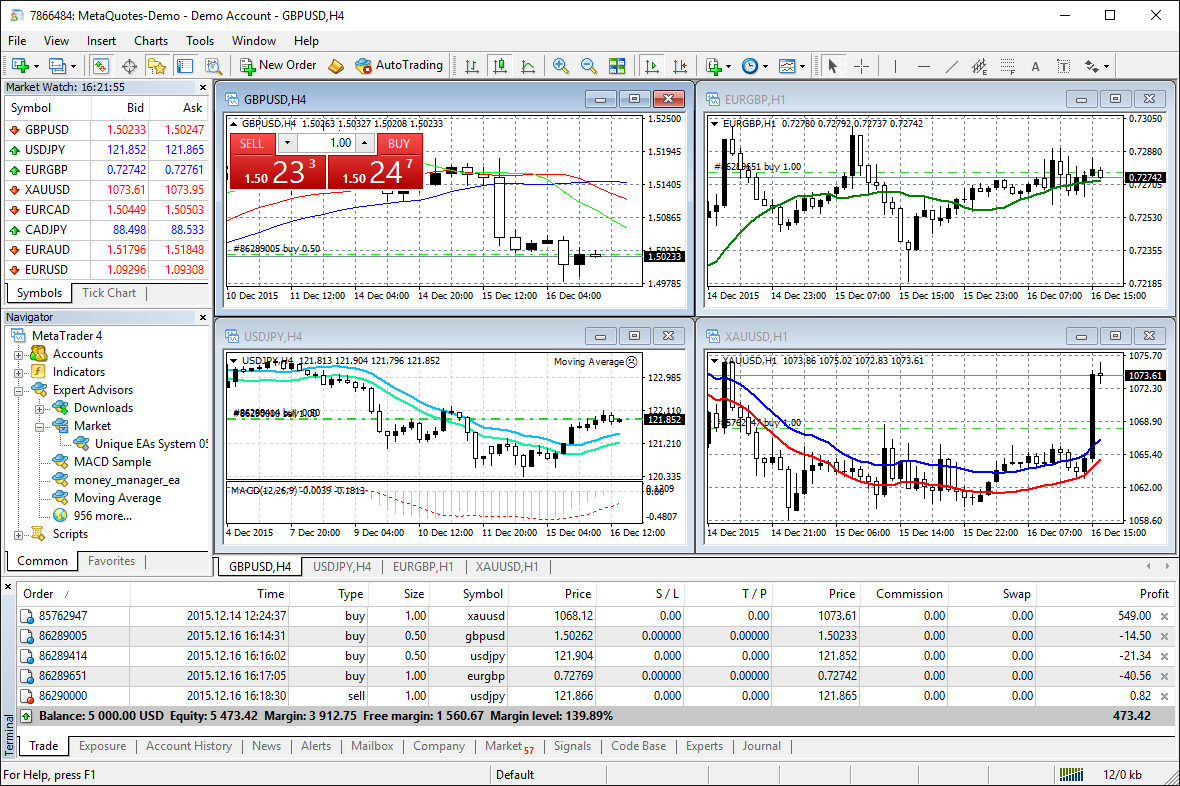 MetaTrader 5: MT5 is an upgraded version of MT4 launched by the same company in 2011. It has a modern-looking interface and has more indicators and time frames compared to MT4. MT5 is preferred by experienced traders and algorithmic traders.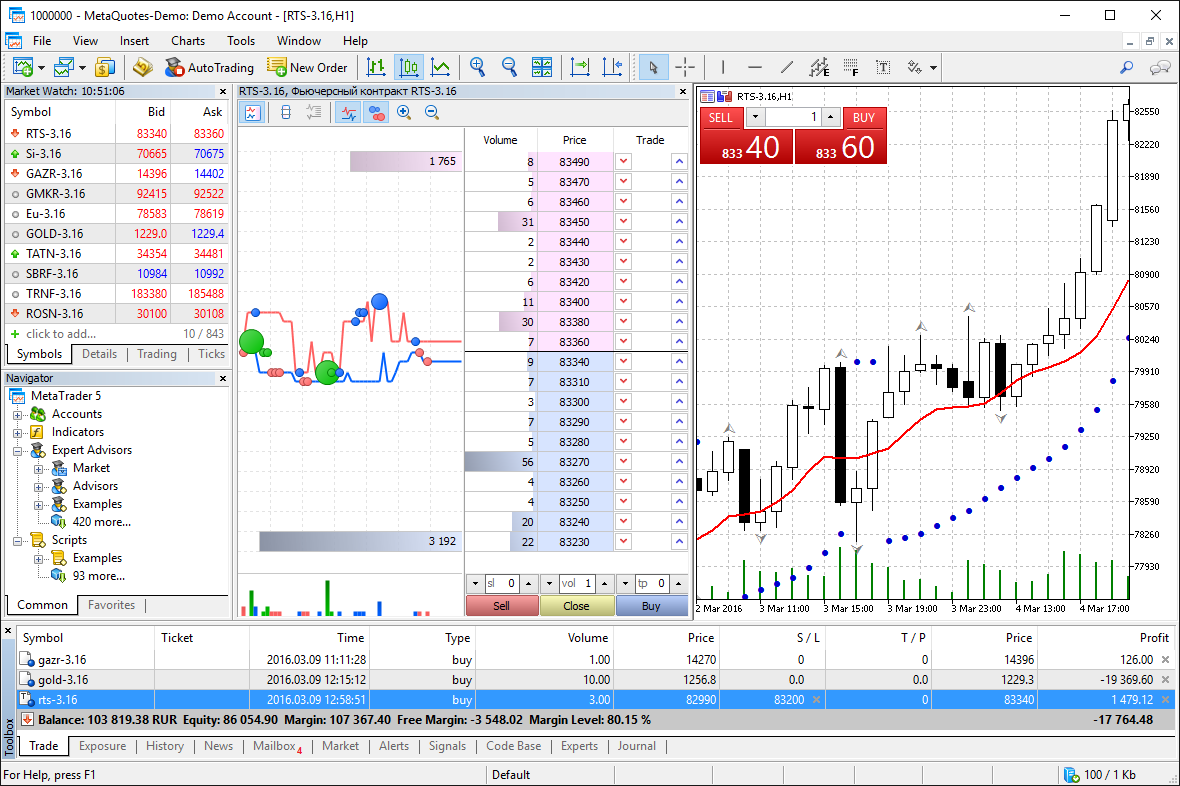 Mt4, as well as the MT5 trading platform, have one-step login. These two platforms allow the market, limit, stop loss, and trailing stop loss orders. These are easily customizable and can be paired with external trading tools. MT4 and MT5 are also ideal for algorithmic trading through MQL4 and MQL5 languages.
AvaTrader Automated Trading Platforms
For Copy trading and social trading, AvaTrade offers a separate platform called DupliTrade and ZuluTrade. The DupliTrade allows traders to copy trade orders of experts and professionals. The DupliTrade platform needs to be paired with the live trading account at AvaTrade.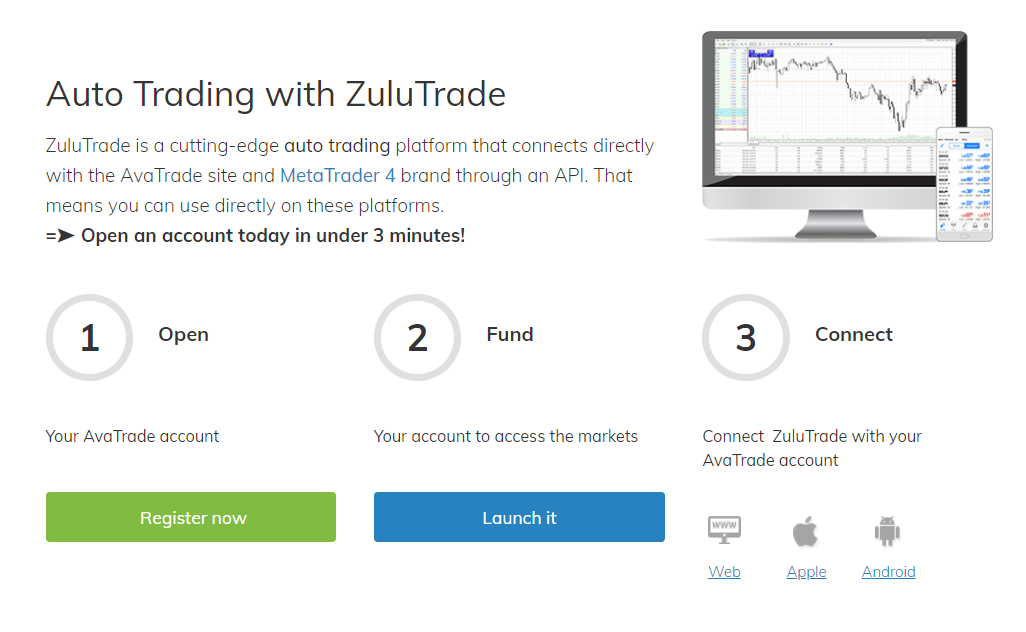 ZuluTrade is an Auto Trading account that can be paired with the AvaTrade web trader and MT4 trading platforms for automated trading. Traders from all over the world as well as trading strategies can be copied. It has a user-friendly interface and allows convenient analysis and comparison of strategies and strategy providers.
Overall, AvaTrade offers a wide variety of trading platforms for all types of traders. All types of traders from beginners to experts can find a suitable trading platform at AvaTrade with useful tools and features.
AvaTrade Available Instruments
AvaTrade allows trading on a wide range of trading instruments from multiple asset classes. Following are the details of available trading instruments at AvaTrade.
55 Forex Pairs: AvaTrade offers trading services on 10 majors, 12 minors, 19 crosses, and 14 exotic currency pairs totaling 55 currency pairs. The maximum leverage on currency pairs is 1:400 with variable spreads and swap rates.
25 CFD on Commodities: AvaTrade allows trading on various commodities via CFDs. This means there is no actual buying and selling of the assets but only the price differences are speculated to book profits. The CFDs on commodities include metals like Gold, Silver, Platinum, etc. Energies like Crude Oil, Brent Oil, Natural Gas, etc. agricultural commodities like corn, soybean, wheat, coffee, etc., and livestock commodities like live cattle and lean hogs. The maximum leverage ratio is different for each commodity ranging from 1:200 (gold) to 1:33 (agricultural commodities).
44 FXOptions: Avatrade also offers options trading on gold, silver, and 42 forex pairs. The maximum leverage ratio for these options contracts is 1:100 for forex pairs and 1:50 for gold and silver.
20 CFD on Cryptocurrencies: Cryptocurrencies trading is gaining tremendous popularity in recent years. AvaTrade allows trading on 20 cryptocurrencies via CFD. Traders cannot use or invest in cryptocurrencies but can only trade on price movements. The maximum leverage ranges from 1:25 to 1:5 depending on the liquidity of the cryptocurrency. Shiba Inu, Solana, and Polygon cryptocurrency CFDs can only be traded in the MT5 trading platform.
626 CFDs on Stocks: AvaTrade offers trading on various largely traded stocks from all around the globe. Most of these stocks have a fixed spread and can only be traded during a particular time interval. The maximum leverage ratio is 1:10. Some of the CFDs on stocks are not available with the MT4 trading platform.
33 CFD on Indices: Various types of indices around the globe are available to trade via CFD at AvaTrade. Nigerian clients can trade on major stock indices around the globe like US Tech 100, CAC 40, DAX 30, etc. Some indices like Airlines, Covid Vaccine, Gaming-Esports, etc can only be traded on the MT5 trading platform. The maximum leverage is 1:200 for US stock indices, 1:100 for other stock indices, and 1:10 for miscellaneous indices.
60 CFD on ETFs: Nigerian clients can also trade on international ETFs at AvaTrade via CFD. With the MT4 platform, only 5 CFD on ETFs are available while the MT5 trading platform allows trading on a total of 60 renowned ETFs from major exchanges of the world. The maximum leverage ratio is 1:20.
2 CFD on Bonds: Clients can also trade on Euro-Bond and Japan Govt Bond prices via CFD. The maximum leverage is 1:20 for this CFD.
| Asset Class | Number of Trading Instruments | Maximum Leverage |
| --- | --- | --- |
| Forex | 55 | 1:400 |
| Commodities (CFD) | 25 | 1:200 |
| FXOptions | 44 | 1:100 |
| Cryptocurrency (CFD) | 20 | 1:25 |
| Stocks  (CFD) | 626 | 1:10 |
| Indices  (CFD) | 33 | 1:200 |
| ETFs (CFD) | 60 | 1:20 |
| Bonds  (CFD) | 2 | 1:20 |
According to our review and comparison with other regulated market makers in Nigeria, the total number of available trading instruments is higher than many peers. The number of cryptocurrency and commodity CFDs is impressive while the number of forex pairs is decent.
AvaTrade Research Tools
The research and education tools are very helpful for new as well as experienced retail traders. AvaTrade offers multiple tools to assist traders in learning and improvising their strategies. following are the available research and education tools at AvaTrade.
Tutorials: AvaTrade offers a wide range of educational materials which can be very useful for beginners. The tutorials include videos, articles, and FAQs. They have a separate page for tutorials on each topic on trading platforms, trading basics, specifications, forex market, stock market, commodities, market analysis, and planning the trades. Each segment includes multiple videos and write-ups to educate the traders.

Beginner's Guide: Apart from tutorials, AvaTrade offers beginner's guides which are specifically made for beginners. The beginners' guide includes a separate page for how to trade online, how to trade stocks, currency trading, copy trading, cryptocurrency trading, and derivatives trading. This is very useful for beginners and makes AvaTrade a good choice for beginners.
Trading Rulebook: AvaTrade has a separate page that describes the rules and trading conditions with different platforms at AvaTrade. This page includes all information regarding contract specifications and other common queries.
Technical Analysis Strategies: New, as well as experienced traders, can learn about technical analysis strategies at AvaTrade. They have a separate page for more than 25 technical analysis strategies including Dow Theory, Kelly Criterion, Harmonic Patterns, RSI Strategies, Moving Averages, CCI, Bollinger bands, etc.

Trading Strategies: AvaTrade offers a guide for various forex and CFD trading strategies with videos, images, write-ups, and FAQs. They have a separate guide for Range Trading, Algorithmic Trading, Backtesting, etc.
According to our analysis and comparison, there are plenty of tools to educate traders in forex and CFD trading. However, AvaTrade lacks a daily news feed and market updates with significant price movement and predictions.
AvaTrade Trade Execution Method
Execution Types: AvaTrade typically offers two main execution methods: Market Execution and Instant Execution.
Market Execution: Market Execution involves executing trades at the best available market price. This type of execution is suitable for traders who prioritize rapid order execution and are willing to accept the prevailing market price.
Instant Execution: With Instant Execution, traders specify a specific entry price for their trade. If the market reaches the specified price, the trade is executed at that price. If the price is not available, the order is not executed.
No Dealing Desk (NDD): AvaTrade often promotes its no dealing desk approach, suggesting that orders are processed electronically without manual broker intervention.
AvaTrade Customer Support
The customer support service at AvaTrade is excellent as the queries can be resolved through multiple methods. The help center contains articles for most of the common queries. Following are the methods through which Nigerian clients can connect with support executives at AvaTrade.
Live Chat: The live chat window can be opened with the 'chat with us' option under help on the top right corner on AvaTrade's website. Upon opening the chat window, the chatbot appears which can solve most of the common queries within no time. We found it very useful.

The support executives can be connected upon request during working hours (24/5). Queries raised during holidays are automatically converted to email queries. The waiting time is 2-5 minutes and the executive are user-friendly in assisting the clients. The live chat support is also available via WhatsApp.

Email support: Queries can also be raised via e-mail by filling out the email form under the 'contact us' window. The response time can be up to 24 hours. This might not be a helpful means to connect with support staff due to a longer response time.
Local Phone Support: AvaTrade provides local phone numbers for customer support in Nigeria through +(234)12278891. The waiting time is low (2-5 minutes) while the executives are diligent in assisting the clients. This might be the best method to resolve any queries.
According to our review, the customer support service at AvaTrade is good but during active and rush hours, it may take longer than usual. The email support is slow but the availability of local phone support is a major advantage for Nigerian clients.
AvaTrade Bonus
Welcome Bonus: AvaTrade regularly issues welcome bonuses to promote its business and attract customers. At the time of this review, AvaTrade offers a 20% welcome deposit bonus for the first deposits. This bonus can be used in trade but cannot be withdrawn. It is only available on a minimum deposit of 1000 USD equivalent and the maximum bonus amount that can be grabbed is 2000$. This bonus is only available for accounts with USD and EUR in Nigeria.

Referral Program: AvaTrade also has a referral program in which a trader can earn up to 250$ by referring AvaTrade to new clients. The new client has to deposit 500$ and open 10 trading positions in order to generate a minimum bonus of 50$ for the older client that referred.
The 20% welcome bonus is decent for the accounts with USD and EUR. The referral program is also lesser rewarding than that of other forex and CFD brokers in Nigeria. Compared to other brokers, the bonus offering to Nigerian clients is below average.
AvaTrade FAQs
Is AvaTrade Legit?
Yes, AvaTrade is a legitimate market maker that offers to trade on forex and derivative financial instruments globally. It holds a regulatory license from FSCA in South Africa, ASIC in Australia, CySEC in European Union, and more regulatory authorities.
What is the AvaTrade Minimum Deposit in NGN?
The minimum deposit at AvaTrade is $100 in Nigeria. NGN deposits are not accepted through any of the methods and are automatically converted to USD according to prevailing market rates.
How long does it take to withdraw from AvaTrade?
The withdrawal time at AvaTrade depends on the method chosen by the trader to withdraw funds. Withdrawal through e-wallets is processed instantly while withdrawals through bank transfers and debit cards can take up to 3 business days to process.
Which country is AvaTrade?
AvaTrade is a forex broker based in Ireland. It has its headquarters in Dublin, the capital city of Ireland.
Does AvaTrade work in Nigeria?
Yes, AvaTrade accepts clients residing in Nigeria to open a live forex and CFD trading account. It is not regulated by any authority in Nigeria and clients are registered under offshore entities.
Is My Money Safe with AvaTrade?
Yes, AvaTrade holds regulatory license from multiple top tier regulatory authorities. Client's money is kept in a segregated bank account and is safe with AvaTrade.