OctaFX Malaysia Review 2022
OctaFX does not charge swap fee on any CFD instruments. It accepts local bank deposits and withdrawals but is it safe? Check our honest and unbiased review of OctaFX for Malaysian clients
OctaFX is an offshore regulated CFD broker that allows low-cost trading across various financial instruments. They are not regulated by any top-tier regulatory authority. The official website and application of OctaFX are also available in Malay language.
We have thoroughly analyzed every component of OctaFX to provide a comprehensive and honest review of OctaFX. This review has been done specifically for Malaysian clients.
OctaFX Malaysia Pros
Spreads are as low as 0.6 pips without commission.
No non-trading charges
Free local bank deposits and withdrawals are available
Multiple bonus and promotional activities
Live chat support is available 24/7
No swap fee on any account type for any instrument
OctaFX Malaysia Cons
Not regulated by any top-tier regulatory authority
The number of available trading instruments is low
MYR cannot be chosen as account currency
Local phone support is not available in Malaysia
OctaFX Malaysia Summary
| | |
| --- | --- |
| Broker Name | Octa Markets Incorporated |
| Website | www.octafx.com |
| Regulation | CySEC, SVGFSA |
| Year of Establishment | 2011 |
| Minimum Deposit | $5 or RM 1500 |
| Maximum Leverage | 1:500 |
| Trading Platforms | MT4, MT5 |
| Trading Instruments | 50+ CFDs on forex pairs, commodities, indices, shares, ETFs, cryptocurrencies |
Safety and Regulation
It is important to check the regulations and protection while trading online. The safety of your deposited funds largely depends on the regulatory compliance of the broker.
Clients residing in Malaysia are regulated by the Financial Services Authority of St Vincent and Grenadines (SVGFSA). OctaFX Markets Incorporated is the legal entity under SVGFSA regulation with license number 19776. This license was acquired by OctaFX in 2011.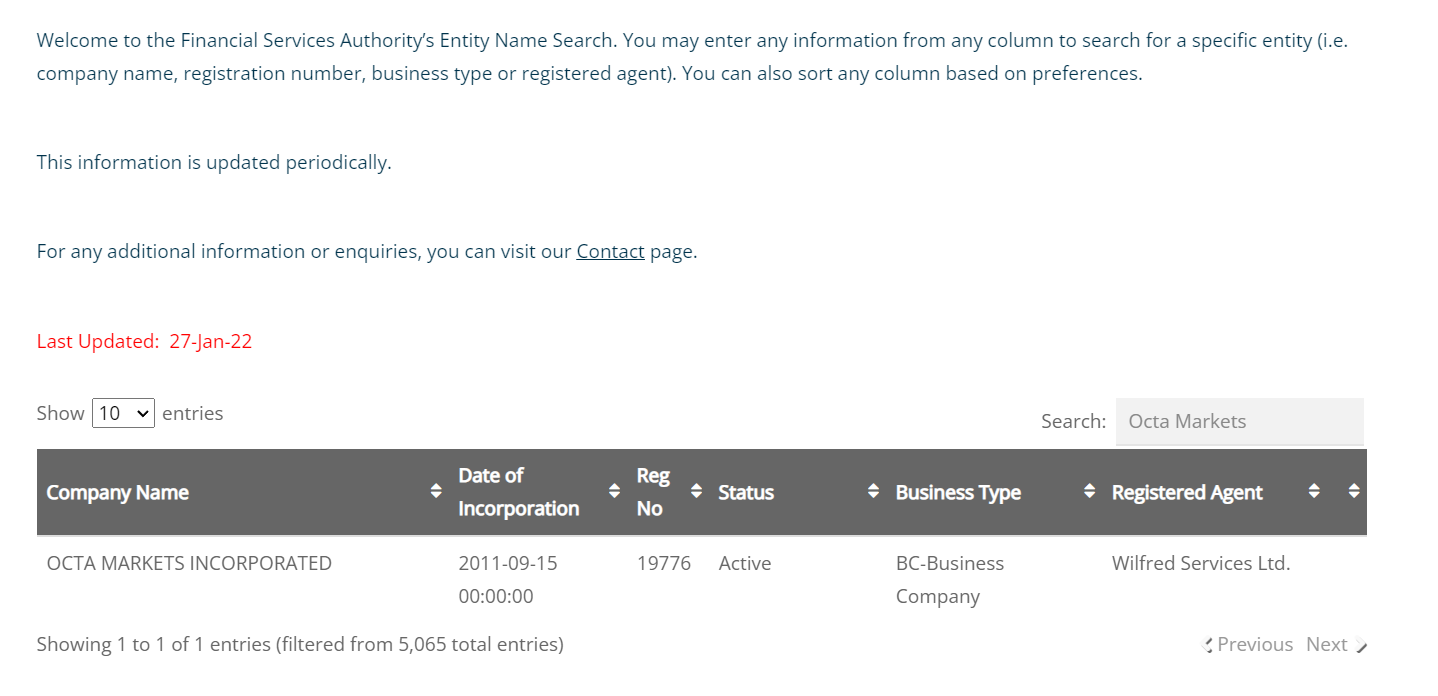 The FSA of St. Vincent and Grenadines follows the guidelines and regimes of St Vincent and Grenadines. It is responsible for the activities of the licensed entities and their conflict of interest with the clients. FSA is responsible to the Ministry of Finance and Government of St Vincent and Grenadines.
OctaFX can be chosen to trade CFDs in Malaysia but the clients are registered under offshore regulation. The third-party risk of choosing OctaFX in Malaysia is higher than all the top-tier regulated CFD brokers in Malaysia.
OctaFX also holds a regulatory license from Cyprus Securities and Exchange Commission (CySEC). Octa Markets Cyprus Ltd is the regulated entity under license number 372/18. The CySEC license grants permission to operate its business in the European Union. Only clients in the European union are registered under CySEC regulation.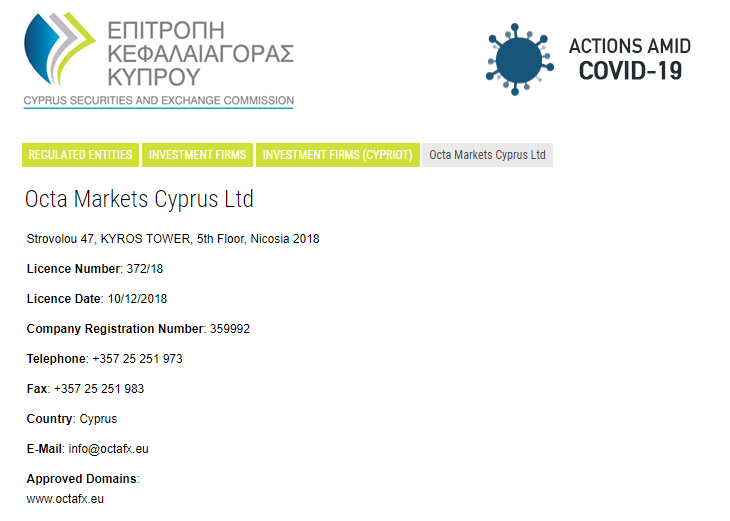 OctaFX was launched in 2011 and accepts clients from various countries of the world. Although, they only have CySEC and FSASVG regulatory licenses. They are not regulated by any top-tier regulatory authorities like FCA, FSCA, or ASIC.
The safety ratings of OctaFX are lower than most of the CFD brokers in Malaysia that are regulated by top-tier authorities. This means that the third-party risk of choosing OctaFX is high while client protection is low.
OctaFX Fees
The trading cost at OctaFX is low. We have reviewed each component of broker fees that are commonly charged by CFD brokers in Malaysia. There are two account types at OctaFX but both have the same pricing structure. Following are the details of fees incurred at OctaFX.
Spread: This is the major CFD trading fee that is basically the difference between the bid and ask price of a financial instrument. The spreads at OctaFX are variable and fluctuate according to liquidity in the market.

The average spread for EUR/USD currency pair is 0.7 pips and the minimum is 0.6 pips. The table below describes the average typical spread for some of the commonly traded instruments.

| Trading Instrument | OctaFX MT5 | OctaFX MT4 |
| --- | --- | --- |
| EUR/USD | 0.7 | 0.7 |
| GBP/USD | 1.10 | 1.10 |
| EUR/GBP | 2.1 | 2.1 |
| Gold/USD | 2.0 | 2.0 |
| Crude Oil | 1.1 | 1.1 |
| US Tech 100 Index | 3.5 | 3.5 |
| UK 100 | 1.8 | N.A. |

Compared to the majority of the CFD brokers in Malaysia, the spreads at OctaFX are lower.

Commission: Most CFD brokers in Malaysia also incur a fixed commission for each trade order. No such trading commission is incurred at OctaFX. There is no commission-based account type with fixed or zero spread.
Swap Fees: These are also called overnight charges or rollover rates. It is the interest that is paid for every night if a position is kept open. At OctaFX in Malaysia, there is no swap fee with any of the trading accounts. This can be very beneficial for Islamic and sharia compliance trading. A position can be held open for longer periods without any additional charges.

When a short or long position is taken with leverage, you take a short-term debt from the broker or liquidity providers. When a position is held open, clients need to pay or receive interest on the debt taken. Paying or receiving interest (Riba) is forbidden in sharia law. OctaFX does not charge any such interest if a position is kept open overnight without commission.

Since there are no swap charges on any account, both the accounts can be considered Islamic accounts by default in Malaysia.

Non-Trading Commission: Non-trading commissions are the additional charges that are incurred without executing trade orders. At OctaFX, there are no non-trading fees applicable to Malaysian clients. There are no inactivity charges, account opening fees, maintenance fees, etc. Deposit and withdrawal through all the available methods are free from the broker's side.
Overall, OctaFX is among the most cost-effective broker to trade CFDs in Malaysia. The spreads are low with no added commission. No swaps fees are applicable on the MT5 account and MT4 swaps are lower than many CFD brokers in Malaysia.
OctaFX Account Types
There are two account types at OctaFX. The features, services, and trading conditions are nearly similar for both account types. Both the account types can be chosen either with USD or EUR as the base currency. MYR is not available as the base currency of the accounts.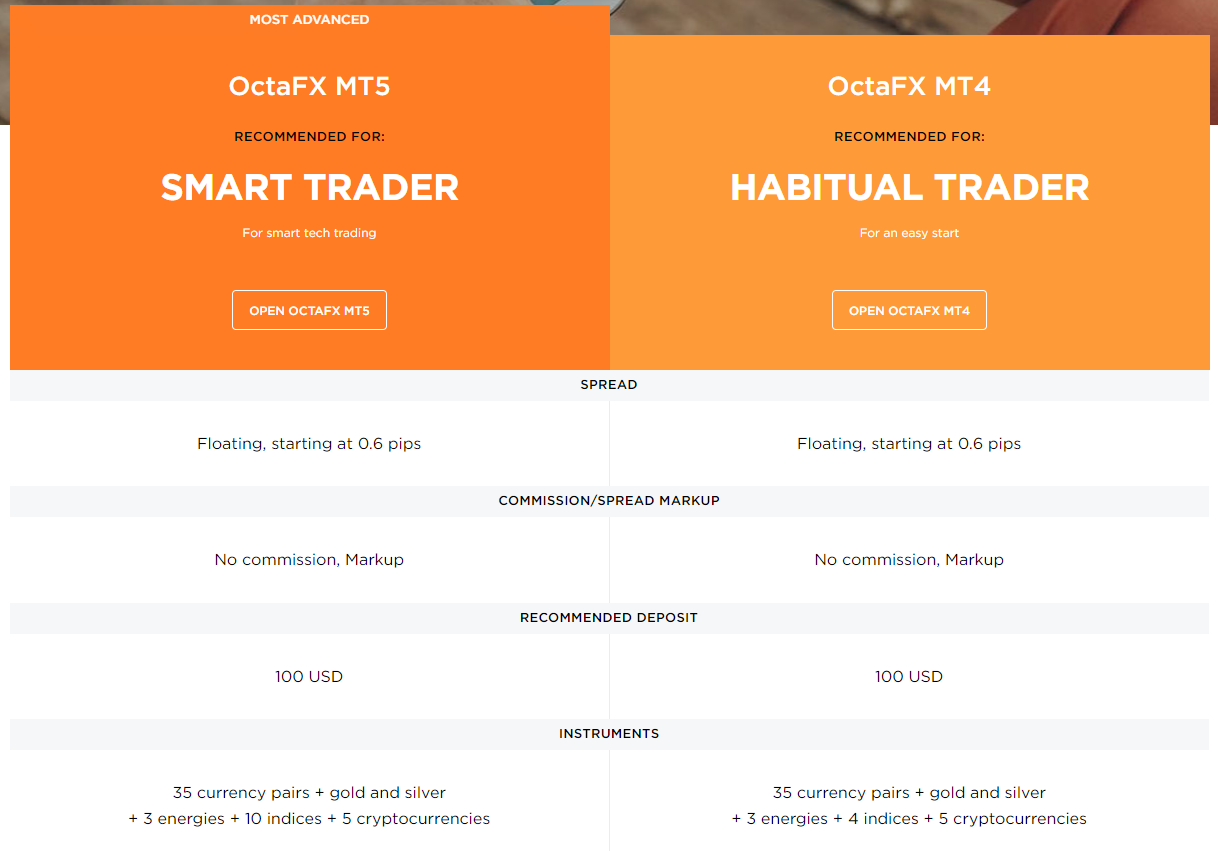 The pricing structure of both the account types is the same as the trading fee is built into spreads. No commission is incurred on any of the instruments. The two account types are mainly separated on the basis of supported trading platforms.
OctaFX MT5: As the name suggests, this account type grants access to MetaTrader 5 trading platform. The major advantage of choosing this account type is there is no swap fee applicable while the spreads are the same as the MT4 account type.

Additionally, the MT5 account type allows trading on 10 indices CFD while only 4 indices are available to trade with the MT4 account.

OctaFX MT4: This account type allows trading on the most widely used MT4 trading platform. In Malaysia, choosing this account type will incur swap fees for keeping the position open overnight.
According to our review, the MT5 trading account is a better choice for those who use advanced trading strategies. This is also ideal for those who wish to keep their positions open for more than a day. The MT4 account type is more ideal for habitual traders who prefer to trade with MetaTrader 4 trading platform.
OctaFX does not offer zero spread and commission-based trading accounts. Scalpers and high-volume traders who seek to trade CFDs with little or no spread won't find OctaFX useful.
How to Open an Account at OctaFX?
The account opening process at OctaFX is quite simple. The account can be opened with any device and the process is completed within 24 hours in general. Following are the steps included in the opening live trading account at OctaFX.
Step 1: Basic Details
Clients can start the account opening process by clicking on 'Open Account' through the OctaFX official website and app.
The first step is to enter your name, email address, and choose a password. Clients can also choose to log in with Facebook, Google, or Apple Accounts. The registered or entered email address will be used to register the account at OctaFX.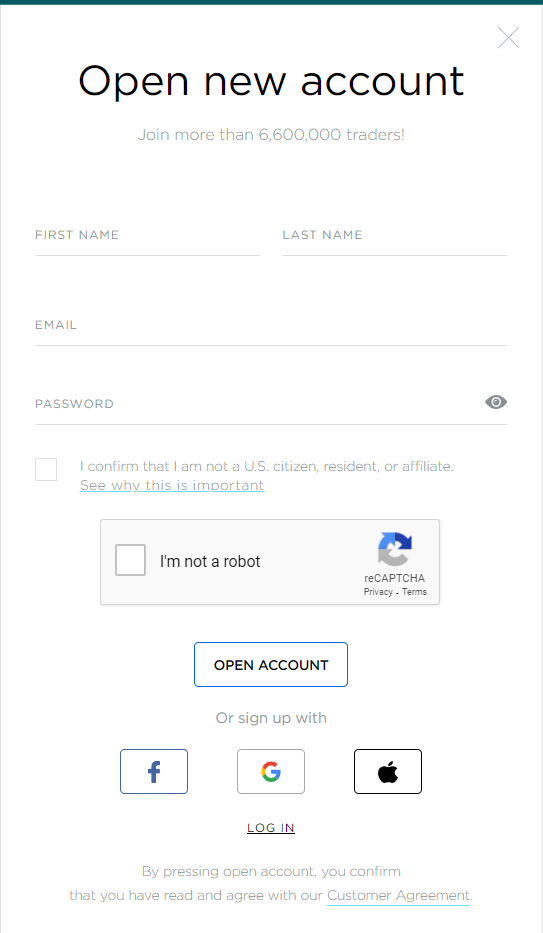 After completing the first step, a mail will be sent to your registered email address. This mail will have the link to advance in the account opening process.
The link will redirect you to the account form where you will need to enter country, city, address, and date of birth. Clients must note that all the details in the account opening form should match with the details on their documents.
Step 3: Account configuration
In the next step, clients will need to configure their accounts by making choices. Clients can choose between MT4 and MT5 account types, USD or EUR as the base currency, Islamic or not, demo or real.
The maximum leverage of the account also needs to be selected in this step by the clients. The maximum leverage can be chosen from 1:1 to 1:500. Any prevailing bonus offers will also appear on this page.
Step 4: Document Verification
After configuring the account, OctaFX will generate login credentials for the chosen trading platforms. The account needs to be verified by the executives at OctaFX.
In the personal area, there is an option to 'get verified'. This will require clients to upload a scanned copy of their name and address proofs. The executives at OctaFX will verify the details and will send a confirmation email. The confirmation is generally done within 1-3 hours but can also take up to 24 hours.
Step 5: Deposit
Once the account is verified, clients need to make a deposit. The recommended deposit amount at OctaFX is $100 but clients can deposit as low as $5 to start trading. Multiple methods are accepted for deposits and withdrawals at OctaFX.
OctaFX Demo Account Review
To open a demo account at OctaFX, clients need to enter basic details on the registration window and login into the personal area. After logging in, clients will have the option to open a real and demo account.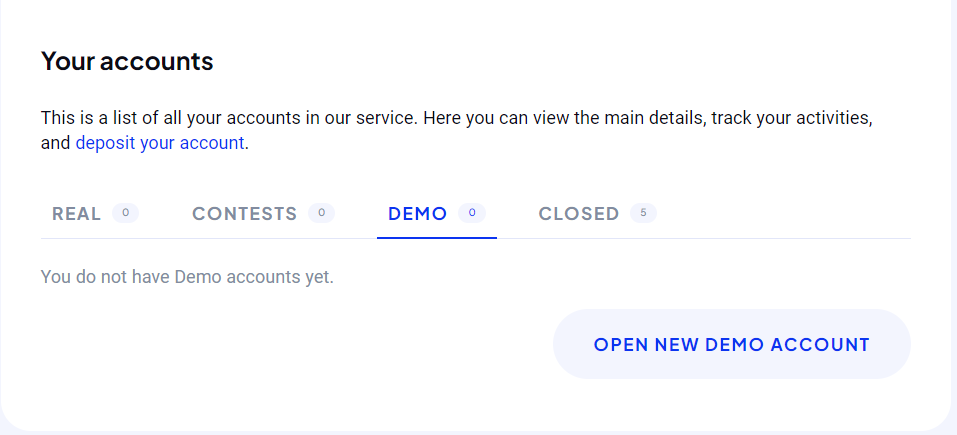 OctaFX offers 3 options for trading platforms in the demo account. The MT5 account allows virtual trading on 230 instruments while the MT4 trading platform allows trading on 74 instruments. The OctaTrader is a proprietary trading platform of OctaFX exclusively available for demo accounts. It is an ideal platform for beginners with a simple interface and easily available trading tools. However, the OctaTrader is not available for real accounts and will not provide the experience of the MT4 or MT5 live trading platform.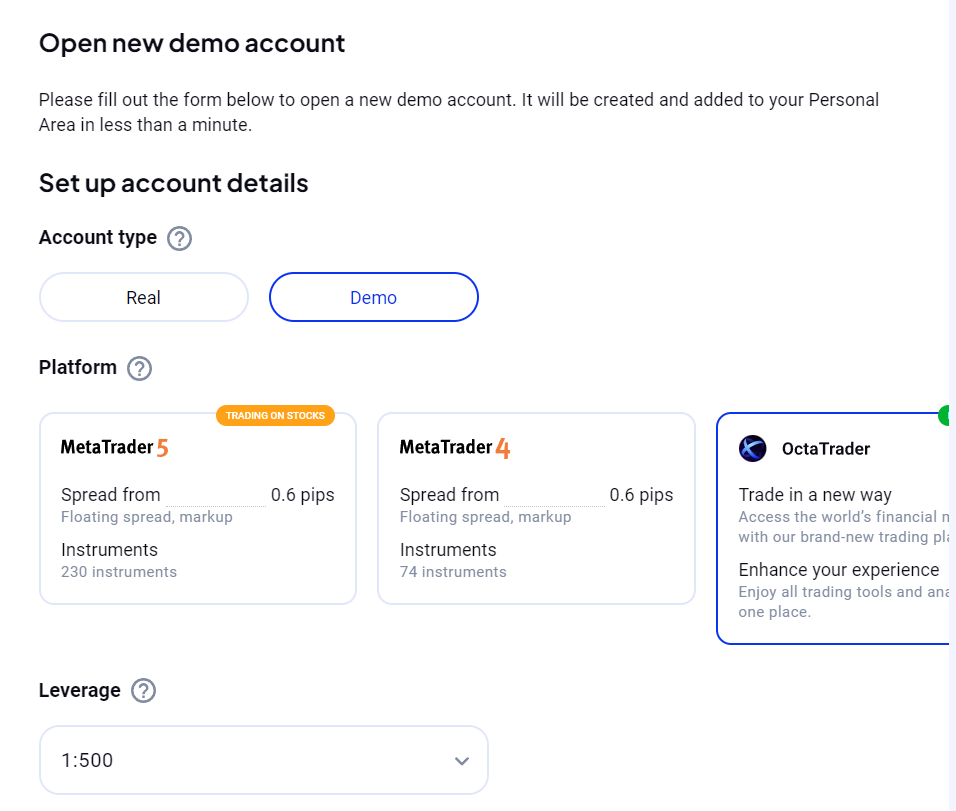 The maximum leverage can be chosen from 1:1 to 1:500 for the demo account with any of the trading platforms. There are no options to choose the pricing structure or base account currency. The opening account balance for the demo account can be entered while creating the account. The balance can also be added later on after opening the demo account.
The OctaFX demo trading account is useful for beginners to gain experience of trading forex and CFDs. Beginners in forex trading must use the demo account for a few weeks to learn the terminologies and strategies of trading.
h2 id="funds" class="heading_2 mt-md-5 mt-4″>OctaFX Deposits and Withdrawals
Before opening an account with a CFD broker, clients must know about the accepted methods for deposits and withdrawals. Malaysian clients at OctaFX can deposit and withdraw through the following methods.
Local Bank Transfer: OctaFX accepts local deposits and withdrawals through local banks in Malaysia. A minimum deposit of $5 is accepted through local bank deposits in Malaysia. The deposits are processed within 1-3 hours while withdrawals can take up to 5 business days.
Credit/Debit cards: Credit and debit cards of VISA and MasterCard can be used to deposit and withdraw at OctaFX. The name on the card must match with the name used to register and verify the trading account.

The minimum deposit amount is $25 with Visa cards and €50 for Mastercard. The minimum withdrawal amount is $20 with this method. Deposits are reflected in the trading account within 5 minutes while the withdrawal can take up to 4 hours to reflect in the bank account.

E-Wallet: Skrill and Neteller can be used to deposit and withdraw at OctaFX in Malaysia. The minimum deposit amount is $50 and €50 while the minimum withdrawal amount is $5 and €5 respectively with Skrill and Neteller. E-wallet deposits are processed instantly while the withdrawals can take up to 3 hours.
Cryptocurrency: Bitcoin, Litecoin, Dogecoin, Tether, and Ethereum can be used to deposit and withdraw funds at OctaFX in Malaysia. Each cryptocurrency has a different minimum deposit amount while all the deposits are processed within 30 minutes through this method.
Local bank transfers are the best method to deposit and withdraw at OctaFX in Malaysia. No commission is charged for any of the methods chosen for deposits and withdrawal.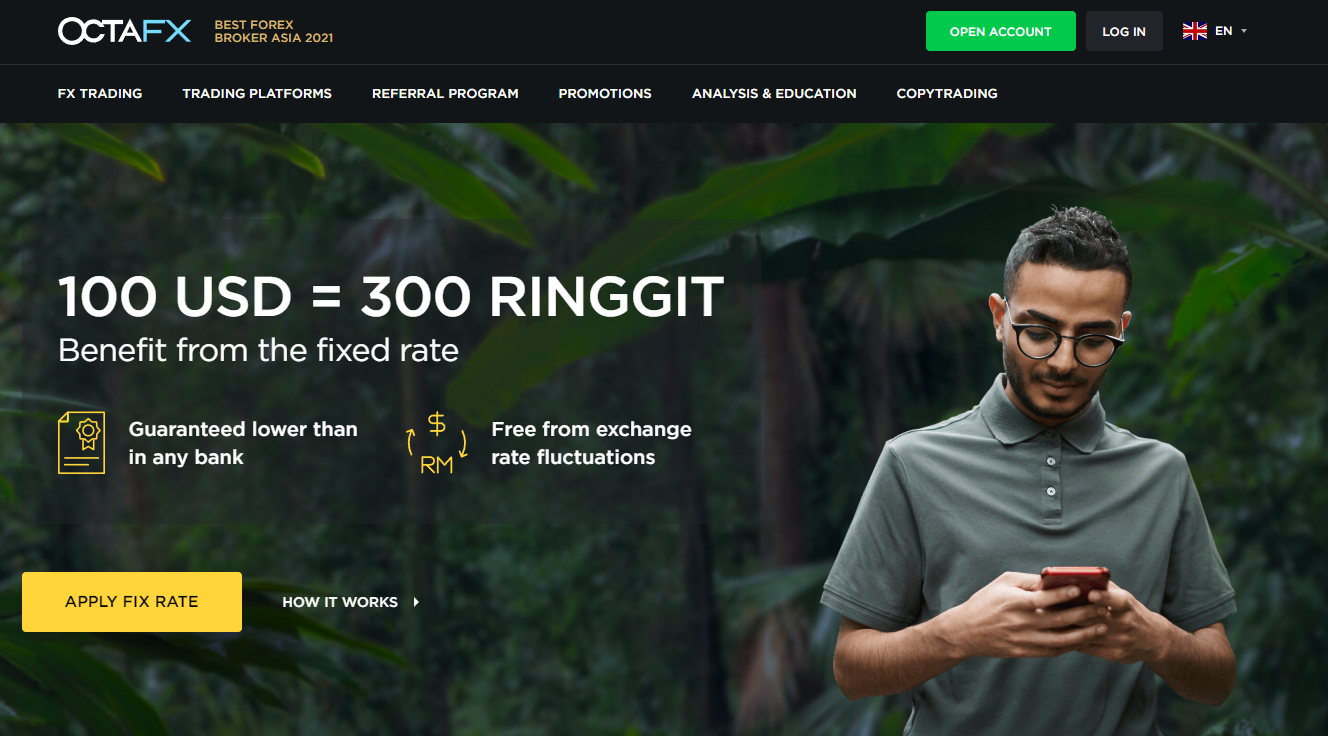 Deposits made in MYR, cryptocurrency, or any other currency will be automatically converted to the base account currency (USD or EUR) according to prevailing conversion rates. The MYR conversion is done according to a fixed rate i.e. MYR 300 = $1.
OctaFX Trading Platforms
The trading platform is where traders will spend most of their time trading forex and CFDs online. It is important to comprehend the available features and terminologies available at a trading platform to make better trading decisions. Trading platforms for desktop, mobile and web traders are available at XM.
Web Trading Platform
Traders at XM can choose between MT4 and MT5 web traders for trading through any browser. The MT4 web trader is not supported by mobile devices. For desktop devices, traders can trade on MT4 and MT5 web traders through their regular web browsers. Web traders are available in more than 20 languages and are highly customisable.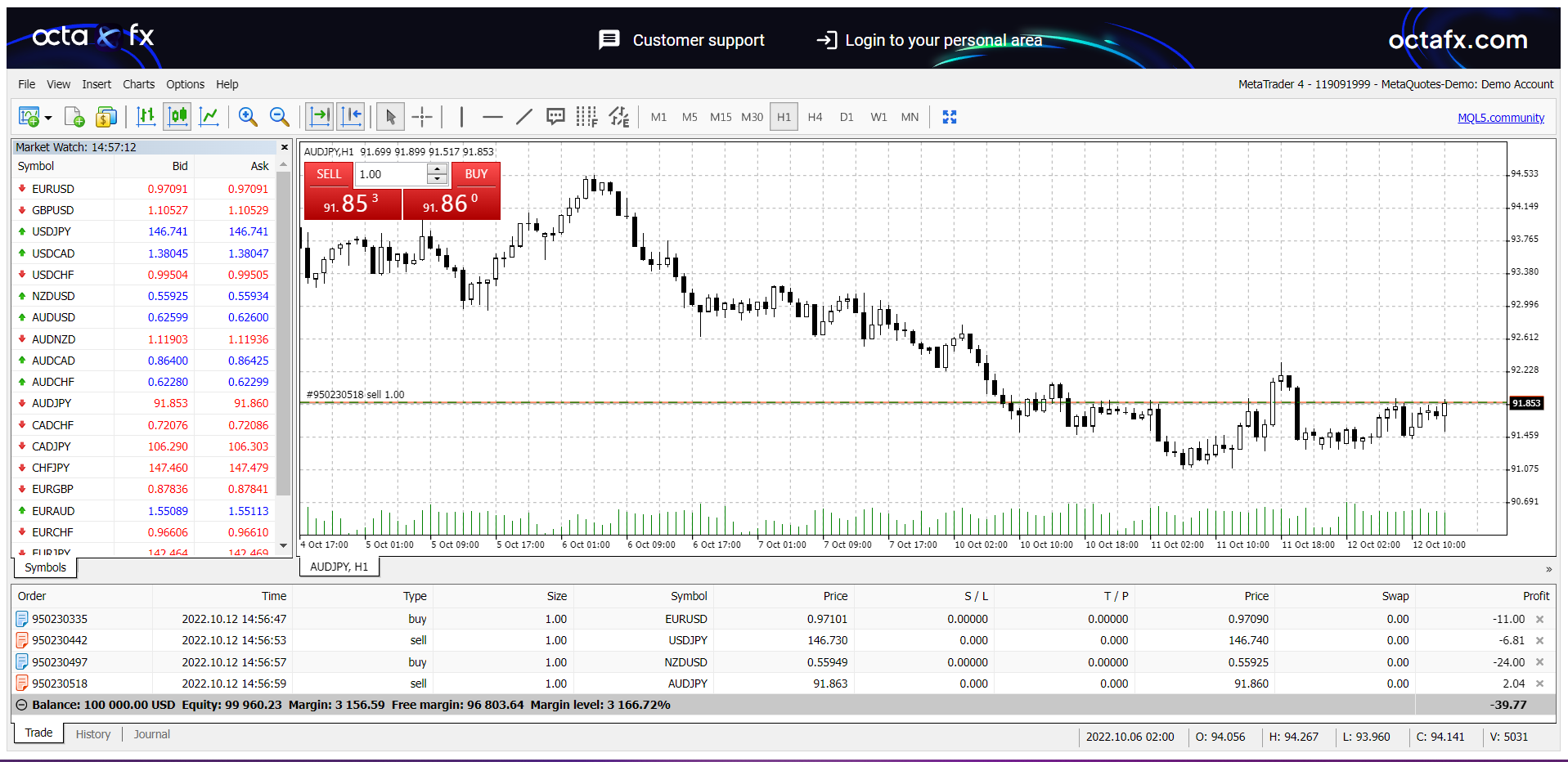 The web trading platform at OctaFX can be accessed through the official OctaFX website. It has a one-step login and can be linked with online tools and plugins.
Mobile Trading Platforms
MT4 and MT5 mobile trading platforms can be downloaded on mobile and tablets of Android and iOS operating systems. Apart from MT4 and MT5, no other trading application is supported at OctaFX. Traders need to separately download the MT4 or MT5 trading application from the play store or app store and link it with the live trading account at OctaFX.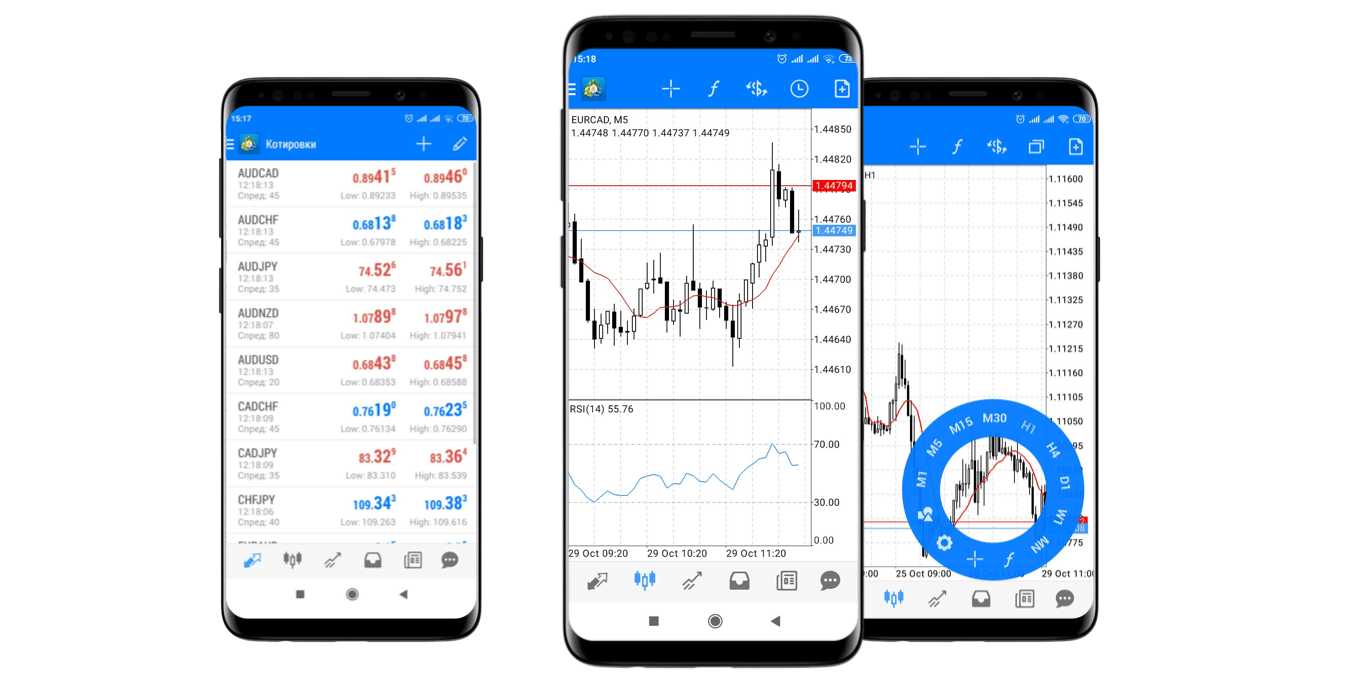 Desktop Trading Platform
The desktop trading platforms offer the best trading experience with the best customisation and fastest execution. MT4 and MT5 are the two desktop trading platforms at OctaFX. Both these platforms are developed by MetaQuotes Software for online trading.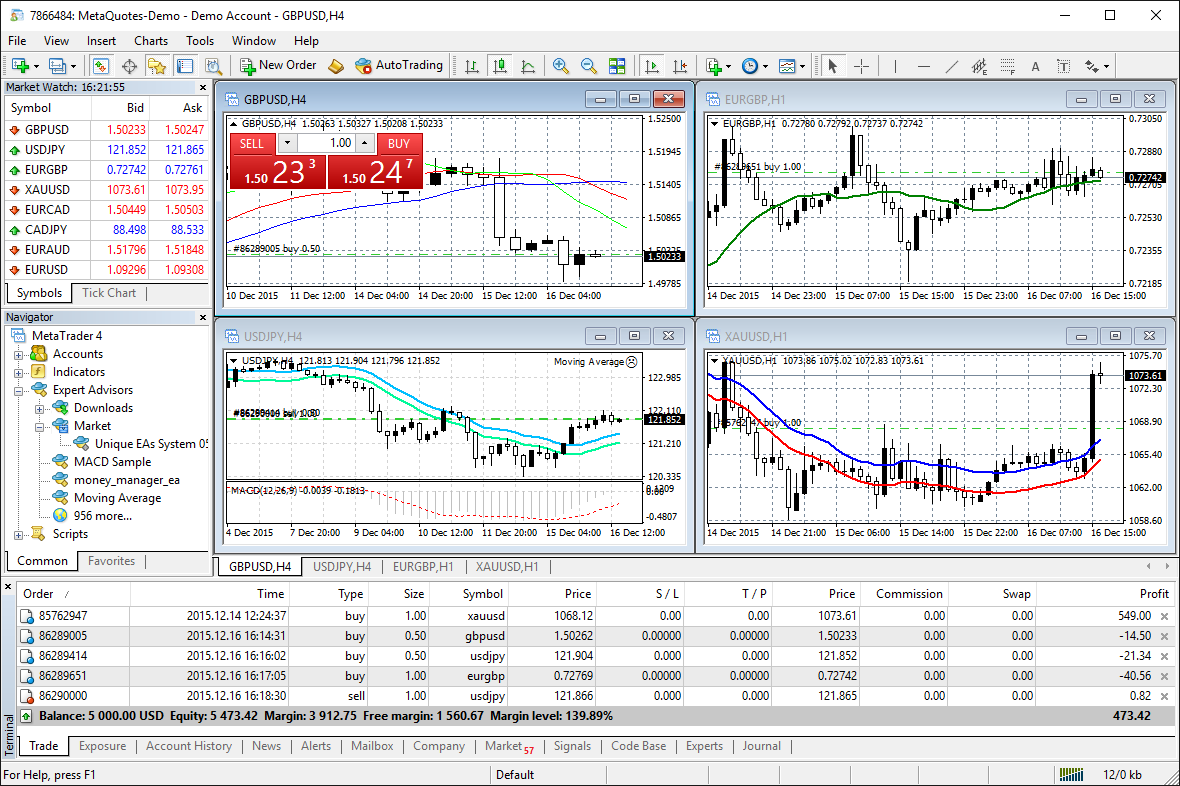 MT4 is the most widely used desktop trading platform with a very basic interface that looks similar to Windows 98. MT4 was launched in 2005 and is still used by a lot of traders globally. MT5 is an upgraded version of MT4 with more advanced features, indicators, and patterns. MT5 is preferred by algorithmic traders and experienced traders.
Available Instruments
A decent number of financial instruments are available to trade at OctaFX in Malaysia. Clients must note that all the available financial instruments at OctaFX are traded in the form of a Contract for Deposit (CFD).
CFDs are derivative instruments in which the price difference is speculated. There is no physical settlement of the underlying asset. These are traded in lot sizes. Each asset class can have different sizes of a standard lot. For currency pairs, one standard lot has 100,000 units of the base currency.
Following are the financial instruments that can be traded as CFDs in Malaysia at OctaFX.
35 Currency Pairs: Major, minor, and exotic currency pairs can be traded as CFD at OctaFX. The maximum leverage for currency pairs is 1:500.
Gold and Silver: CFDs of Gold and Silver are available to trade at OctaFX with a maximum leverage of 1:200. The standard lot size of gold and silver is 100 Troy Ounce 5000 Troy Ounce respectively.
3 Energies: Three CFDs on energies include US Natural Gas, WTI Crude Oil, and Brent Crude Oil. The standard lot size at OctaFX is 1000 barrels for crude and 10,000 barrels for natural gas. The maximum leverage for CFDs on energies is 1:100.
10 Indices: CFDs on major stock indices can be traded at OctaFX. The MT4 trading account allows trading on 4 indices while 10 indices can be traded with the MT5 account type. The maximum leverage is 1:50 on indices CFD.
5 Cryptocurrencies: Bitcoin, Ethereum, Litecoin, Ripple, and Bitcoin Cash can be traded as CFD at OctaFX. Maximum leverage on crypto trading at OctaFX is 1:25.
Overall, the total number of available trading instruments at OctaFX is lower than most of the CFD brokers in Malaysia. The leverage on cryptocurrency CFD is high.
OctaFX Customer Support
The customer support service plays an important role whenever clients face queries while trading. The quality and diligence of support services must be checked before opening the account.
We have reviewed the available methods to connect with the customer support staff at OctaFX.
Live Chat: The live chat support service is excellent at OctaFX for Malaysian clients. The live chat window on the website and application is active 24/7. The live chat is directly connected to a customer support executive without a chatbot.

Malaysian clients can clear their queries at any time. We raised multiple queries at different times of the day. We were connected to the agent within 2 minutes (on average) and received relevant replies to our queries. The live chat service is also available in the Malay language.
Email: Clients can also raise queries through email at [email protected] Those who do not have an account can raise queries directly through email addresses. Those who have an account at OctaFX can also mail them via their personal area.

The email support service can take 3 hours on average to clear a query. It can be useful when clients require a soft copy of any document.

No Local Phone Support: There is no local phone support available for Malaysian clients at OctaFX. The broker does not provide international or any phone number for customer support.
Live chat support is a resourceful method to connect with executives and resolve queries. The 24/7 availability of a live chat window is a major advantage but the absence of local phone support is a limitation of choosing OctaFX in Malaysia.
OctaFX Bonus
OctaFX offers a variety of bonus offerings for Malaysian clients. They constantly roll out contests and giveaways on regular basis to reward the clients.
Contests: OctaFX regularly organizes contests for demo as well as real accounts. They reward the winners with attractive prize money, car, gadgets, etc. The contests are of a limited period and keep changing every month.
Giveaway: Clients at OctaFX are rewarded with a prize lot for every lot they trade. These lots can be exchanged in return for prizes like laptops, smartphones, etc.

Offers: OctaFX rewards the clients with a deposit bonus offering of 50% in Malaysia. This bonus is available on all account types and each deposit. The minimum deposit amount to avail of this bonus is $50 equivalent. The bonus amount becomes available for withdrawal if the bonus amount/2 number of lots are traded by the client.
There are multiple bonus offerings for Malaysian clients at OctaFX. The bonus is attractive and among the best in Malaysia.
Do We Recommend OctaFX
Yes, OctaFX can be chosen to trade CFDs in Malaysia as the spreads are low and no swaps are applicable on the MT5 account type. The support services are good through live chat but local phone support is not available in Malaysia.
Clients who wish to deposit and withdraw through cryptocurrency and local bank transfer will also find OctaFX very useful. The bonus offerings are also very attractive. Although this comes at the expense of higher third-party risk. OctaFX is safe to trade due to FSASVG regulation but it is riskier than top-tier regulated CFD brokers in Malaysia.
OctaFX FAQs
Can OctaFX be Trusted?
Clients at OctaFX are registered under SVGFSA regulation. The third party risk of choosing OctaFX is high in Malaysia but it can be used to trade CFDs.
What is the minimum deposit at OctaFX?
$5 or RM 1500. The minimum deposit at OctaFX is $5 or RM 1500 with local bank transfer in Malaysia. The minimum deposit amount is different for each accepted method at OctaFX.
Is OctaFX a genuine broker or not?
Yes, OctaFX is a legitimate CFD broker that offer trading on various financial instruments. It is regulated by the FSA of St. Vincent and Grenadines and CySEC. The third party risk of choosing OctaFX is slightly high but it is a legitimate CFD broker in Malaysia.