Best Forex Trading Platforms Canada 2023
A trading platform is software that is used to trade securities. It is used to open, manage, and close a position online.
When choosing a trading platform to trade with, you should consider the features of the platform and the fees. This way, you are able to decipher whether the platform fits your trading style or not.
Other factors you may want to consider when choosing a platform will be the broker offering the platform and the requirements for using the platform.
Best Forex Brokers in Canada based on our Research for 2023
In this article, we have put together a list of the best platforms in Canada taking factors like features, brokers etc into consideration.
#1 MetaTrader 5
MetaTrader5 or MT5 is a multi-asset trading platform by MetaQuotes that was released on the 1st of June 2010 as a successor to MetaTrader4 (MT4).
At the time of the release, MT4 was the most popular trading platform, however, over the years some of the attention of traders on MT4 has been shifted to MT5.
One of the major reasons why MT5 may be considered one of the best trading platforms in Canada will be its Expert Advisors (EAs) feature.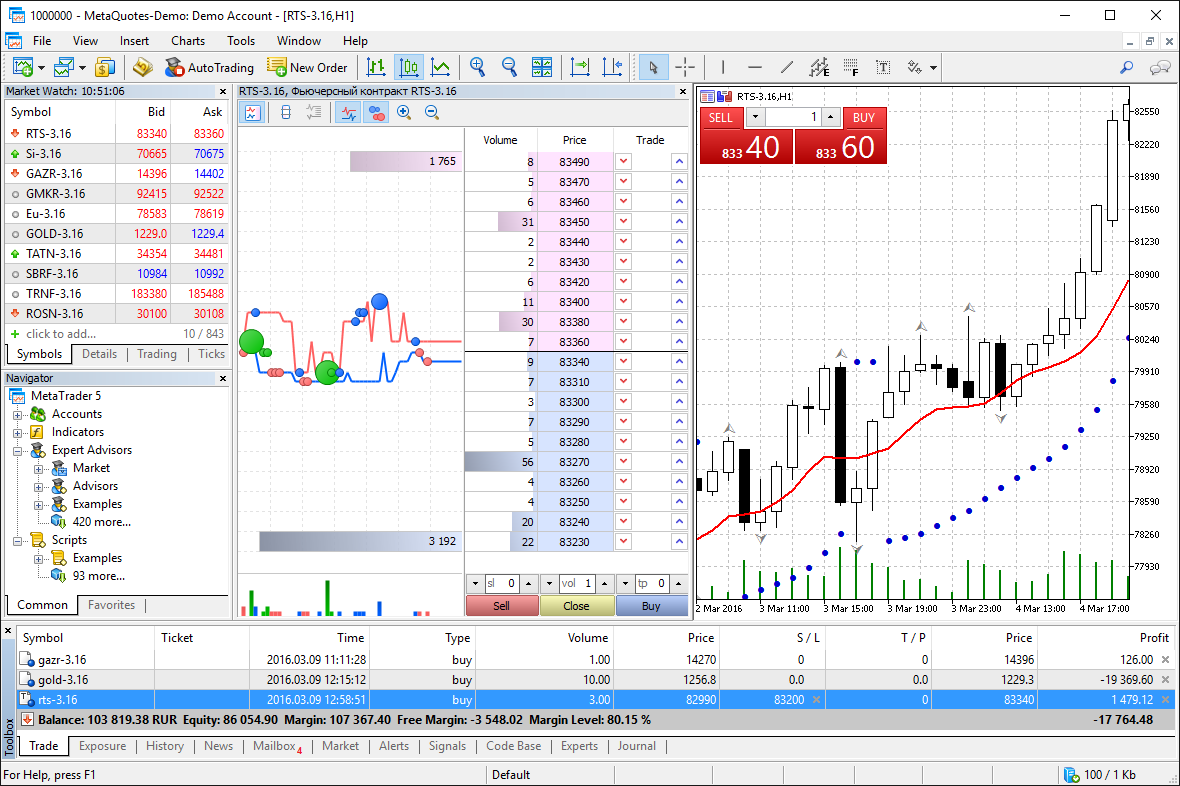 This feature allows traders to use trading robots to monitor prices and perform trades on their behalf using an underlying algorithm. This way, you do not always have to be physically involved in monitoring charts and performing trades.
As a MetaTrader5 user, you can also communicate, network and share strategies with other users using the MQL5 community chat.
This trading platform also comes with other intriguing features like; system alerts (notifies you of the latest market events), copy trading, strategy tester, and fundamental and technical analysis tools.
Just like MetTrader4, some traders consider MT5 because it gives them the leverage to manage trading accounts from different brokers within the same app. The fees when trading with MT5 will depend on the broker.
It is noteworthy to add that not all brokers offer their tradable products on MT5, however, some brokers like AvaTrade do.
One of the major disappointments traders have with MT5 is that it does not support hedging or multi-hedging.
#2 MetaTrader 4
MetaTrader 4 or MT4 is an online trading platform by MetaQuotes that was released in 2005. This platform is regarded as one of the best trading platforms because it has proven its effectiveness over the years.
MT4 is popular among both traders and brokers as such, a good number of brokers in Canada who own property trading platforms still offer MT4.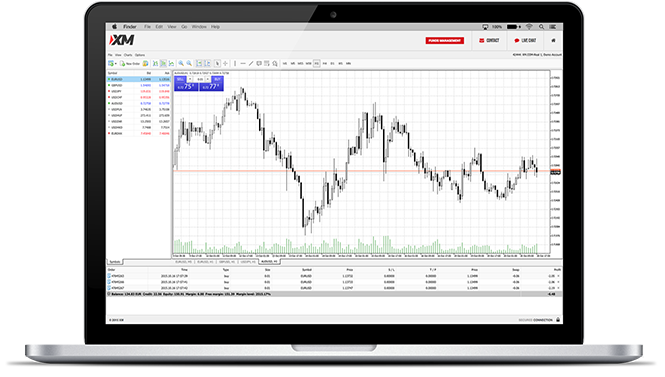 First, MT4 stands out for supporting three trade execution types which include; instant execution, execution on request, and execution by Market.
Second, MT4 supports four order requests which include; take profit, pending order, stop loss, and market order. This trading platform also supports four types of pending orders which include; sell limit, sell stop, buy limit and buy stop.
Thirdly, MetaTrader4 has a user-friendly interface, one of the features that account for this is the customizable indicators. When it comes to technical analysis, MT4 offers 30 built-in technical indicators, 9-time frames, and 24 graphic objects.
Security is another reason why MT4 stands out. This platform supports the use of RSA digital signatures. The client terminal and platform servers use encryption to send and receive data.
However, MT4 has its downsides. One of the major downsides of MT4 is that it does not show a fast reaction to sudden changes in the foreign exchange market. This can leave traders in the dark and result in preventable losses. The fees when trading with MT5 will depend on the broker.
#3 CMC Market's Next Generation
Next Generation is CMC Market's proprietary trading platform. Compared to other available trading platforms out there, the Next generation is not one that first-time users may find easy to navigate.
However, Next Generation is one of the best trading platforms in Canada because of its features like; 12 chart types, 70 chart patterns, and 115 technical indicators and drawing tools. Its array of charts earned it the top rank for charting by the investment trade survey.
Next Generation also offers you access to news and market insights from reliable news sources like; Reuters news, CMC TV, and CMC Twitter to mention but a few of the news sources.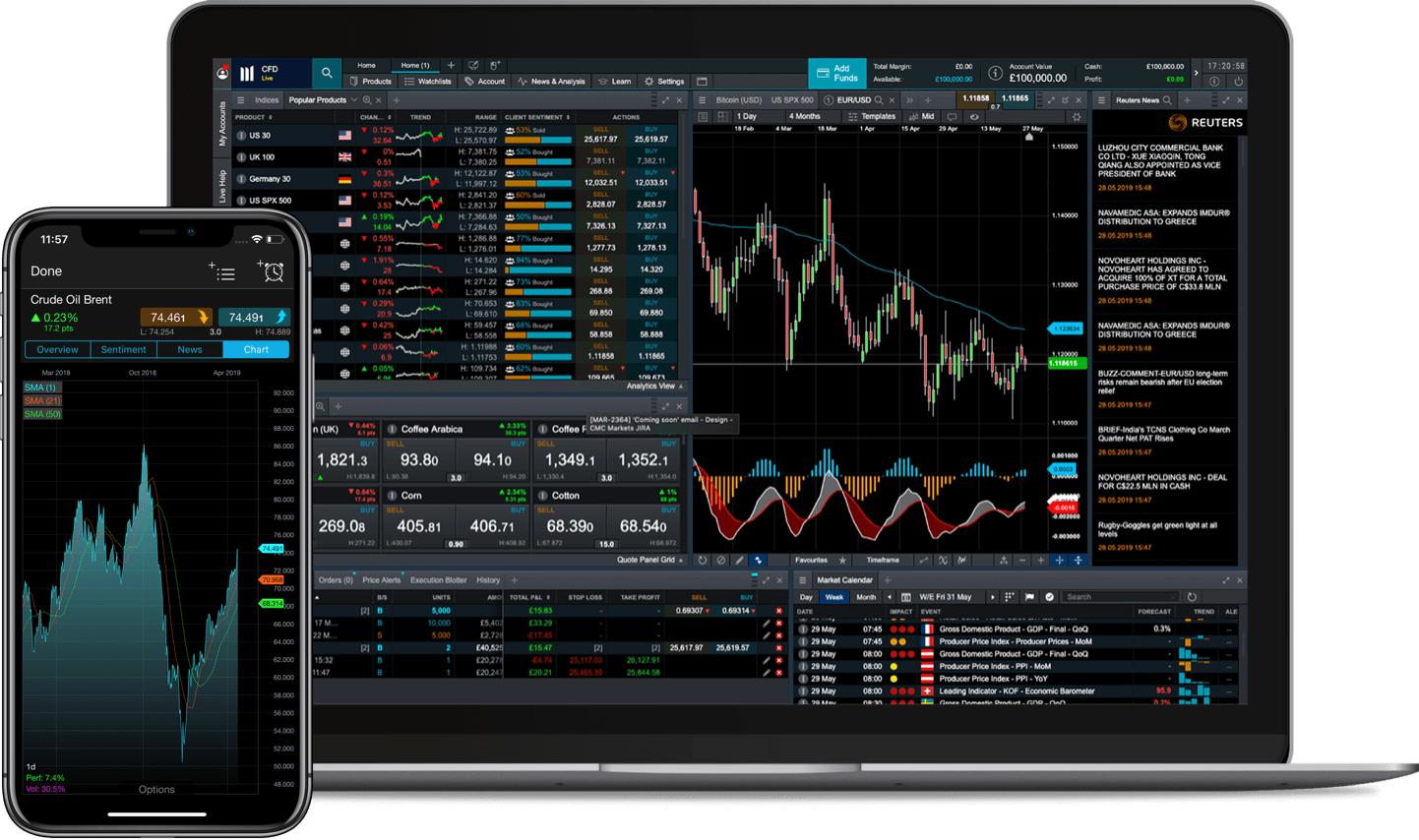 When trading with Next Generation, you can make use of the client sentiment tool to see the position value of other traders almost in real-time. This tool also gives you access to historical data about clients' sentiments.
Next generation offers advanced order options like; boundary orders, the price ladder, 1 click trading, grantee stop loss, and long and short simultaneously.
One of the major drawbacks of this trading platform is that it does not offer backtesting or automated trading capacity.
#4 Interactive Brokers Trader WorkStation
Trader Workstation is one of the interactive brokers' proprietary trading platforms. This platform may seem a little intimidating for beginners, but for experienced traders and investors that's not the case.
When trading on the trader Workstation, you can trade currencies and other tradable instruments from 150 markets.
Another major feature that makes this platform stand out is that it offers over 100 order types, some of which include; Immediate or Cancel (IOC), One-Cancels-All (OCA), Stop – Trailing Stop Limit, Trailing Market if Touched, and Conditional.
When trading on interactive brokers Trader Workstation, you also have access to Real-time monitoring tools like; watchlists, alerts, and profit and loss.
To keep users updated with recent market events, the trade workstation has tools for research and needs updates integrated into it. Some of the news sources responsible for up-to-date news include; Reuters, and Morningstar.
#5 FXCM Trading Station
FXCM trading station is available on Mac, Android IOS, and the web. This platform comes with 12+ pre-loaded indicators and technical analysis tools and gives you access to trade directly from charts.
It also comes with automated strategies like; Forex strategy backtesting (which helps you identify possible areas to improve your trading strategy), and Forex strategy optimisation.
This platform has been integrated with advanced indicators and free market data like; the Speculative Sentiment Index (SSI), and Real Volume indicators.
Final Thoughts
It is not enough to know what different media sources say about the best trading platforms in Canada. Most of these platforms offer demo accounts, so, before choosing to trade with anyone, it is a good idea that you try out the demo account to understand how it works and whether it suits your trading style.
Comparison of Best Trading Platforms in Canada
| Trading Platform | Parent Company | Launch Year | No. Of Indicators | Supported Brokers | Visit |
| --- | --- | --- | --- | --- | --- |
| MetaTrader 4 | MetaQuotes SoftWare | 2005 | 60+ | AvaTrade, Forex.com, FXCM, CMC Market, etc | Visit Broker |
| MetaTrader 5 | MetaQuotes SoftWare | 2010 | 38+ | AvaTrade, Forex.com, etc | Visit Broker |
| CMC Next Gen | CMC Market | 2010 | 115+ | CMC Markets | Visit Broker |
| Interactive Workstation | Interactive Broker | 2009 | 62+ | Interactive Broker | Visit Broker |
| FXCM Trading Station | FXCM | 2010 | 20+ | FXCM | Visit Broker |
FAQs on Best Trading Platforms in Canada
What is the safest platform to trade?
Which platform is best for trading?
Which trading is best for beginners?